The Samsung Galaxy S9 has been officially announced, and we've finally been able to unveil our full range of cases and accessories for the new smartphone. Today we're going to look at the different Galaxy S9 screen protectors available and in stock right now, culminating in our recommendation of the best S9 screen protector of them all. Let's get right into the suggestions!
5. Olixar Screen Protector 2-in-1 Pack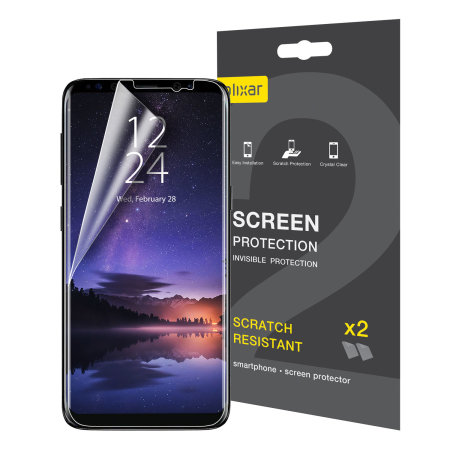 We begin with a value-oriented option: a Galaxy S9 film screen protector pack that includes two screen protectors for the price of one. This plastic film screen protector is super light and thin; once it's installed you shouldn't even be able to see it! Despite its low profile, this protector adds a layer of armour to your screen, absorbing scratches and preventing damage. This screen protector is also fully case-compatible, allowing you to use whatever Galaxy S9 case you like!
See more information >
4. BodyGuardz Pure Arc Privacy Glass Screen Protector

This unique Galaxy S9 privacy screen protector is made from tempered glass, making it easier to install and longer-lasting than a plastic film screen protector. It sets itself apart from the crowd through its one-of-a-kind privacy features: it only allows you to view the screen dead-on, meaning anyone sitting to the side of you won't be able to make out any details on your screen. That's great for ensuring that company secrets don't become public knowledge, and that your personal business remains just that. This BodyGuardz screen protector also has an anti-microbial coating that keeps your smartphone clean and hygienic and a curved design that stretches from edge to edge to keep every inch protected.
See more information >
3. Olixar Case-Compatible Glass Screen Protector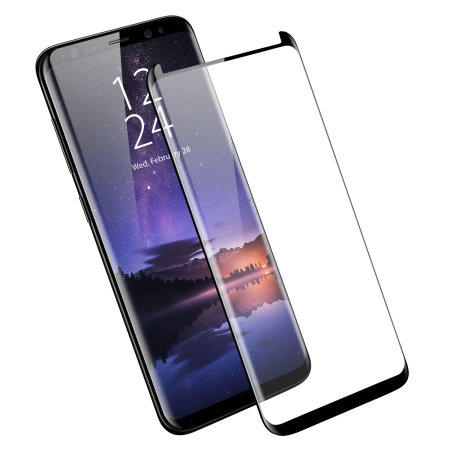 Next up is this case-compatible screen protector from Olixar. This is another value-focused product, but it steps from film to tempered glass, providing a massive increase in long-term survivability for your Galaxy S9. The tempered glass is also easier to apply thanks to its rigidity, making the installation process faster and less stressful. You can also pick up this particular screen protector with a plastic guide for £5 extra, making it a cinch to line up the screen protector perfectly the first time around!
See more information >
2. Whitestone Dome Glass Full Cover Screen Protector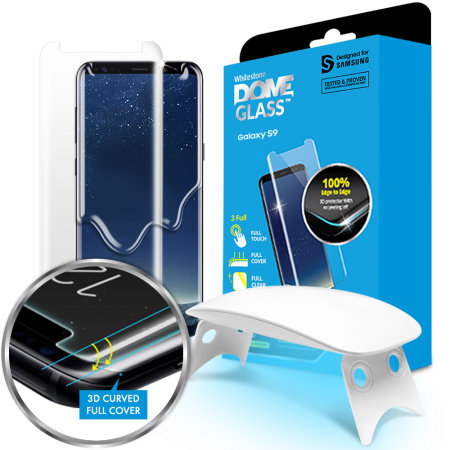 Whitestone are a legendary name in glass screen protectors, thanks to their amazing installation process that results in a perfect fit every time, even on curved screens like that of the Galaxy S9. The Dome Glass screen protector comes with an ultraviolet light which chemically bonds the Dome to your screen, while a guide ensures perfect placement. This S9 blue light screen protector also reduces blue light exposure by 25%, which research suggests will make it easier for you to get to sleep at night. We saw massive interest in this screen protector for the Galaxy S8 and Note 8, and we're expecting much of the same for the Galaxy S9 as well.
See more information >
1. Olixar Sentinel Case & Glass Screen Protector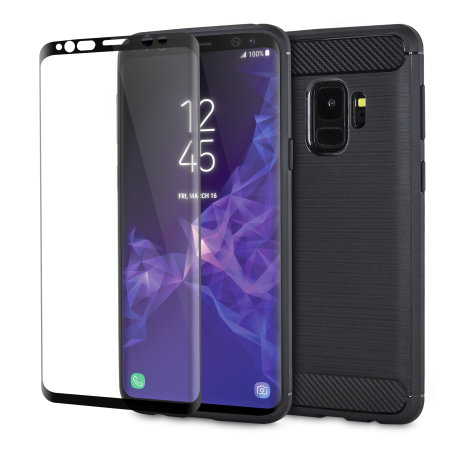 We'll conclude with a combination product: a rugged yet flexible case and Galaxy S9 tempered glass screen protector, which team together up to provides 360-degree protection for your Galaxy S9. The TPU case has a unique two-tone design featuring a brushed metal and carbon fibre look, providing a modern style for your S9. The case is also practical, adding grip and absorbing the impact of drops and knocks. This lightweight combo is inexpensive too, making it one of the best value options available.
See more information >
Wrapping up
Thanks for checking out our coverage of the most essential Galaxy S9 screen protectors. If you have any questions or comments, please let us know below! You can also reach us on twitter @mobilefun or at facebook.com/loveyourmobile if you prefer. Thanks again and enjoy your day!
Let's block ads! (Why?)