According to a letter Wisconsin Governor Tony Evers sent to Foxconn executive Louis Woo, the state is renegotiating a deal that promised the Taiwan-based company incentives in return for building a massive manufacturing and R&D facility in the region.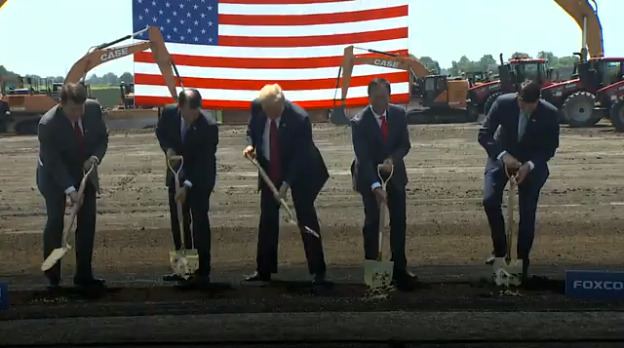 President Donald Trump attends Foxconn's groundbreaking ceremony in Wisconsin in 2018.
The renegotiation process commenced after Foxconn proposed changes to the project's original plans, reports CNBC.
Evers in his letter said Woo, a special assistant to Foxconn Chairman Terry Gou who is leading the Wisconsin operation, spoke to him and other government officials about potential modifications to the contract in March. Those proposals arrived following rumors that the deal stalled.
"To my knowledge, this was the first time either Foxconn or the State of Wisconsin has mentioned amending or changing the agreement approved on 2017," Evers wrote.
In response to Woo's unspecified recommendations, Evers said the state is identifying areas that "will enable greater flexibility and transparency as the project continues to evolve," the report said.
It is unclear what amendments have been made to the original deal as part of the renegotiation process, but the initial agreement called for Foxconn to receive some $ 4.5 billion in tax incentives to undertake the $ 10 billion project. In addition to substantial capital investments in Wisconsin infrastructure, Foxconn promised the creation of some 13,000 jobs.
Foxconn has made little progress over the past two years. Gou, joined by President Donald Trump, broke ground at the Mount Pleasant site last June, but has since missed investment and hiring targets.
The company first envisioned a large-format LCD plant, but later shifted focus to research and development after acknowledging it would be unable to compete in the U.S. TV market. Apple was at one point rumored to benefit from the development, with speculation suggesting Foxconn planned to pivot to small-format panels like those used in smartphones and tablets.
An investigation in April found Foxconn's project amounts to unused office space, empty buildings and facilities still under construction. Other associated Wisconsin locations housed tenants unrelated to the program.
Last week, Evers called for a renegotiation of the contract, suggesting the company would not be able to meet its end of the arrangement.
"Clearly the deal that was struck is no longer in play and so we will be working with individuals at Foxconn and of course with [the Wisconsin Economic Development Corp.] to figure out how a new set of parameters should be negotiated," Evers said in a statement.
For its part, Foxconn said it remains committed to the project, adding that construction at the main Racine, Wis., complex will begin in earnest this summer.
"Foxconn's commitment to job creation in Wisconsin remains long term and will span over the length of the Wisconsin Economic Development Corporation contract and beyond," the company said in a statement late last week.
Let's block ads! (Why?)
Source: AppleInsider – Frontpage News