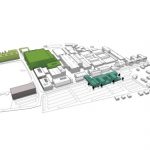 Investments totaling around €1.6 billion are planned over six years. Some 400 highly qualified new jobs will be created by the plant.
Construction is scheduled to start in the first half of 2019 and production is expected to commence at the start of 2021. The additional sales potential of the new factory, given full capacity utilization, is put at around €1.8 billion a year.
"Global demand for power semiconductors is soaring," says infineon CEO Dr. Reinhard Ploss, "growth is underpinned by global megatrends such as climate change, demographic change and increasing digitization. Electric vehicles, connected and battery-powered devices, data centers or power generation from renewable sources require efficient and reliable power semiconductors. We recognized that trend early on and so are rapidly expanding production capacities for 300-millimeter technology at our Dresden location. The new facility at Villach will help us cater for the growing demand that our customers anticipate, and continue on our path to success in the coming decade. Backed by the unique expertise we have built at our locations in Europe, we as a global company can strengthen our position on the world market long term."
"The investment that Infineon has decided to make in Villach is unique in terms of its magnitude, and thus a real success for Austria as a location and the technology sector in Europe", says the Chancellor of Austria, Sebastian Kurz.
Villach is the group's competence center for power semiconductors and has long been an important site for innovation in Infineon's production network.
Manufacturing of power semiconductors on 300-millimeter thin wafers was developed here and then expanded into fully automated high-volume production at the Dresden location over the past years.
Thanks to the larger diameter of the wafers, this technology delivers significant gains in productivity and reduces working capital.
Dresden is Infineon's largest site for wafer processing (frontend) and 300-millimeter production capacities there are expected to be fully utilized by 2021.
Infineon will apply the automation and digitization concepts from Dresden at the new Villach factory and develop them together with the two locations in order to increase productivity and ensure synergies in relation to systems and processes at both.
According to market researchers from IHS Markit, Infineon is by far the world's largest provider of power semiconductors and has a market share of 18.5 percent.
Facts about the new chip factory in Villach
Start of construction: First half of 2019
Scheduled start of production: Beginning of 2021
Total building area: ~60,000 m2
Volume of investment (building, clean room technology, production plant and equipment): ~ €1.6 billion
Investment period: 6 years
Employees: ~400 highly qualified jobs
Let's block ads! (Why?)