The supplier says it can now offer user test repeatability across USB, modular, or benchtop form factors.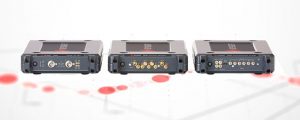 Controlled via PC through a USB connection, these new instruments come in small small rack size and are suitable for manual or semi-automated testing in design-validation and light-manufacturing applications.
The USB modules in the range dubbed Streamline include:
The P937xA models are two-port VNAs with frequency coverage up to 26.5GHz. All are designed to excel in the testing of passive devices such as antennas, filters and duplexers. Running on a host PC, the user interface is identical to that of Keysight's latest benchtop VNAs.
The P924xA oscilloscopes are operated through the supplier's InfiniiVision interface running on the user's PC, making look and feel consistent with familiar benchtop oscilloscopes.
The P9336A three-channel AWG provides 16-bit resolution with maximum analysis bandwidth of 540 MHz and maximum onboard memory of 4GB.
Applications range from general-purpose testing to complex I/Q signal generation for characterization of transceivers and modulators.
The USB AWG is compatible with Keysight Signal Studio software.
Let's block ads! (Why?)