Introduction
It is always refreshing to see a new face on the smartphone landscape, especially one as reputable as Razer, a major player on the thriving PC gaming scene.
You don't necessarily have to appreciate Razer's style and portfolio, but you'll most likely agree that the "PC master race" audience is a tough one to please. Razer has made a name for itself by managing to do just that, catering to the fickle gamer crowd's whims and fancies.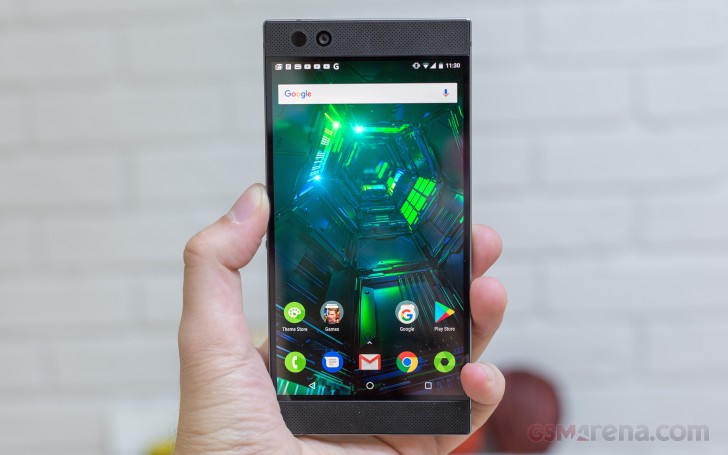 This is probably the best kind of track record to bring along when setting off to explore Android as a mobile gaming niche. An idea that few have dared to pursue. Mobile gaming is far from dead, nor is it a niche activity per se. Quite on the contrary, it's a growing fad and probably the one that's best equipped to accommodate a busy modern lifestyle.
With the rapid advances in hardware performance and a growing number of serious, competitive gaming titles, such as MOBAs, making their way on to the Android platform, it seems like a matter of time for more gaming brands to hop on the mobile hardware bandwagon. If there is money to be made, that is.
Enter the Razer Phone, the first phone to dare bring a high refresh rate screen to the traditional Android markets. An impressive 120HZ IGZO screen is easily the single most impressive novelty but the rest of the spec sheet is painting a pretty solid 2017 flagship picture.
Razer Phone key features:
Body: CNC machined aluminum unibody
Screen: 5.7″ IGZO IPS Ultramotion LCD, 1,440×2,560px resolution (16:9); wide color gamut, 120Hz refresh rate
Chipset: Snapdragon 835 chipset: octa-core Kryo 280 CPU (4×2.4GHz +4×1.9GHz); Adreno 540 GPU
Memory: 8GB of RAM, 64GB of inbuilt storage, microSD slot
OS: Android 7.1.1; Nova Launcher Prime Razer Edition
Rear camera: 12MP f/1.75 wide-angle + 12MP f/2.6 telephoto; dual-tone dual-LED flash
Front camera: 8MP
Battery: 4,000mAh; QuickCharge 4+ support (proper charger included)
Connectivity: LTE Cat.16, Wi-Fi a/b/g/n/ac, Bluetooth 5, NFC, USB Type-C
Misc: Fingerprint sensor embedded in power key, dual front-facing speakers, THX-certified amplifiers, Dolby Atmos
Main shortcomings
No 3.5mm audio jack
No ingress protection
No wireless charging
It is a true powerhouse, the Razer-phone, no doubt about it. Even with the few major omissions noted above. And with the Razer brand behind it, it is sure to get plenty of exposure to just the right crowds. But the real question is, will Razer finally punch through where so many have already failed.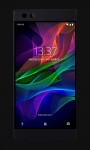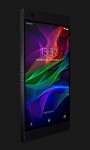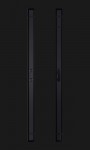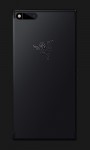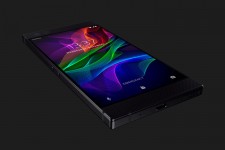 Razer Phone in official shots
Join us on the following pages as we set to find out what the Razer Phone is all about, how it came to be and just how revolutionary it is – or pretends to be.
Retail Box contents
Brand recognition has always played a major role in Razer's business model. The gamer-centric company is no stranger to showmanship either. The green three-headed serpent logo is a fan favorite among the younger PC gaming crowd, so it should come as no surprise you can see it stenciled on pretty much any item imaginable.
It's this kind of attitude, the wide and lavish distribution of branded "swag" and the "1337" attitude that has helped Razer target its particular demographic. Naturally, all that has been carried over to the Razer Phone as well. In Min-Liang Tan's own words (he's the company's CEO), everything about the handset is "insane". But more on some of these bold marketing claims in a bit.
As far as packaging and presentation go, "insane" seems to describe it well. Razer pulled out all the stops. The phone arrives in a big black, soft-touch box with Razer trims all around. It looks and feels premium – and the impression is reinforced by the same level of quality extended to the insides of the box, as well as all the individual accessory boxes. A "WATCH, LISTEN, PLAY" slogan on the inner side of the cover and a semi-transparent introduction letter, signed by Min-Liang Tan tie everything together nicely.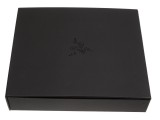 Lavish retail box
But, like we always say, extravagant packaging ultimately adds to the overall price and you end up with an expensive space-waster to keep in your closet. The stuff that matters, after all, is the contents.
Razer scores top marks in this department as well. The included charger is of the elusive Quick Charge 4+ variety – it's perhaps the first one we see in person. This is great since you can take full advantage of blazing fast top-ups out of the box.
The bundled USB cable is of the premium braded variety. Be advised, however, that it is a Type-C to Type-C unit. Since those are still not really common, be sure to hold on to it, or else you might be losing the benefit of the bundled Razer charger.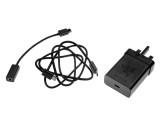 Bundled accessories
Lastly, there is some more swag to enjoy in the box as well, namely a Razer-branded SIM ejector tool and a pair of stickers, Apple-style.
Razer phone 360-degree spin
The Razer Phone is clearly not meant to have universal appeal but rather banks on having a character of its own. As such, it does not really follow the design trends of the day – which is not to say the Razer Phone is inferior in any way to most of the recent flagships of the competition.
It definitely has some heft to it at 158.5 x 77.7 x 8mm and tips the scales at 197.8 grams. So, not compact or lightweight by any stretch of the imagination.
It definitely doesn't follow the modern design trends: there is no bezel-less screen, nothing curvy, no creative use of space and nothing put in places you wouldn't expect. It is not really subtle either – a boxy phone which has the looks of a tool rather than a fashion accessory. And that's actually good and we like it this way.
Its brushed metal unibody design and straight lines would typically be enough to describe its appearance as "utilitarian". However, with a conspicuous pair of speakers mesh at the front and an etched logo on the back, Razer has clearly wanted to avoid creating a plain phone either.
Being distinct is never a bad thing, especially in today's arguably stagnant era of dull "slab" phone design. Instead of resorting to bezel-shaving, curved screens and funky controls, Razer seems to have taken a step back.
But, is that even correct to say for a first generation product? And where do we draw the line between visually outdated and purposefully designed to cater to a specific target group?
Hardware Overview
Starting at the front, 5.7 inches is big enough for it to step into phablet territory. Make no mistake, this is a rather large phone. It's also flat on all sides. The traditional 16:9 aspect ratio works great in terms compatibility and performance reasons.
The front has Gorilla Glass 3. This might sound outdated, but our past experience shows that it is still one of the better choices out there as far as scratch protection goes.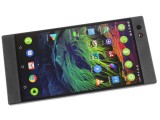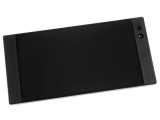 120Hz, IGZO Display
As for the top and bottom bezels/speaker grilles, we have mixed feelings. On the one hand, having some extra space for a firm grip is a definite plus for a gaming device. On the other, however, we do feel Razer could have opted for something other than a fine grate pattern. Again, we are sure it's great for acoustics on a pair of fat front-firing speakers, but the fine holes collect dirt and dust all the time. That makes for a really unpleasant, worn-in appearance in a pretty short time, without any real way of cleaning the dust or pocket gunk out.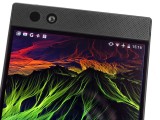 Front bezels
Okay, that might be a bit of nitpicking, but the inner bezels surrounding the panel are less debatably an eye-sore. You get around 2mm of solid black bars top and bottom of the screen. The side ones are arguably not that hard to swallow, but already big enough forehead and chin could've simply been extended by a couple of millimeters each.
Also, the proximity and light sensors get their own window the exact same size as the 8MP selfie camera, but there was simply no room for a notification LED?
On to the sides of the Razer Phone and another set of dubious choices, mixed with an appealing overall look and feel. Brushed black metal all around, the Razer Phone almost seems like a natural extension to one of the company's stylish laptops. The metal unibody just looks and feels amazing, no question about it.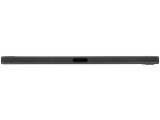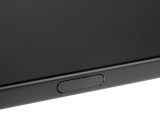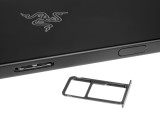 Right side
The right-hand side only houses a pair of controls. On top is a tray that can take a microSD card and a nano SIM. No dual-sim variants have been announced as of yet. It manages to sit perfectly flat with the rest of the side, without disturbing its smooth surface.
Then again, so does the power button, fingerprint reader combo. Well mostly, that is. Since it only has a slight recess and a perfectly smooth finish, it is really hard to find by feel. Muscle memory or a case can definitely remedy that, so we won't complain too much.
To accommodate the fingerprint sensor, the button has a glass finish. It is slightly glossier than its surroundings, which we actually think works really well as a subtle accent.
We found the reader itself to be very reliable, but not particularly fast. It is not always on, but rather triggered by pressing the button itself. A few milliseconds of a delay here and there and the end result is often an unlock that occurs a whole second or so after the button is pressed. There is plenty of room for improvement.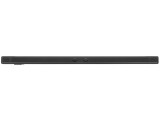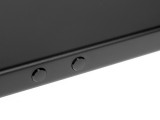 Left side
The left side of the Razer Phone is just as empty as the right one, perhaps even more. It only houses a pair of volume buttons. These are very small, round, and have barely any travel, making them quite uncomfortable to press. Finding them is also a challenge since they are positioned near the center of the frame.
This seems really odd until you think back to all the times you accidentally pressed a button while gaming and disrupted your experience. Razer wants none of that and clearly shows where its priorities stand.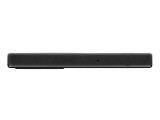 Top side
There is little to speak of at the top and bottom of the Razer Phone. One has a solitary microphone, while the other has a microphone and a USB Type-C port.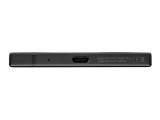 Bottom side
One interesting thing to note, though, has to do with the antenna lines. On the sides of the phone, you get a total of four symmetrical plastic inlays. It appears Razer wanted to place some along the vertical axis as well but oddly decided that a total of two is enough. So, what we ended up with is a glaring asymmetry with a pair of bands in the right half of the top and bottom bezels. From the front, these inlays almost look like you have chipped the bezels. But it's not such a big deal.
Finally, we come to the back of the Razer Phone – a truly stylish matte black metal surface. Razer did a great job shaping, painting and blending the antenna lines along the top and bottom near seamlessly with the overall design. It looks so good that we are a bit hesitant to point out the lack of a glowing RGB logo – a logical step, given all the Chroma hype.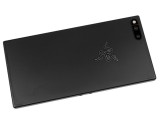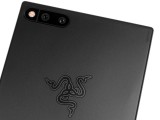 Back side
We thought the special limited edition of the phone would feature integration with Razer's own RGB platform, but that is not the case either. What that model offers is a green finish for the logo and nothing else. No RAM, storage upgrade or special offers. Frankly, we think silver suits it better anyway.
All things considered, the Razer Phone is definitely a standout at the 2017 flagship scene for more than a few reasons. We can't overlook the throwbacks to the Nextbit Robin, though – the cloud-based phone that got some industry attention then kind of slipped into obscurity. Since Nextbit is part of the Razer family, it comes as no surprise to see quite a few design traits carried over.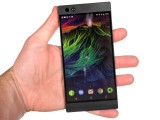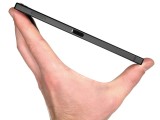 Razer Phone in the hand
Even so, Razer managed to put a totally unique spin on its new product. Being different and standing out is one thing and it can only get you so far. Join us in the next section as we start to dissect the Razer Phone to actually see what it's made of.
Display
Razer talks the big talk when it comes its 5.7-inch mobile display. In keeping with "PC master race" traditions, the screen in question has plenty of titles and figures to throw around: ULTRAMOTION, 120Hz, IGZO, Wide Color Gamut. Also In keeping with some less than admirable PC marketing habits, Razer also made a few bold claims regarding the panel on stage: "The ultimate in mobile entertainment", "The world's first 120Hz ULTRAMOTION display".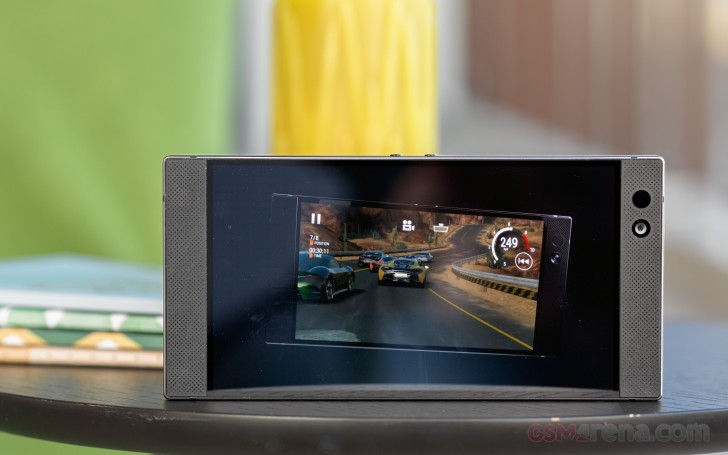 While the latter could technically be considered true, solely on the grounds of the new ULTRAMOTION branding, it stung quite a bit, since SHARP has been manufacturing high refresh rate mobile screens for some time now and even shipping them to suppliers of lesser known devices that never made it to our part of the world.
But, technicalities aside, it is a fact that the Android realm has been stuck with 60Hz panels for quite some time now and it was only recently that the glorious smoothness of high refresh rate reached parts of Apple's lineup as well. This is probably the most revolutionary aspect of the Razer Phone and almost definitely the first one users are going to notice once they pick up the phone for the first time.
Within the main phone UI, Razer managed to achieve fluent frame rates all the way up to 120 – just enough to saturate the maximum 120Hz refresh rate of the panel.
Every animation and every scroll looks much smoother and makes it feel like we're witnessing some extra processing power.
In reality, the Snapdragon 835 powering the Razer Phone is just as powerful as that in recent flagships by Samsung, for example. Even so, once you experience the smoothness of high refresh rate operation, you won't really want to go back.
Notice that we are not talking about a constant twofold increase from 60Hz to 120Hz here since ULTRAMOTION technology is based on a variable refresh rate, quite similar to Nvidia G-Sync or AMD Freesync. In essence, at every given moment, the screen will refresh at exactly the right rate to accommodate the current frame rate the Adreno 540 GPU is pushing out.
This is what actually makes for a smooth and fluent experience, since you essentially get to see every frame the GPU pushes out, instead of having the panel display the same frame over and over as it waits for the GPU to catch up to 60Hz or be overwhelmed by more than one frame and start tearing the image when you hit above 60fps.
And this syncing is important since there is not much Razer can do to guarantee consistently high framerates in all the millions of apps and games that are currently available for Android.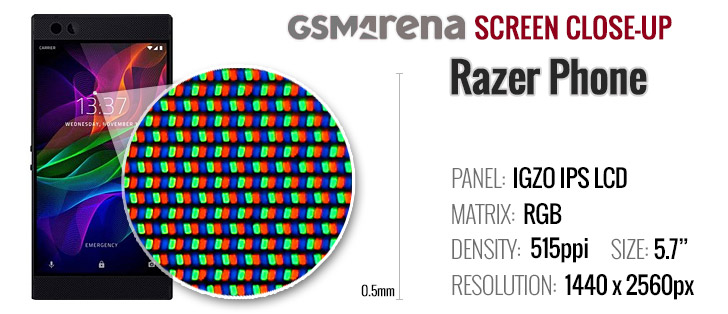 Another thing only the gaming-enthusiast part of our audience might be familiar with is IGZO technology. This might get a bit technical but bear with us for a moment. A modern flat-panel display, LCD or OLED, is generally comprised of multiple very thin layers. These can include polarisers, light diffusers and many others, but one common part is the so-called thin-film transistors (TFT for short). It is a layer of transistors that allows pixels to be turned on and off. In most panels, this layer is comprised of amorphous silicon or aSi – a material that is not transparent by nature, but gets etched thin enough for light to still be able to pass through it, so that the display can actually, well, display things.
This is where IGZO comes in, it is an acronym for "indium gallium zinc oxide" – a transparent alternative to aSi that's better at passing light through. Manufacturers can thus leverage IGZO technology in one of two ways: either boost the maximum brightness of a panel or lower the power consumption necessary to achieve some desired brightness level.
Razer seems to have opted for the latter since the Razer phone has one of the dimmest screens we have ever seen. Its brightness maxes out at just 223 nits. There is no max auto over-burn either, so you are stuck with that. Perhaps the high refresh rate necessitated this sacrifice. Whether or not it was a justified one is up to fans to decide. Contrast is sub-par as well. Definitely not flagship grade.
Display test
100% brightness
Black, cd/m2
White, cd/m2
Contrast ratio
Samsung Galaxy Note8 (Max Auto)
0
850
∞
Nokia 8
0.382
703
1840
Samsung Galaxy S8+ Max auto
0
647
∞
LG V30 (Max Auto)
0.032
616
19250
HTC U11 (Max Auto)
0.373
583
1563
Sony Xperia XZ Premium (sRGB)
0.48
576
1200
Sony Xperia XZ Premium
0.463
573
1238
LG G6 max auto
0.277
564
2036
Xiaomi Mi Mix 2 (Increased Contrast)
0.4
515
1287
HTC U11
0.308
483
1568
Google Pixel 2 XL
0
482
∞
LG G6
0.228
468
2053
Samsung Galaxy S8+
0
442
∞
Huawei Mate 10 Pro (vivid)
0
440
∞
OnePlus 5
0
435
∞
Huawei Mate 10 (vivid)
0.314
433
1379
Google Pixel 2
0
428
∞
Huawei Mate 10 Pro (normal)
0
422
∞
Huawei Mate 10 (normal)
0.3
415
1383
LG V30
0.002
414
207000
Samsung Galaxy Note8
0
412
∞
Xiaomi Mi Mix 2
0.379
387
1020
Razer Phone
0.256
223
871
On the flip side though, we can only assume Razer is saving quite a bit of power by running its IGZO display so dim. There is a major power saving aspect to the ULTRAMOTION variable refresh rate technology as well. While Razer does allow you to set a desired refresh rate in the settings: 60Hz, 90Hz or 120Hz, doing so does not fix the refresh rate at that number. Since it is variable, when there is nothing happening on screen, the phone can theoretically lower its refresh rate all the way down to 1Hz, also reducing the panel's power consumption.
While on the topic, Razer also allows resolution change. Natively, the display runs at QHD, but you can also set it to run at 1080p or even 270p. In the past, we have already determined that doing so has little battery life benefits and the case was the same here. So, our first guess was that this could help with frame rates, so we can saturate that 120Hz refresh rate as best we can. As it turns out, this is not entirely true either.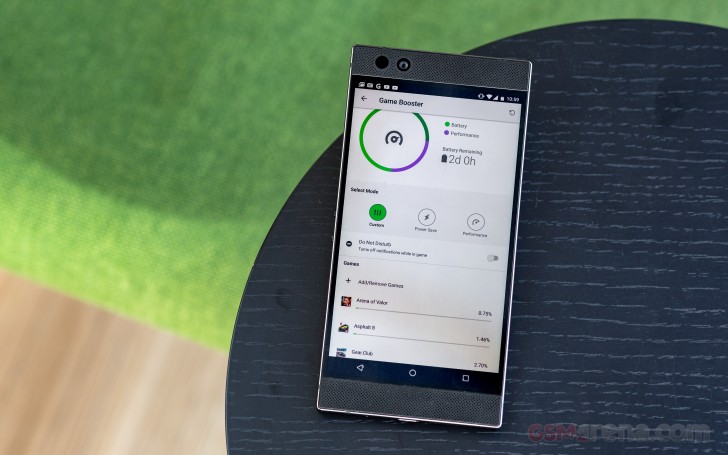 We will get into more detail in the performance section, but as it turns out, most game engines can't really come close to the 120fps mark by design, no matter how much you lower resolution. Some even stop functioning correctly, especially if you start applying resolution and frame rate tweaks on a per-title level through Razer's Game Booster app.
As for colors, the Razer Phone is reasonably accurate, with a maximum deltaE of 7.4 and an average of 6.2. Sadly, it offers no color profiles or custom adjustments, so this is as color-accurate as you can get. Razer does also boast Wide color gamut for its mobile panel but it's not something readily perceivable with the naked eye.
Given the poor performance of the 5.7-inch IGZO display in most of our typical tests so far, it should come as no surprise that it failed to impress in the sunlight legibility department too. You really shouldn't count on any outdoor gaming sessions.
Sunlight contrast ratio
Apple iPhone X




5.013

Samsung Galaxy S8




4.768

Samsung Galaxy S8+




4.658

Samsung Galaxy S6 edge+




4.615

Motorola Moto Z2 Play




4.459

Oppo R11




4.454

Samsung Galaxy S7 edge




4.439

OnePlus 3




4.424

Samsung Galaxy S7




4.376

HTC One A9




4.274

Samsung Galaxy Note7




4.247

Samsung Galaxy A3




4.241

Nokia 8




4.239

Google Pixel 2 XL




4.234

OnePlus 3T




4.232

Google Pixel XL




4.164

ZTE Axon 7




4.154

Samsung Galaxy Note8




4.148

Meizu Pro 7 Plus




4.147

Samsung Galaxy S6 edge




4.124

Samsung Galaxy A7 (2017)




4.124

Huawei Mate 10 Pro (normal)




4.096

Samsung Galaxy Note5




4.09

Google Pixel 2




4.023

LG V30




4.022

Huawei Nexus 6P




4.019

OnePlus X




3.983

Vivo Xplay5 Elite




3.983

Oppo R7s




3.964

Apple iPhone 7




3.964

Apple iPhone 8 (True Tone)




3.957

Huawei P9 Plus




3.956

Meizu Pro 6 Plus




3.935

Lenovo Moto Z




3.931

Samsung Galaxy A7 (2016)




3.918

OnePlus 5




3.914

Samsung Galaxy C5




3.911

Samsung Galaxy C7




3.896

Samsung Galaxy A5




3.895

Samsung Galaxy J7 outdoor




3.879

Samsung Galaxy J2 outdoor




3.873

Samsung Galaxy A8




3.859

Sony Xperia XZs




3.818

Samsung Galaxy A9 (2016)




3.817

Motorola Moto X (2014)




3.816

Samsung Galaxy J7 (2017)




3.812

Samsung Galaxy A5 (2017)




3.804

Samsung Galaxy J7 (2016) outdoor mode




3.802

Xiaomi Redmi Pro




3.798

LG V20 Max auto




3.798

Sony Xperia XZ




3.795

Samsung Galaxy A5 (2016)




3.789

Apple iPhone 6s




3.783

Meizu Pro 5




3.781

Microsoft Lumia 650




3.772

Xiaomi Mi 6




3.767

Sony Xperia XZ1




3.765

Samsung Galaxy J7 (2016)




3.756

Sony Xperia XZ1 Compact




3.729

Apple iPhone 8 Plus (True Tone)




3.725

Oppo F1 Plus




3.709

Vivo X5Pro




3.706

Samsung Galaxy A3 (2017)




3.688

Apple iPhone SE




3.681

Huawei Mate 9




3.68

Samsung Galaxy A7




3.679

Meizu PRO 6




3.659

BlackBerry Priv




3.645

Sony Xperia XA1 Ultra




3.597

Apple iPhone 7 Plus




3.588

LG G6




3.556

Apple iPhone 6s Plus




3.53

Motorola Moto Z Play




3.526

Samsung Galaxy J3 (2016)




3.523

Samsung Galaxy J3 (2016) outdoor mode




3.523

Acer Jade Primo




3.521

Microsoft Lumia 950




3.512

Oppo R7 Plus




3.499

nubia Z11




3.466

Huawei P10 Plus




3.456

HTC U Ultra




3.453

Samsung Galaxy J7




3.422

Meizu MX5




3.416

LG V20




3.402

Huawei P10




3.379

Samsung Galaxy J5 (2016)




3.378

Oppo R9s




3.352

Honor 8 Pro




3.341

Oppo R7




3.32

Lenovo P2




3.316

Honor 9




3.289

Xiaomi Mi 5s




3.276

Nokia 5




3.261

Nokia 6 (Chinese version)




3.244

Nokia 6 (Global version)




3.238

Samsung Galaxy J2




3.235

Sony Xperia X Performance




3.234

Xiaomi Mi Note 2




3.228

Motorola Moto X Play




3.222

Oppo F3 Plus




3.218

Huawei Mate 9 Pro




3.206

Huawei P9




3.195

Xiaomi Mi Mix 2




3.19

ZTE Nubia Z17




3.159

Lenovo Vibe Shot




3.113

Motorola Moto X Force




3.105

LG Nexus 5X




3.092

HTC U11




3.089

Huawei Mate S




3.073

Microsoft Lumia 640 XL




3.065

Sony Xperia XA1




3.012

Sony Xperia L1




2.994

Huawei P10 Lite




2.974

Samsung Galaxy Note




2.97

Sony Xperia Z1




2.95

Huawei Mate 8




2.949

Xiaomi Redmi 4




2.92

Xiaomi Redmi 3S




2.913

Sony Xperia XA Ultra




2.906

LG G5




2.905

HTC One S




2.901

Xiaomi Redmi 3s Prime




2.893

Xiaomi Mi 5s Plus




2.884

Sony Xperia XZ Premium (sRGB)




2.877

Sony Xperia XZ Premium




2.877

Sony Xperia Z5




2.876

Nokia 3




2.871

Microsoft Lumia 550




2.851

Lenovo Moto M




2.813

Xiaomi Redmi 3 Pro




2.803

Sony Xperia Z5 compact




2.784

Meizu MX6




2.751

LG V10




2.744

Huawei Mate 10 (normal)




2.742

Xiaomi Redmi 3




2.735

Xiaomi Redmi Note 4 (S625)




2.714

Meizu M5




2.71

Sony Xperia M5




2.69

Xiaomi Mi A1




2.689

Huawei P9 Lite




2.679

Xiaomi Redmi 4 Prime




2.679

Vivo V3Max




2.659

Xiaomi Mi Mix




2.658

Doogee Mix




2.642

Xiaomi Mi 4i




2.641

Xiaomi Redmi 4a




2.635

Xiaomi Mi 5X (Standard)




2.616

Sony Xperia XA




2.609

Motorola Moto G4 Plus




2.582

Motorola Moto G4 Plus (max auto)




2.582

Meizu M5s




2.58

Xiaomi Mi 4c




2.574

LeEco Le Max 2




2.567

Microsoft Lumia 640




2.563

Asus Zenfone 3 ZE552KL




2.563

Xiaomi Mi Max 2




2.561

Motorola Moto G 4G




2.546

Lenovo Moto G4




2.544

Lenovo K6 Note




2.544

Oppo F1




2.528

Sony Xperia Z5 Premium




2.525

Huawei Honor 7 Lite / Honor 5c




2.506

Sony Xperia M4 Aqua




2.503

Oppo F1s




2.481

Motorola Moto G




2.477

Lenovo Vibe K5 Plus




2.473

Huawei G8




2.471

Huawei nova




2.467

Lenovo Vibe K5




2.459

Meizu m3 max




2.447

Xiaomi Mi 5X (Auto)




2.417

HTC 10 evo




2.407

Huawei Honor 7




2.406

Sony Xperia E5




2.386

ZUK Z1 by Lenovo




2.382

HTC 10




2.378

Oppo F3




2.376

vivo V5 Plus




2.371

Meizu m1 note




2.362

Huawei nova plus




2.329

Razer Phone




2.328

HTC One E9+




2.305

Alcatel One Touch Hero




2.272

Apple iPhone 4S




2.269

Lenovo Vibe K4 Note




2.254

Sony Xperia C5 Ultra




2.253

Xiaomi Redmi Note 3 (MediaTek)




2.249

Sony Xperia C4 Dual




2.235

Xiaomi Mi Note




2.234

Motorola Moto G (2014)




2.233

LG Nexus 5




2.228

Huawei P8




2.196

Meizu M5 Note




2.189

Huawei Honor 6




2.169

Xiaomi Redmi Note 2




2.166

OnePlus Two




2.165

HTC One X




2.158

LG Aka




2.145

Xiaomi Redmi Note 4 (X20)




2.145

Archos 50 Diamond




2.134

Xiaomi Redmi Note




2.119

Xiaomi Mi 4S




2.095

Acer Liquid X2




2.084

Huawei P8lite




2.078

vivo V5




2.059

Moto G 3rd gen max manual




2.026

Xiaomi Mi 3




2.001

Xiaomi Mi Max




1.996

Sony Xperia E4g




1.972

OnePlus One




1.961

Meizu m3 note




1.923

BlackBerry Leap




1.892

Meizu m2 note




1.892

HTC Butterfly




1.873

Sony Xperia Z1 Compact




1.772

ZTE Nubia Z9 mini




1.759

Sony Xperia U




1.758

Asus Zenfone Selfie




1.68

Motorola Moto E (2nd Gen)




1.675

ZTE Nubia Z9




1.659

Jolla Jolla




1.605

Motorola Moto E




1.545

Sony Xperia M




1.473

Sony Xperia L




1.351

Xiaomi Redmi 2




1.311

HTC Desire C




1.3

Meizu MX




1.221

Sony Xperia E




1.215
All things considered, Razer's new screen is more of a theoretically impressive piece of technology, with potential future implications than a major game changer in practice. The high refresh rate seems to have come at a great cost.
Battery Life
After that pretty gloomy screen chapter, the Razer Phone finds itself in desperate need of some restitution. Its massive 4,000mAh battery shows plenty of potential on paper. Considering all the supposed energy-saving factors we discussed in the displayed chapter, we were really hoping for a spectacular battery endurance rating. Unfortunately, this is not quite what the numbers show.
It appears that even with the lowered max brightness, the high refresh rate panel is really power hungry, to the point where it dragged both of our on-screen tests down pretty badly. Seven hours of web browsing is far from acceptable in a 2017 flagship. Especially one with such a massive battery. The thing is, every time you scroll a page, the phone has to work extra hard to push 120 fps to saturate the panel's refresh rate.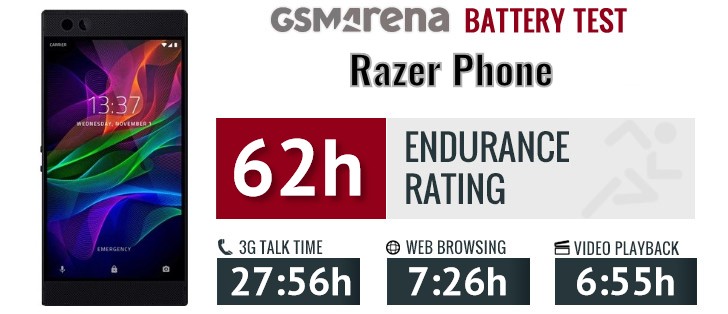 However, there seems to be more to it than that, since the H264 MP4 video we use for our playback tests is encoded at 30 frames per second. Hence, if you just let it play without constantly messing with controls, the panel maintains its variable refresh rate equally low (30Hz).
Still, that didn't help the Razer Phone surpass the seven and a half hour mark, so our only logical conclusion is that the fancy new 120Hz, IGZO panel is power hungry, no matter how hard it is pushed. So, there go our hopes of any power efficiency benefits.
However, for the sake of thoroughness and after reading the multiple requests you left in our comments, we redid our tests with the refresh rate setting fixed to 60Hz. The similar numbers only solidified our conclusion.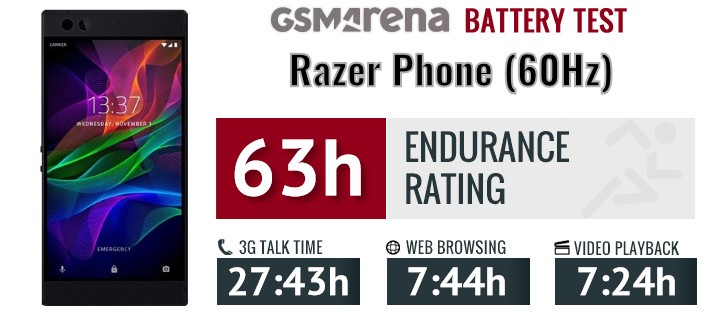 And this is not a case of bad implementation on the Snapdragon 835 chip either. Its 3G call time endurance is solid and so is its standby time of a little over 270 hours. So, the display is definitely the culprit here – battery life is really disappointing with screen-on tasks.
Charging the Razer Phone, however, is impressively fast thanks to the Quick Charge 4+ technology. We managed to get our review unit from 0% all the way up to 70% in just half an hour. And this is a 4,00mAh battery we are talking about.
That being said, wireless charging is a notable omission from the Razer Phone high-end specs list.
Connectivity
In terms of connectivity, the Razer Phone is pretty much in lockstep with the rest of the 2017 flagship crowd. Well, perhaps, minus the omission of a 3.5mm audio jack. The latter is particularly annoying since the Razer Phone doesn't really appear to be all that pressed for room. If it had space for two AMPs, it definitely should have managed a standard jack.
Another omission is dual-SIM support. The Razer Phone can only take a single nano-SIM card, although arguably, this should be less of an issue for fans than the lack of an analog audio output.
Other than that, the powerful X16 LTE modem inside the Snapdragon 835 chipset supports 21 LTE bands, which should have you duly covered. If not, there are six HSPDA ones to fall back to as well. And if all else fails, quad-band GSM support.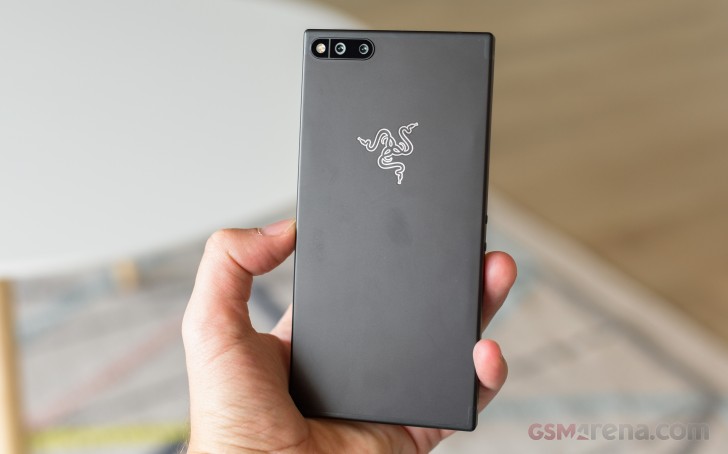 Theoretical download speeds of Cat.16 mean up to 1GBps. 4×20 MHz carrier aggregation is another great bonus to enjoy, provided your carrier has the network to match this.
In terms of local connectivity, the Razer Phone is pretty well equipped as well. You get Dual-band 802.11ac Wi-Fi. Oddly enough, the Bluetooth radio is of the older 4.1 variety instead of 5.0.
With no 3.5mm audio jack in sight, the handset is only left with a single port. So, connecting more than one thing at a time definitely means living the dongle life. On the plus side, Razer didn't skip on any trimmings for the Type-C port. Its audio output is actually analog, as opposed to Type C digital audio. That means you don't need expensive dongles or headphones, but only a passive adapter to get the sound out of the internal DAC. Razer even provides a sturdy, high-quality branded one in the box. If the latter is not up to your personal audiophile standards, you can still get digital audio output through the same port.
Vanilla Android Nougat, with Nova Launcher on top
Razer is no stranger to feature-laden and often bloated software suites powering its PCs. Frankly, we expected to see something similar with the Razer Phone, but, thankfully, that's not exactly how things played out.
In a pleasant turn of events, Razer actually went for a near stock ROM on its ambassador Android device. The handset runs a surprisingly clean Android 7.1.1 Nougat ROM, with a very minimal app package on top. It is good to see that Razer oriented itself quickly in the Android realm and the performance benefits of a bloat-free OS.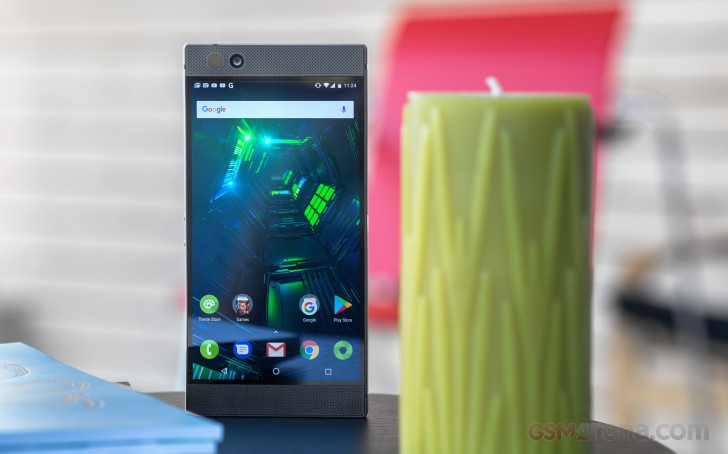 However, the Razer also found a nifty way to stay true to its roots and deliver all the "swag" its fans have grown accustomed to, without too much bloat. The solution in question is a custom Nova Launcher Premium install, that ships with every Razer Phone by default.
The latter opens up a tremendous amount of UI customization options. You can pretty much tweak every part of the UX to your liking. For instance, out of the box, the Razer Phone, uses a Pixel-Style up swipe gesture to enter into a vertically scrolling app drawer. After a few clicks, we were able to remap that gesture to something more relevant to us. For instance, bringing out a classic app drawer icon, or switching to a horizontal layout in the app list or even tweaking the appearance of the notification badges and the transition animations.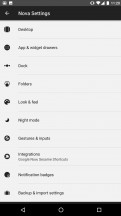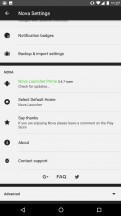 Nova Launcher Premium
The sky is the limit with the Nova launcher and it's no wonder it is still one of the most popular custom launchers out there. Plus, Razer worked with the Nova team to sprinkle in some extra "swag" of its own as well. There is a powerful Razer theming engine running on top of Nova. Just fire up the Themes app and browse a selection of well crafted themes, courtesy of Razer themselves, absolutely free of charge.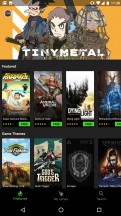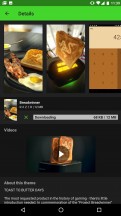 Theme store
Besides tweaking the usual things, like wallpapers and icons, these actually change some color accents deep within the UI itself, like the notification shade. Most default Razer apps change their color scheme accordingly as well.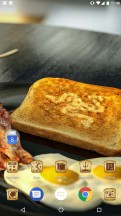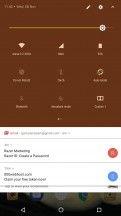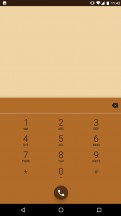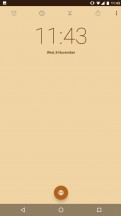 The infamous Razer toast theme
The selection is still quite limited, but the themes that are already present are all really high quality and either gaming-inspired or Razer-themed, which fans are likely to appreciate. The legendary Razer Toaster gag even has its own theme – a natural first choice for us.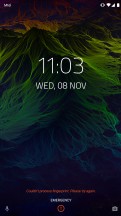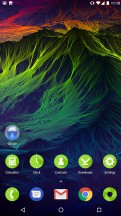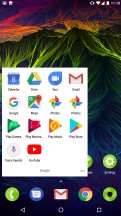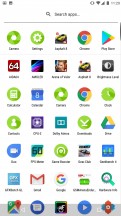 Default Nova Launcher UI setup
So, since most of the look and feel of the Razer UI is subject to some form of tweaking and entirely up to you, there is no real point in touring most basic controls. As already mentioned, you can setup the app drawer any way you like it, the same goes for the desktop, gestures and optional Google Now pane.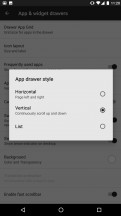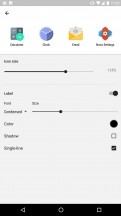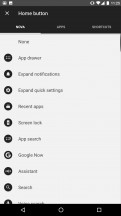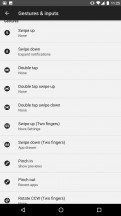 Nova launcher settings
The notification shade is a pretty Vanilla Android affair. Well, minus the color customizability previously mentioned, that is. One swipe down for notifications and another or a two finger one for the quick toggles. These can be rearranged freely.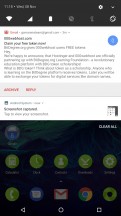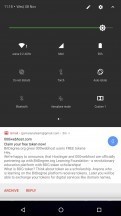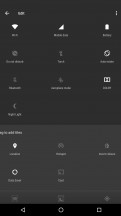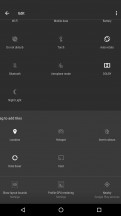 Standard notification shade
One toggle in particular seems to stand out – DOLBY. The pair of powerful stereo, front-facing speakers on the Razer Phone are THX certified and powered by DOLBY ATMOS technology. The latter threw its own equalizer software in the mix, complete with custom profiles. You can quickly switch between these from the DOLBY quick toggle.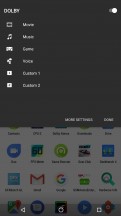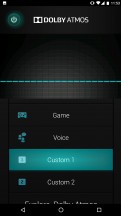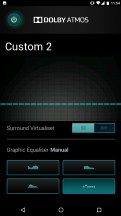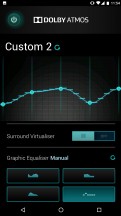 DOLBY equalizers
Most other aspects of the Razer Phone UI are stock or almost nearly so as well. This includes the app switcher and most of the main settings menu as well. Split screen is supported.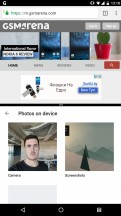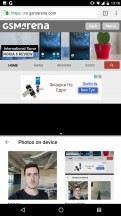 Split screen
Besides the equalizer, there are only a couple of other noteworthy custom additions to the settings menu.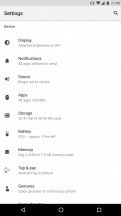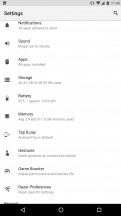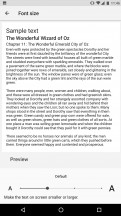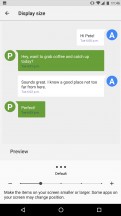 Settings menu
Game Booster is one of them. It actually serves as a complementary feature to the resolution and refresh rate adjustment controls, found in the Display menu. Yes, they are two different types of controls, for some reason. Anyway, Game Booster lets you set resolution, refresh rate for the panel and a CPU frequency cap for each app, individually.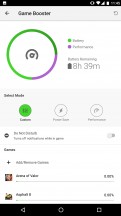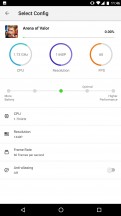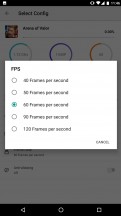 Game Booster
While definitely a nifty idea, we would note that mucking about with these settings didn't really yield any fps improvements in most games we tried. Plus, for some reason, these controls seem to work independently of their OS-wide counterparts and some games are not particularly happy about that. Certain titles get mixed up quite a bit, for instance, running in 720p mode in a small window in the top left part of the phone screen, which, itself is retaining the QHD resolution set in the Display menu. We ran into other similar issues as well, so the feature clearly needs some extra work, not to mention proper third-party support. But, there is only so much Razer can do about that.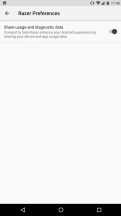 Razer Preferences
Just to finish the tour up, the ominously titled "Razer Preferences" menu currently only holds a usage statistic reporting toggle. Rather anticlimactic. Also, browsing through the developer menu of the Razer Phone, we found a nifty little on-screen fps counter, which Razer likely implemented for proper gaming performance monitoring and debugging.
It definitely came in handy while measuring performance and on screen frame rate. Hop on over to the next page to see our findings.
Benchmarking performance
We finally get to the main event. According to Razer, its handset is created to serve a singular purpose – be the best gaming/multimedia handset out there. A tough mission, if we ever saw one, yet Razer seemed pretty confident at the unveiling event. Synthetic benchmark numbers were even quoted, along with lofty claims, like: "The best thermal performance in a smartphone".
While the PC gaming crowd might be pretty accustomed to such cocky overstatements, on the smartphone scene, manufacturers tend to be a bit more conservative in their wording overall. The simple truth is that the number and possible variations of internal smartphone components is still nowhere near PC standards. That leaves little room for overly unexpected performance variance as a whole.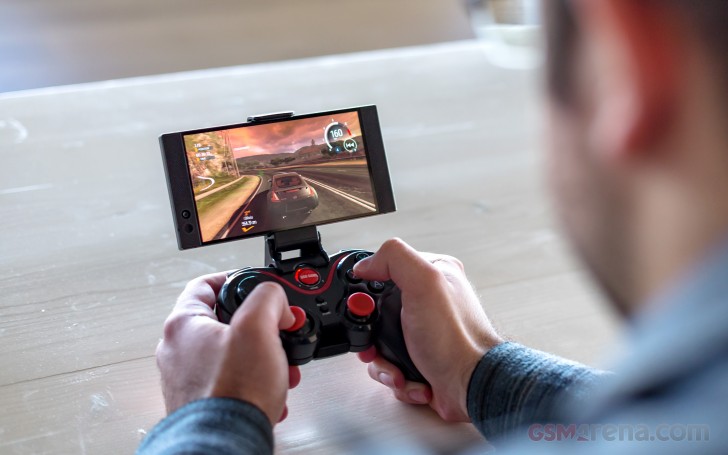 The Razer Phone is powered by the same Snapdragon 835 we have already seen and thoroughly tested in most of this year's flagship devices. Naturally, Razer decided to throw the 8GB RAM number around as well. Like we have said before, it is hardly a game-changer within the current state of the Android OS, resource management and typical mobile app loads.
Plus, when you throw a conveniently big memory figure like that in our face, you better be ready to defend your choice of storage options. In this case, only one – 64GB, which, frankly, is hardly impressive when you are pitching your product to gaming and multimedia enthusiasts.
To be fair, most of our frustration with Razer's PR likely stems from its, for lack of a better term, "gamer-friendly" approach to marketing. So, we'll give it a rest and move on to the actual benchmarks. The Snapdragon 835 chipset performs exactly as expected.
GeekBench 4.1 (multi-core)
Higher is better
Samsung Galaxy Note8




6784

Huawei Mate 10 Pro




6783

Samsung Galaxy S8+




6754

Razer Phone




6728

Xiaomi Mi 6




6719

Motorola Moto Z2 Force




6629

Huawei Mate 10




6625

Xiaomi Mi Mix 2 (MIUI 9 Beta)




6593

Samsung Galaxy Note8 (SD 835)




6590

Nokia 8




6568

Sony Xperia XZ1




6541

Google Pixel 2




6437

Google Pixel 2 XL




6428

HTC U11




6393

LG V30




6365

Samsung Galaxy S8+ (SD 835)




6301

Xiaomi Mi Mix 2




6234

Sony Xperia XZ Premium




5460

LG G6




4175
GeekBench 4.1 (single-core)
Higher is better
Samsung Galaxy Note8




1987

Samsung Galaxy S8+




1986

Razer Phone




1931

Xiaomi Mi 6




1929

Nokia 8




1925

Xiaomi Mi Mix 2




1924

HTC U11




1919

Xiaomi Mi Mix 2 (MIUI 9 Beta)




1919

Motorola Moto Z2 Force




1915

Google Pixel 2 XL




1915

Google Pixel 2




1912

Huawei Mate 10 Pro




1902

LG V30




1901

Huawei Mate 10




1882

Samsung Galaxy Note8 (SD 835)




1862

Sony Xperia XZ1




1840

Sony Xperia XZ Premium




1836

Samsung Galaxy S8+ (SD 835)




1832

LG G6




1767
No "secret sauce" or magical performance boosts in sight, but that's alright with us. Perhaps, if Razer had thrown in a Chroma-compatible logo on the back, the numbers might have been a little different.
Geekbench 4 Compute
Higher is better
Samsung Galaxy Note8




8193

Sony Xperia XZ1




8003

HTC U11




7992

Xiaomi Mi Mix 2




7853

Xiaomi Mi Mix 2 (MIUI 9 Beta)




7753

Samsung Galaxy Note8 (SD 835)




7709

Razer Phone




7584

Samsung Galaxy S8+ (SD 835)




7577

LG G6




6484
Kidding aside, more compound benchmarks, like AnTuTu paint the exact same picture. Again, don't get us wrong, it is a worthy 2017 flagship picture, but not nearly as "insane" as Razer seems to perceive it.
AnTuTu 6
Higher is better
Xiaomi Mi Mix 2 (MIUI 9 Beta)




181570

Razer Phone




179357

Motorola Moto Z2 Force




178674

Huawei Mate 10 Pro




178510

HTC U11




177343

Xiaomi Mi 6




177326

Nokia 8




175872

Huawei Mate 10




175426

Samsung Galaxy Note8 (SD 835)




175153

LG V30




174330

Samsung Galaxy S8+




174070

Samsung Galaxy Note8




172425

Google Pixel 2 XL




170407

Google Pixel 2




168648

Samsung Galaxy S8+ (SD 835)




168133

Xiaomi Mi Mix 2




160319

Sony Xperia XZ1




144462

Sony Xperia XZ Premium




144223

LG G6




143639

Huawei P10




126629
The exact same goes for Basemark OS 2.0. Since there are no surprises thus far, we will use this opportunity to comment of the allegedly amazing cooling solution. While the phone never actually throttled, at least not during our tests, it got really hot.
Basemark OS 2.0
Higher is better
Xiaomi Mi Mix 2 (MIUI 9 Beta)




3612

Motorola Moto Z2 Force




3609

Xiaomi Mi Mix 2




3578

Xiaomi Mi 6




3547

Nokia 8




3503

Razer Phone




3492

Huawei Mate 10 Pro




3425

Samsung Galaxy Note8 (SD 835)




3424

Huawei Mate 10




3415

Google Pixel 2




3387

Google Pixel 2 XL




3379

Samsung Galaxy Note8




3333

Samsung Galaxy S8+ (SD 835)




3319

Samsung Galaxy S8+




3298

Sony Xperia XZ Premium




3174

Sony Xperia XZ1




2986

HTC U11




2970

Huawei P10




2910

LG V30




2705

LG G6




2126
Using the large metal unibody as a heat spreader might very well be beneficial for cooling the internals, but this also leaves you with an unpleasantly toasty phone to hold in long gaming sessions. For many out there, especially laptop gaming fans this might be a fair trade-off. Plus, if you opt for a nice Bluetooth controller solution, like we did, it becomes a non-issue.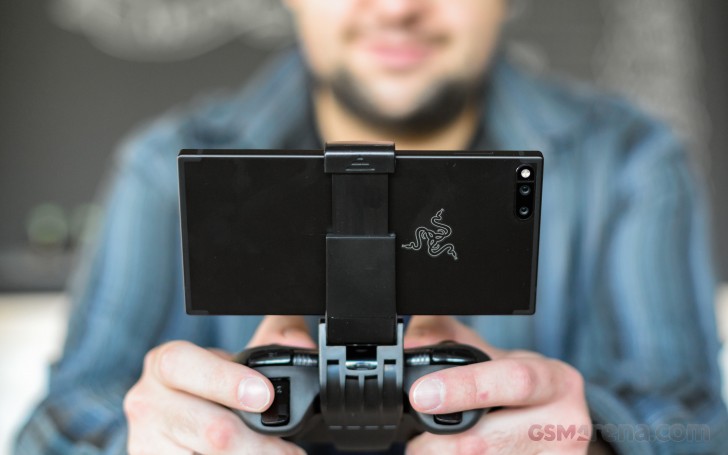 It really is a shame Razer isn't offering any such accessories of its own. At least not yet, that is. Having tactile controls is a definite advantage in most gaming situations, so, hopefully, we get to see some proper accessories soon.
Speaking of which, it is high time we moved to graphics performance, since this is what most of you likely came here to see. Plus, we do have quite a bit of actual gaming experience to share with you. But first, synthetics.
These are, well, as expected. Again, the Razer phone does not have the benefit of any mysterious new silicon. It just manages to leverage the Snapdragon 835 and its Adreno 540 GPU perfectly adequately to be on par with the competition.
GFX 3.0 Manhattan (1080p offscreen)
Higher is better
Huawei Mate 10 Pro




65

Huawei Mate 10




65

Samsung Galaxy Note8 (SD 835)




63

Razer Phone




61

Motorola Moto Z2 Force




61

Google Pixel 2 XL




61

LG V30




60

HTC U11




60

Google Pixel 2




60

Xiaomi Mi 6




59

Samsung Galaxy S8+ (SD 835)




57

Nokia 8




57

Xiaomi Mi Mix 2




54

Xiaomi Mi Mix 2 (MIUI 9 Beta)




53

Samsung Galaxy Note8




51

Samsung Galaxy S8+




50

Sony Xperia XZ Premium




50

Sony Xperia XZ1




49

LG G6




41

Huawei P10




29
GFX 3.0 Manhattan (onscreen)
Higher is better
Xiaomi Mi 6




56

Google Pixel 2




56

Huawei Mate 10 Pro




55

Xiaomi Mi Mix 2




50

Xiaomi Mi Mix 2 (MIUI 9 Beta)




49

Sony Xperia XZ1




48

Sony Xperia XZ Premium




47

Huawei Mate 10




43

Samsung Galaxy Note8




42

Samsung Galaxy S8+




40

Motorola Moto Z2 Force




40

Razer Phone




39

Samsung Galaxy Note8 (SD 835)




37

Google Pixel 2 XL




36

LG V30




35

HTC U11




35

Huawei P10




35

Samsung Galaxy S8+ (SD 835)




34

Nokia 8




33

LG G6




24
It is worth noting that, as per our usual methodology, the tests were all carried out at the native QHD resolution of the panel. This takes its toll, as expected, in on-screen rendering.
GFX 3.1 Manhattan (1080p offscreen)
Higher is better
Samsung Galaxy Note8 (SD 835)




43

Razer Phone




42

Samsung Galaxy S8+




42

Samsung Galaxy Note8




42

Motorola Moto Z2 Force




42

Xiaomi Mi Mix 2 (MIUI 9 Beta)




42

Google Pixel 2 XL




42

LG V30




41

HTC U11




41

Xiaomi Mi 6




41

Google Pixel 2




41

Samsung Galaxy S8+ (SD 835)




39

Nokia 8




39

Sony Xperia XZ Premium




39

Sony Xperia XZ1




39

Huawei Mate 10 Pro




38

Huawei Mate 10




38

Xiaomi Mi Mix 2




37

LG G6




26

Huawei P10




22
GFX 3.1 Manhattan (onscreen)
Higher is better
Google Pixel 2




43

Sony Xperia XZ Premium




41

Xiaomi Mi 6




41

Sony Xperia XZ1




40

Huawei Mate 10 Pro




35

Xiaomi Mi Mix 2




32

Xiaomi Mi Mix 2 (MIUI 9 Beta)




32

Huawei P10




30

Samsung Galaxy S8+




23

Samsung Galaxy Note8




23

Huawei Mate 10




23

Razer Phone




22

Motorola Moto Z2 Force




22

Google Pixel 2 XL




21

Samsung Galaxy Note8 (SD 835)




20

LG V30




19

HTC U11




19

Samsung Galaxy S8+ (SD 835)




18

Nokia 8




18

LG G6




12
GFX 3.1 Car scene (1080p offscreen)
Higher is better
Nokia 8




32

Razer Phone




25

Samsung Galaxy S8+




25

Samsung Galaxy Note8 (SD 835)




25

Samsung Galaxy Note8




25

Sony Xperia XZ Premium




25

Motorola Moto Z2 Force




25

Xiaomi Mi 6




25

Xiaomi Mi Mix 2




25

Xiaomi Mi Mix 2 (MIUI 9 Beta)




25

Google Pixel 2 XL




25

Sony Xperia XZ1




24

LG V30




24

HTC U11




24

Google Pixel 2




24

Samsung Galaxy S8+ (SD 835)




23

Huawei Mate 10 Pro




22

Huawei Mate 10




21

LG G6




16

Huawei P10




14
GFX 3.1 Car scene (onscreen)
Higher is better
Google Pixel 2




26

Sony Xperia XZ Premium




25

Sony Xperia XZ1




25

Xiaomi Mi 6




25

Xiaomi Mi Mix 2




24

Xiaomi Mi Mix 2 (MIUI 9 Beta)




24

Huawei Mate 10 Pro




21

Huawei P10




16

Razer Phone




15

Motorola Moto Z2 Force




15

Samsung Galaxy S8+




13

Samsung Galaxy Note8 (SD 835)




13

Samsung Galaxy Note8




13

LG V30




13

HTC U11




13

Huawei Mate 10




13

Google Pixel 2 XL




13

Samsung Galaxy S8+ (SD 835)




12

Nokia 8




12

LG G6




8.5
We also can't help but remember a few benchmark numbers Razer shared on stage at the unveiling.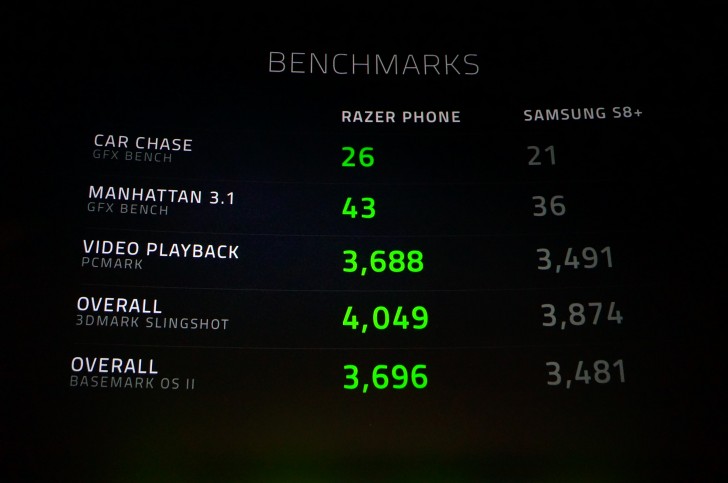 Hopefully, this doesn't come off as senseless bashing, since it isn't intended as such. Synthetics are far from exact science and a quick glance at one of the big online score databases proves you can stretch these scores a lot in both directions on any hardware.
Basemark ES 3.1 / Metal
Higher is better
Samsung Galaxy Note8




1268

Huawei Mate 10 Pro




1183

Huawei Mate 10




1142

Samsung Galaxy S8+




1111

Samsung Galaxy Note8 (SD 835)




875

Google Pixel 2 XL




874

Razer Phone




868

Motorola Moto Z2 Force




867

Xiaomi Mi 6




861

LG V30




860

Nokia 8




855

Sony Xperia XZ1




853

Sony Xperia XZ Premium




842

Google Pixel 2




839

HTC U11




836

Samsung Galaxy S8+ (SD 835)




817

Xiaomi Mi Mix 2 (MIUI 9 Beta)




742

Xiaomi Mi Mix 2




739

Huawei P10




716

LG G6




541
In real world terms, the Razer Phone is not any better or any worse at performing these artificial tasks than the Samsung Galaxy S8+. And it would probably be in Razer's best interest to ease off on the convenient numbers and lofty claims at least a bit if it plans to stick around on the mobile scene and build a respectable image.
But, what happened to the promise of ultra-smooth 120Hz goodness? Valid question and one we made sure to test thoroughly. Besides getting to play games at work, we did actually pinpoint what we think are a few interesting details about the new ULTRAMOTION display.
From the very get-go Razer mentioned 120Hz on stage, we have been incredibly suspicious of the claim. Firstly, however, we have to give credit where credit is due, Razer definitely managed to optimize its Android UI to take full advantage of the variable, high-refresh rate panel. Every motion looks buttery smooth.
And it's not just system animations. Every scroll on a web page instantly results in a rendering fps hike all the way up to 120 fps and an incredibly sharp scroll effect. No blurring or tearing whatsoever. Browsing on the Razer Phone is a great experience, even if most multimedia content online is still played back at 30 fps. Plus, every intermittent moment before the hardware manages to react to the motion and ramp up the fps count, everything remains perfectly smooth as well, thanks to the variable refresh rate.
As for the suspicion part, it mostly stems from our fairly extensive experience with Android and the fact that it is simply not adapted to handle anything beyond 60 fps. And it's not necessarily that the Adreno 540 is not powerful enough to push all the frames, it's just that most of the existing app ecosystem, including game engines, is not designed to work under such conditions. Perhaps a second "Project Butter" will happen at some point to make that a reality, but currently, Razer is stuck in a mostly unfavorable early-adopter position.
This is Arena on Valor – one of the games Razer showcased on stage, as a title specifically optimized to take advantage of the Razer Phone's hardware. The little green frame counter is actually a built-in debug function, which was incredibly convenient and ensured our tests were as accurate as possible.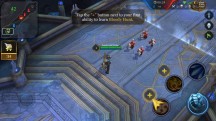 Arena of Valor hitting 40-ish fps at QHD
At native resolution, the game only managed to get as high as 50 fps on occasion. Far from the 120 mark, required to saturate the full 120Hz refresh potential of the panel. So, our first instinct was to lower resolution.
We briefly touched on this in the software section, but to re-iterate, the Razer Phone has two sets of resolution and frame rate/refresh rate controls. One of these is in the display settings menu and affects the resolution of the entire OS and the refresh rate cap of the panel. The other is within Game Booster and can be set on a per-app level.
After a lot of experimenting, we discovered these seem to be separate from one another. So, in order to avoid weird small window glitches or touch input problems, we advise you to change them in sync. To give the chipset the best possible chance, we set the CPU frequency to the max 2.36 GHz, left the 120 fps cap and proceeded to lower resolution.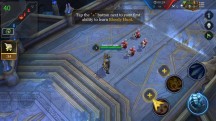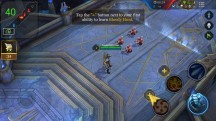 Arena of Valor at 1080p and 720p
All that work and literally no fps gain. That can only mean one thing – the game engine is just not designed to push any more frames. Bummer.
How about Gear.Club – another title Razer ships with its Phone pre-installed. Well, with it, we did manage to get higher fps readings in the 75 range, but again, literally no change with resolution.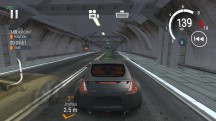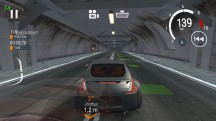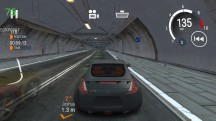 Gear.Club at QHD, 1080p and 720p
Still, we count that as progress, since it does prove engines differ from one another in their fps cap. On to the Google Play store then and the top games chart to start the hunt. Asphalt 8? No, not really.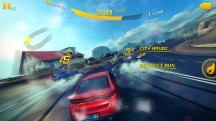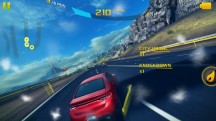 Asphalt 8 at QHD, 1080p, hitting 40-ish fps
DeadTrigger2? Perhaps the Razer likes zombie-mashing better. No, 40-ish cap again, regardless of resolution.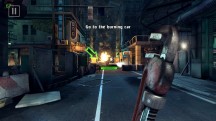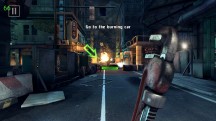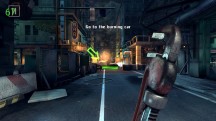 DeadTrigger2 at QHD, 1080p and 720p
OK, perhaps we are going about this the wrong way. Maybe these heavy 3D games are purposefully built with more restrictions in place to ensure performance. So, we tried some simpler graphics titles.
CrossyRoad can easily do 60 fps, but not any more. We tried mixing things up in the settings department one more time, just in case. So, we left the system at QHD and only changed the internal game render resolution through Game Booster. Still no luck.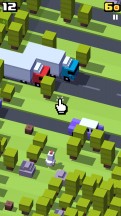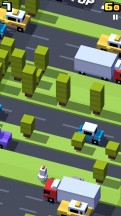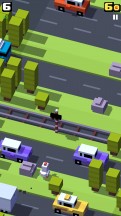 CrossyRoad
OK, enough teasing, in case you were wondering, yes, games capable of pumping out 120 fps do exist. Alto's Adventure is one of them and it looks even better with the extra fluidity of motion. Sadly, it's not something we can show you, since we would have to record the footage at 120 frames and you would have to watch it on a 120Hz monitor. So, you have to take our word for it. Once you try high refresh rate gaming, especially on a variable refresh rate platform, you never want to go back.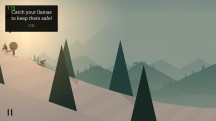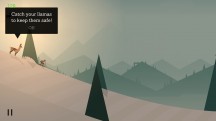 Alto's adventure hitting 120 fps
Another title we managed to find was BADLAND2. Out of all the games we tested, it also behaved most like a PC title, as in, lowering the resolution actually helped it keep 120 fps easily and more comfortably.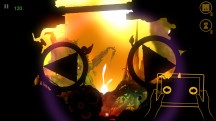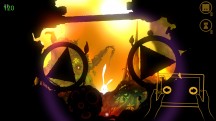 BADLAND2 can go up to 120fps as well
All things considered, Razer's coveted headlining feature for the Razer Phone, the 120Hz refresh rate, is far from a game-changer at this point in time. Actually taking full advantage of it is a wild goose chase. To prove our point further, we went one step deeper down the rabbit hole and tried to find other titles from the studio that made Alto's Adventure, hoping to stumble on some consistency. Unfortunately, even that is not a full-proof strategy, since Leap On! only went as high as 70 fps.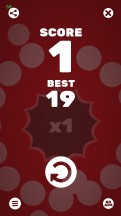 No luck with LeapOn!
We also looked into remote play for some of our favorite PC games on the Razer Phone to potentially take advantage of the high refresh rate. A couple of solutions do exist, like Nvidia's Game Stream with a compatible client (Moonlight). Unfortunately, all the apps we checked out are currently capped at 60 fps for one reason or another. Perhaps, we'll see how things evolve over the following months. Here's hoping Razer releases a solution of its own, perhaps accompanied by a gamepad accessory for the best possible experience.
Still, even in its current flawed state, we see potential in Razer's ULTRAMITION panel. It is an important early effort to spearhead high refresh rate gaming on mobile devices. If the PC realm is anything to go by, it is a good and logical upgrade path to explore in the future. Definitely one mobile gamers will eventually come to appreciate.
Telephony
One of Razer's arguably better decisions, regarding their first smartphone was to opt for a very light software package. For the most part, the phone relies on Google's own application package, running on top of what we already determined to be a nearly vanilla Android ROM.
Still, there are a few custom apps to note, one of them being the Phone app. Since it lends itself to skinning as part of Razer's extensive Theme system, we can be certain it is not an AOSP solution. However, besides the theme support, you would be hard-pressed to find anything else really custom within the app.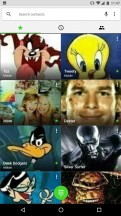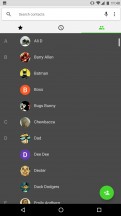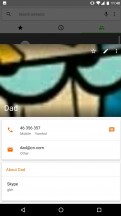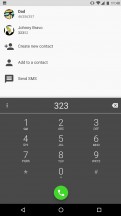 Phone app
It shares a common interface with the Contacts directory, placed in its own separate tab, as well as the call history log. There are some call settings to explore as well, but again, nothing out of the ordinary.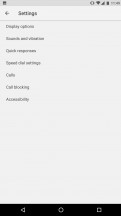 Call settings
Messaging and text input
The Messages app is another custom Razer creation that is more than loosely based on Google's AOSP solution. Communication is separated out into threads, you get MMS and group chat support. The standard drill.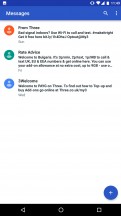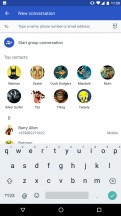 Messages app
As you can probably guess, GBoard is the default pre-loaded input solution. Google's keyboard has come a long way since its early days in terms of customizability. Plus, you still get the benefit of the search giant's great prediction algorithms, as well as in-place online searching and GIF support.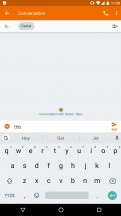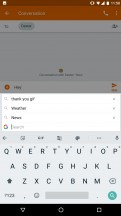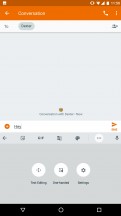 GBoard
Loudspeaker test
If there is one thing the Razer Phone has no shortage of, it has to be loudspeakers. Like we already mentioned, the large top and bottom chins of the phone have been put to good use, housing large speakers. So large, Razer apparently felt the need to include two AMPs – one for each speaker.
The result is two seriously loud front-firing speakers that almost make up for the dust-happy speaker grills, they are covered with.
| | | | | |
| --- | --- | --- | --- | --- |
| Speakerphone test | Voice, dB | Pink noise/ Music, dB | Ringing phone, dB | Overall score |
| Sony Xperia XZ Premium | 62.9 | 65.2 | 71.6 | Below Average |
| Sony Xperia XZ1 (ClearAudio+) | 64.5 | 67.6 | 67.7 | Below Average |
| Sony Xperia XZ1 | 65.4 | 68.0 | 69.1 | Average |
| Samsung Galaxy Note8 | 67.8 | 69.5 | 71.5 | Good |
| Samsung Galaxy S8+ | 68.5 | 69.4 | 71.6 | Good |
| LG G6 | 66.8 | 68.8 | 74.5 | Good |
| Google Pixel 2 XL | 66.2 | 70.4 | 78.2 | Good |
| Xiaomi Mi 6 | 66.1 | 69.0 | 84.1 | Very Good |
| OnePlus 5 | 69.2 | 72.9 | 77.5 | Very Good |
| HTC U11 (Theater) | 69.2 | 72.7 | 78.4 | Very Good |
| HTC U11 (Music) | 68.7 | 73.0 | 79.1 | Very Good |
| Xiaomi Mi Mix 2 | 67.6 | 71.0 | 82.7 | Very Good |
| LG V30 | 66.9 | 72.3 | 84.5 | Very Good |
| Lenovo Moto Z2 Force | 68.2 | 70.2 | 86.1 | Very Good |
| Google Pixel 2 | 70.0 | 77.0 | 81.1 | Excellent |
| Razer Phone | 69.3 | 75.0 | 90.5 | Excellent |
| Nokia 8 | 88.0 | 77.1 | 81.4 | Excellent |
But loudness alone is only half the victory. Razer appears to agree, since they acquired a THX certification and also included DOLBY ATMOS technology and equalizers. The result is amazingly crisp and clear audio. The only real issue is finding the right content to enjoy.
Other apps
Not much else to cover here, since most everything is handled by Google apps.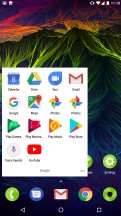 Pre-loaded Google apps
Besides that, Razer did put in the effort to write a calculator and a clock app. Both are very straight-forward and probably exist for the sole purpose of filling gaps in Google's current app package.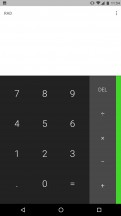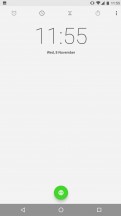 Still, they work as intended and as an added bonus, are subject to color changes via themes. A file manager would have been a nice touch, as well. But, then again, its absence is nothing to realistically lose sleep over.
Google Photos for images
Google Photos offers plenty of photo features and a free photo and video backup service. While you can upload as many videos or pictures as you'd like, they'll be limited to 16MP or 1080p resolution for photos and videos, respectively. You can search for photos or videos by person, keyword, date, or location.
You can order a "Photo book" of your pictures, which is delivered directly to you in physical form. There's also a Trash bin, where photos and videos will be held for 60 days. The "free up space" button, will check your camera roll against the photos and videos already backed up to Google. Those already backed up will be purged to clear space out of the phone.
The Assistant tab is where you can look through "rediscoveries" – flashbacks through photos taken on the current day in a past year. The "Photos" tab shows a chronological timeline of photos taken on the current device and content already backed up on Google Photos from other devices.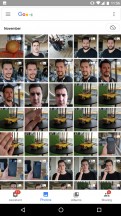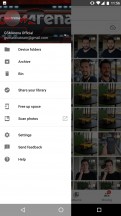 Google Photos
Access your on-board folders with the "Albums" tab, where you can also create new Photo Albums and share them. You can manage all your shared pictures and videos in the "Sharing" tab.
The built-in editor offers the usual filters, sliders, and tweaking of levels for photos before putting them online. It's simple enough to use and there are advanced sliders for more advanced photographers.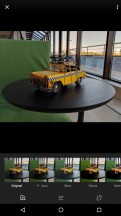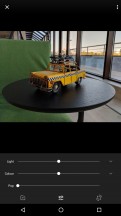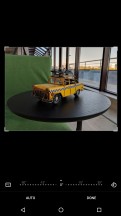 Built-in editor
Google Photos handles video playback
Google Photos is the default application for video playback. It is kind of clunky, but Razer didn't include anything else out of the box. It doesn't offer extra features like subtitles or a pop-out player. There's only a single option to loop the video that's currently playing. The Google Photos video player is quite basic, but you can find a variety of other video apps in the Play Store.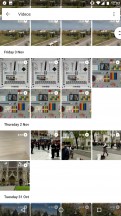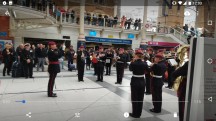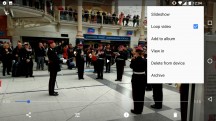 Google Photos to play video
A natural question that needs to be address here is: Can the Razer Phone play high frame rate? Obviously, it should have the technical ability to do so. However, Razer left no indication of that fact, or an easy or marketable way of doing so. Frankly, this seems like a missed opportunity.
We decided to give it a go. High frame rate videos are not exactly easy to come by, although they are becoming more popular. We decided to source one from an iPhone, since it creates its slow motion effect by simply playing back a 120fps video slower.
Turns out, Google Photos is not very keen on running at more than 60fps itself, or rather the handset did not deem in necessary to let it run at more. Once we pulled out the navigation menu, however, we effectively managed to trick the OS into boosting the fps cap and the video started playing smoothly.
This is an odd setup for sure, but at least it makes us pretty confident that there is at least one video player out there (it's not VLC), that can be made to consistently play back high frame rate content on a booster panel refresh rate. Possibly by adding it manually to the Game Booster and adjusting the fps settings from there. This is yet another wild goose chase and one that Razer could have probably fixed by including its own solution.
Google Music for audio
Google's in-house Music service has its own app. This app is the default Music player for Android and even lets you organize and store MP3s on the phone's internal storage. From the Play Music app, you can sort, search, and listen to your offline MP3s.
If you're not the MP3 kind of person, Google's Premium Music service offers plenty of ways to listen to music including radio stations by mood, activity, genre, artist, or by decade.
If you already use Google Location History, let Google Music track where you listen to what kind of music, for example, if you listen to a specific playlist at the gym, Google will show it to you before hitting the weights, along with suggestions to other music you might like at the gym.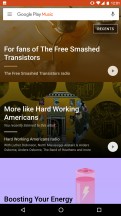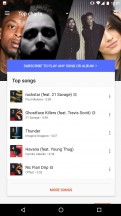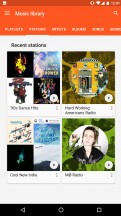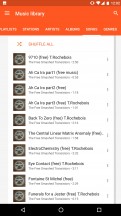 Google Play Music
As previously mentioned, equalizers come courtesy of DOLBY and are pretty extensive.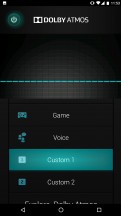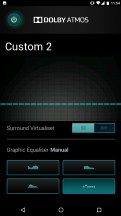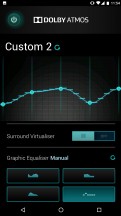 DOLBY ATMOS equalizers
Audio output is loud, but not perfectly clear
The Razer Phone comes with arguably the most impressive USB-C to 3.5mm adapter. That one has a braided cable, Razer branding and comes with its own box within the retail package. Unfortunately, the audio that comes out its end isn't nearly as good as we expected.
Clarity was very good with an active external amplifier although we see scores are slightly lower than usual for this case. Plugging in a pair of headphones cases a small hike in stereo crosstalk but since that was a bit high to begin with the final result isn't great. The signal-to-noise ratio as identified by the Noise level reading Is subpar too.
All in all it's a good performance, but a step behind just about every other flagship out there. The loudness, on the other hand, is quite impressive and the Razer Phone should have no trouble driving even high-impedance headphones.
| | | | | | | |
| --- | --- | --- | --- | --- | --- | --- |
| Test | Frequency response | Noise level | Dynamic range | THD | IMD + Noise | Stereo crosstalk |
| Razer Phone | +0.17, -0.04 | -80.3 | 89.9 | 0.013 | 0.065 | -75.3 |
| Razer Phone (headphones) | +0.22, -0.02 | -78.9 | 88.6 | 0.019 | 0.164 | -65.1 |
| Huawei Mate 10 | +0.02, -0.03 | -93.4 | 93.5 | 0.0027 | 0.0071 | -94.3 |
| Huawei Mate 10 (headphones) | +0.05, -0.04 | -93.1 | 93.1 | 0.0036 | 0.063 | -71.6 |
| Xiaomi Mi Mix 2 | +0.02, -0.02 | -94.3 | 94.3 | 0.0038 | 0.0072 | -93.5 |
| Xiaomi Mi Mix 2 (headphones) | +0.31, -0.01 | -93.3 | 93.3 | 0.016 | 0.243 | -63.8 |
| Samsung Galaxy S8+ | +0.01, -0.03 | -92.1 | 92.1 | 0.0020 | 0.0086 | -92.5 |
| Samsung Galaxy S8+ (headphones) | +0.03, -0.03 | -92.5 | 92.5 | 0.0024 | 0.046 | -77.3 |
| LG V30 | +0.02, -0.01 | -93.2 | 93.1 | 0.0008 | 0.0069 | -94.2 |
| LG V30 (headphones) | +0.03, -0.02 | -92.9 | 92.9 | 0.0057 | 0.051 | -68.1 |
| OnePlus 5 | +0.03, -0.01 | -94.1 | 94.1 | 0.0010 | 0.0070 | -94.2 |
| OnePlus 5 (headphones) | +0.15, -0.08 | -94.0 | 94.0 | 0.0033 | 0.139 | -59.9 |
| HTC U11 | +0.05, -0.11 | -94.1 | 94.1 | 0.0017 | 0.0067 | -94.5 |
| HTC U11 (headphones) | +0.05, -0.02 | -93.7 | 93.8 | 0.0018 | 0.105 | -53.7 |
| Sony Xperia XZ Premium | +0.01, -0.03 | -90.6 | 90.4 | 0.018 | 0.027 | -92.6 |
| Sony Xperia XZ Premium (headphones) | +0.30, -0.20 | -90.5 | 90.0 | 0.0018 | 0.145 | -65.7 |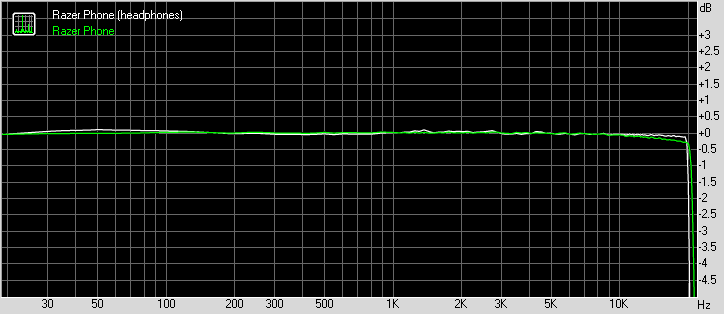 Razer Phone frequency response
You can learn more about the tested parameters and the whole testing process here.
Dual 12MP snappers
There's no real point in beating about the bush here – camera was clearly not a priority for Razer. On paper, the dual main setup looks decent enough, which is probably good enough for the PR effort. However, most every aspect of Razer's first smartphone camera experience is underwhelming.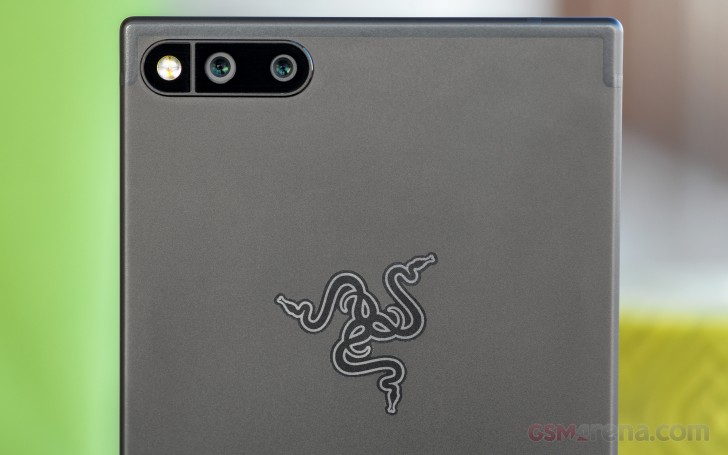 On the hardware side of things, Razer opted for thr trendy wide+telephoto setup. So far so good. The wide camera is equipped with a decently bright f/1.8 lens. However, the telephoto is only f/2.6.
This, in itself, limits its use severely, since Razer can't exactly confidently switch over to it under anything short of excellent lighting conditions. Worse still, Razer decided to use the pair in what it calls "seamless zoom" – a feature that sounds good on paper but is a terrible idea in practice. What the handset does is it constantly interpolates and switches between its two snappers as you zoom in or out linearly. This effectively means you can never use the second camera to its full potential and there is no indication whether you are shooting at the native optical zoom or with digital interpolation.
But, before we show you the samples so you can see what we mean, let's take a step back and talk about the camera UI. Razer opted for a very bare-bones approach, with more than a few glaring feature omissions.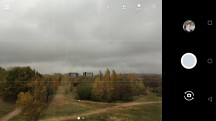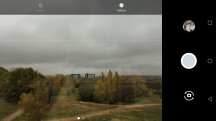 Razer camera UI
You get no modes, not even panoramas, no filters, nothing really, beyond a timed shutter, a toggle for guidelines, the dual-tone flash and HDR. Even more disappointingly, the latter has no auto setting. Yes, you have to toggle HDR manually each and every time. And judging by our experience, you will be reaching for it quite often.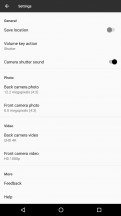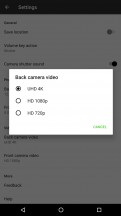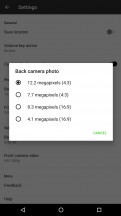 Razer Camera settings
The camera settings are also minimal at best. But probably the most glaring omission of all in, our opinion, is the lack of any high frame rate video capture mode. There isn't even a 60 fps mode at FullHD, which is nothing short of wasted potential, considering the Snapdragon 835 under the hood. Razer needs to address this ASAP.
On to some samples then. If you've read our earlier hands-on coverage of the Razer Phone, then you already know we had a lot of fun taking it out sightseeing through the streets of London. We can't exactly say the phone felt at home, even in broad daylight.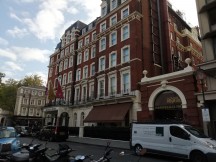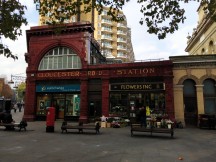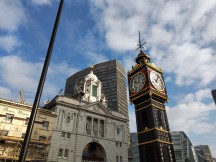 Razer Phone camera samples
Avoiding sunlight as best we could seemed to help quite a bit. Even so, shots came out noisy and a bit too soft, especially near the edges of the frame. Lots of fine detail is lost and the dynamic range is about average.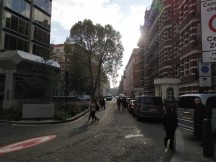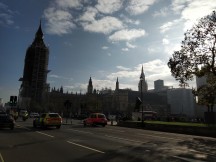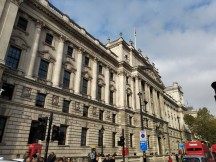 Razer Phone camera samples
Sunlight is what the Razer Phone really struggles with. It is really trigger-happy when it comes to exposure. Even when you go in for some spot metering, the phone quickly decides otherwise and can't really seem to make up its mind. Consecutive shots in such conditions end up over and underexposed more often than not.
The lack of any form of auto HDR is really apparent. Enabling the mode manually is also a hit and miss affair. You do need to double and triple-up your shots just for some piece of mind.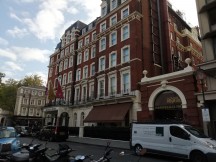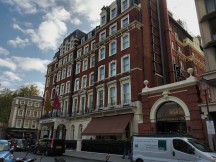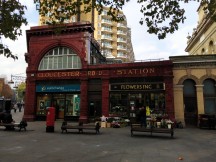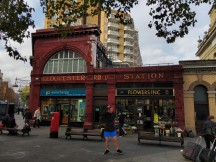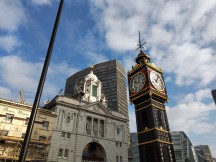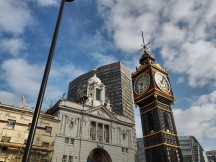 HDR Off • HDR On • HDR Off • HDR On • HDR Off • HDR On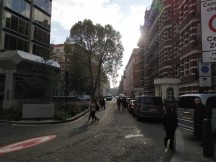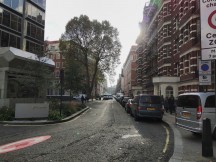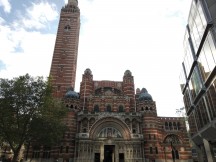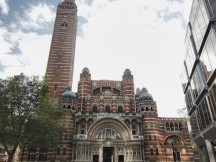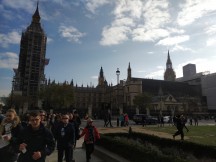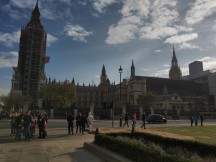 HDR Off • HDR On • HDR Off • HDR On • HDR Off • HDR On
The situation only worsens when you add Razer's "seamless zoom" to the mix. You can never be quite sure what camera you are using at any given zoom level and our best guess is interpolation is inevitable. Here are some of the best shots we managed to get, accompanied with their respective wide shots.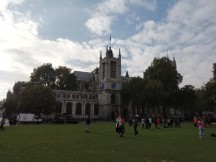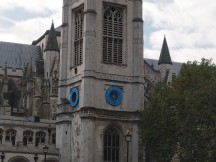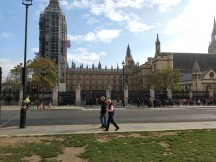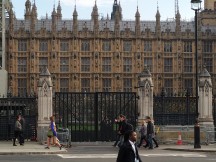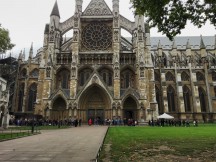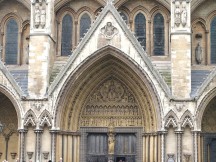 Wide camera • Telephoto • Wide camera • Telephoto • Wide camera • Telephoto
HDR on the telephoto camera helps out as well. Overall, we would suggest just leaving it on all the time, wide or tele.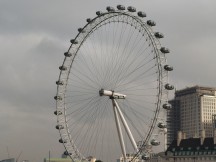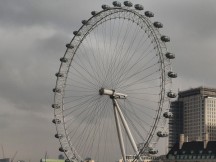 Razer phone telephoto camera: HDR Off • HDR On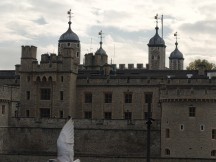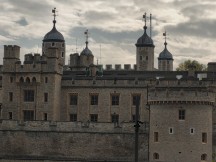 Razer phone telephoto camera: HDR Off • HDR On
Here are some more samples from the wide camera for you to check out. As we move indoors, the overall quality definitely improves.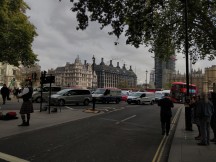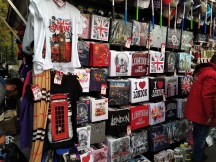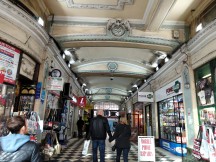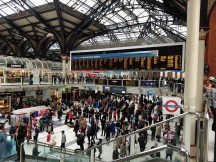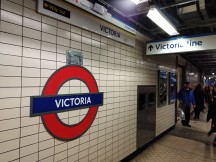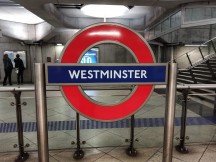 Razer Phone samples
It's all pretty much downhill under less than favorable lighting conditions.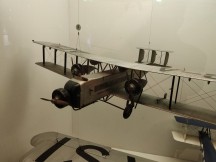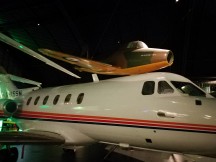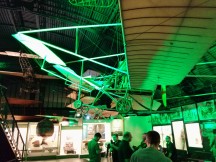 Razer Phone low-light samples
Naturally, we didn't skip on our typical set of samples either.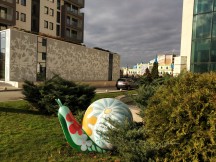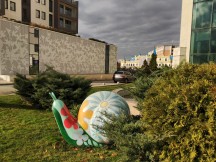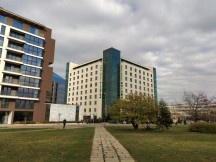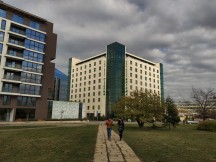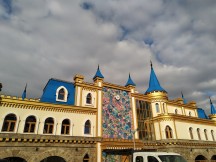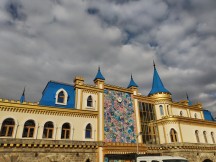 HDR Off • HDR On • HDR Off • HDR On • HDR Off • HDR On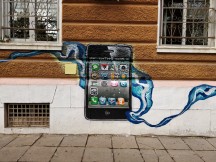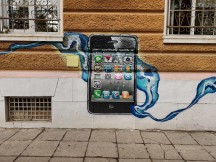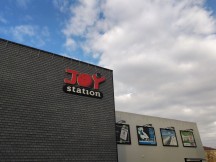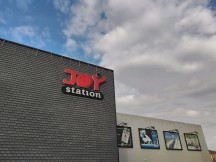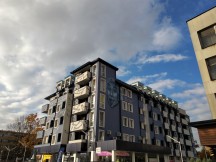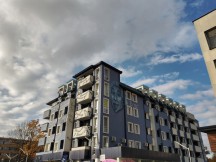 HDR Off • HDR On • HDR Off • HDR On • HDR Off • HDR On
Some of these clearly show the Razer Phone's tendency to opt for an overly warm color balance.
You can check how the Razer Phone stacks up against competitors in our photo compare tool as well.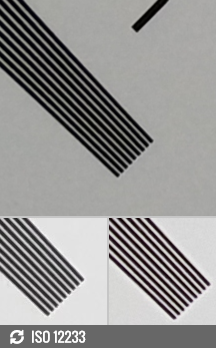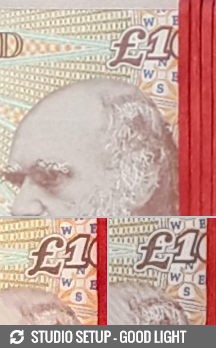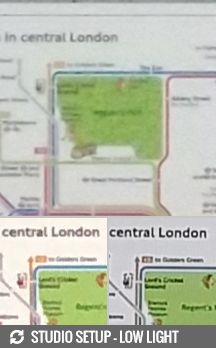 Razer Phone vs. Apple iPhone X vs. Samsung Galaxy Note8 in our photo compare tool
We can't really say the 8MP, fixed focus, f/2.0 selfie camera impressed us much either. In terms of extra features, Razer opted to include none here as well. Not even a beautification mode, so quite a few Instagram points need to be deducted.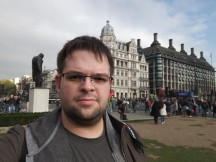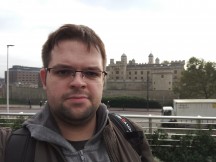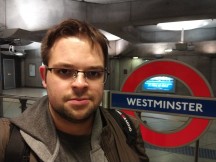 Razer Phone selfie camera samples
Again, indoor lighting is definitely preferred. HDR really is a must with selfies as well, so just toggle it and leave it on indefinitely.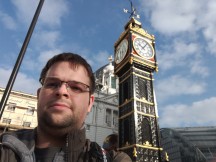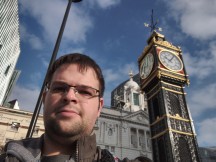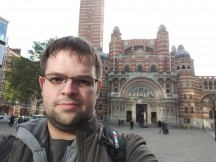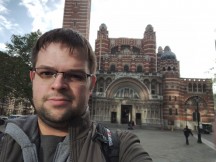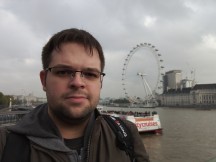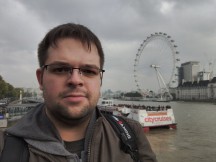 Razer Phone selfies: HDR Off • HDR On • HDR Off • HDR On • HDR Off • HDR On
Video recording
Starting on a positive note here, we do appreciate that Razer included a dedicated video mode with a proper viewfinder. This makes it immensely easier to line up precise shots.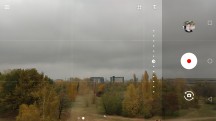 Dedicated video viewfinder
Razer also implemented some form of EIS in 1080p mode, which we do appreciate. However, it definitely needs some work, as it tends to randomly drift the viewfinder sideways from time to time, especially while the phone is sitting stationary on a tripod. Also, it has a weird inertia effect to it with sudden movements.
4K videos get recorded in AVC format, with an AAC audio stream. Bit rate stays solid at about 42 Mb/s, accompanied by a 96 kb/s stereo audio stream. The only number that rubs us the wrong way here is the 30 fps. To Razer's credit, the video never dips below that 30 fps mark. Then again, this is hardly a surprise, considering the capabilities of the Snapdragon 835.
We still think the total lack of any high frame rate modes, not even a 60 fps one, is wasted potential.
In terms of quality, videos come out really sharp, although not as detail-rich as we have come to expect from flagships. Some of that appears to be due to unreliable exposure metering, which, just like with stills, can under or overexpose in a heartbeat.
The overall tendency towards a warmer color pallet is also present. But the really noticeable issue with the otherwise pleasing 4K videos is the lack of any stabilization. Shooting hand-held is almost nauseating at times.
1080p videos get captured in the same format and with the exact same 30 fps limitation. Video bit rate sits stable here, as well, at just over 20 Mb/s. Audio is encoded in the same 96 kb/s stereo track. Overall, the quality is not a major step down from 4K, which is good.
However, all the issues with exposure, color and dynamic range are carried over. The viewfinder is quite aggressively cropped, since there is some form of stabilization in place at this resolution. Like we already mentioned, however, it is prone to random drifts in framing sideways and has a little bit of an inertia effect to it. There is no way to turn it off either.
We have shorter, untouched samples of 4K@30fps (9s, 48MB) and 1080p@30fps (9s, 23MB), taken on the Razer Phone for you to download as well.
Last, but not least, you can use our Video Compare Tool to see how the Razer Phone stacks against rivals in both 4K and 1080p modes.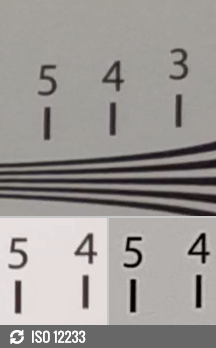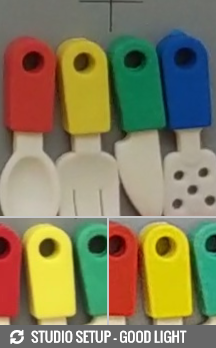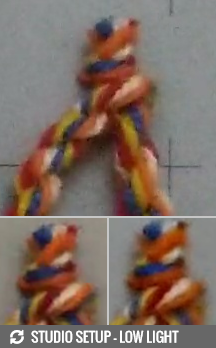 Razer Phone in our 4K video compare tool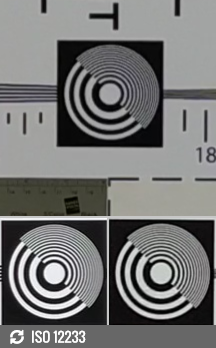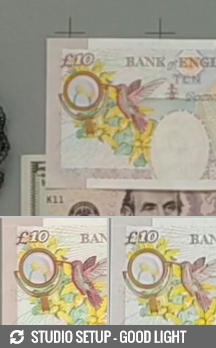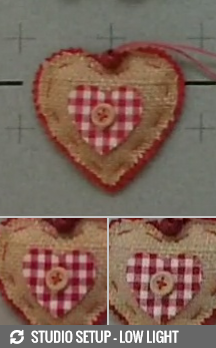 Razer Phone in our 1080p video compare tool
Wrapping in up
The Razer Phone is clearly a new and different breed of device, no doubt about it. Spearheading what could ultimately become an entire gaming hardware niche within an already saturated smartphone market is no easy task. Naturally, some growing pains and a fair bit of pioneer backlash are to be expected. And for those reasons alone, we appreciate Razer's efforts.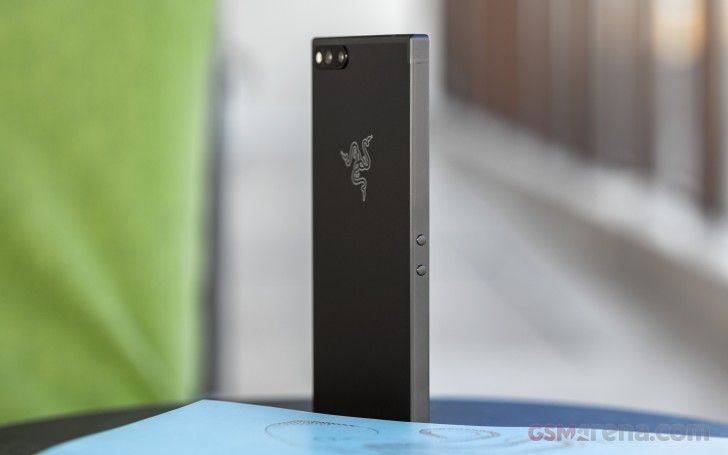 That being said, we have to be objective and really judge the Razer Phone for what it is, beyond the loud and frankly at times obnoxious "gamer-y" PR efforts. No matter how hard Razer wants you to believe in the "by gamers, for gamers" mantra and all the "best in the world", "insane" and "1337", at its core, there is no real "secret sauce" to the Razer Phone.
The 120Hz, IGZO panel has important potential future implications for mobile gaming as a whole, but, in its current form, it comes with many limitations and at a high cost to battery life, max brightness and outdoor legibility. Razer's overall design and appearance, while undoubtedly well thought out to cater to gamer needs, has a certain antiquated feel and a deeply polarizing nature in a world of ultrawide, bezel-less and curved aesthetics.
Beyond this carefully crafted image lies yet another 2017 flagship device. Not dramatically different or quantifiably better than its competitors and flawed in its own way.
Razer Phone key test findings
The Razer Phone has a very particular look and design. It looks a bit industrial and has a retro vibe. However, most layout decisions are logically made to cater to gamer needs.
The black brushed metal unibody makes for a solid build and a surprisingly subdued look. The speaker grills on the front collect dust easily and quickly start looking worn out.
The fingerprint reader works reliably but is not really fast. Its side-mounted position works well and feels natural. However, the volume buttons are very inconveniently placed and sized.
The 120Hz variable refresh rate panel offers an amazing buttery-smooth experience within the UI and during web browsing. Most apps and games, however, are not optimized to push high frame rates and can't really take full advantage of the technology. ULTRAMOTION also makes the panel very power-hungry.
Despite the IGZO TFT technology, the 5.7-inch Razer panel is neither brighter, nor more power efficient. In fact, it is one of the dimmest panels of late, maxing out at 223 nits. Sunlight legibility is also very poor. Color accuracy is good.
The Razer Phone does not handle its massive 4,000 mAh battery well, with 62 hours of endurance rating. Standby and talk time ratings are solid, thanks to the Snapdragon 835. However, both on-screen tests drain the battery very rapidly. Lowering the panel's refresh rate down to 60Hz does not really help much either. Quick Charge 4+ is awesome and Razer gives you a charger in the box.
We definitely miss the 3.5mm audio jack. At least there is a dongle in the box. The X16 LTE modem is about as quick as they come. Local connectivity is well covered. Bluetooth is a bit outdated at v4.1. There is only a single SIM model.
The Snapdragon 835 chip inside the Razer Phone scores very comparable to its similarly-equipped flagship rivals. Despite Razer's lofty claims, it is not better or worse.
Game Booster offers convenient controls over CPU speeds, resolution and fps caps on a per-app basis. However, there are system-wide resolution and refresh rate controls as well and the two tend to conflict and interfere with each other.
Few existing Android games can run at more than 60 fps. The OS and their respective engines are simply not designed to do so. Even some of Razer's advertised titles can't take full advantage of the 120Hz panel. Still, 120 fps-capable games do exist, so the future holds some promise.
Streaming PC games on the Razer Phone at more than 60 fps is a no-go with current solutions as well.
Razer opted for a near-stock Android Nougat ROM, with a minimal app package. This is beneficial to performance. There is still a powerful theme platform in place, with an online repository of free, high-quality, gaming-inspired themes. Razer's few custom apps are near AOSP in layout and functionality, but do support themes.
There is no obvious or stable way to play high frame rate video on the Razer Phone, which seems like a missed opportunity. You can manage to trick certain players, like the default Google Photos into working at 120 fps by bringing out the navigation bar during playback, but that is hardly a solution.
The two front-facing speakers on the Razer are one of the loudest we have ever heard. Having two separate AMPs seems to help. The THX certification and DOLBY ATMOS technology and equalizers also enable incredibly crisp sound, with almost no distortion even at high volume.
Audio output on the Razer Phone, with the provided Type-C adapter is pretty clear with an external amplifier. Plugging in headphones results in a bit more stereo crosstalk than we would like. Overall, a good performance, but short of most other 2017 flagships.
The Razer Phone's dual camera setup is not very impressive. The second telephoto snapper uses a very dim f/2.6 lens. Plus, Razer's linear "seamless zoom" feature means you can never use the telephoto without interpolation.
The camera UI is really bare-bones. There are no modes, no filters, no effects, not even panorama. There is also no Auto HDR, only a manual toggle. Camera settings are also scarce. At least there is a dedicated video mode and viewfinder.
Stills come out noisy, even in good light and a bit too soft, especially near the edges of the frame. Lots of fine detail is lost and the dynamic range is about average. The Razer Phone is very inconsistent with exposure and easily over or underexposes shots. It is also stubborn about accepting spot metering. Sunlight tends to confuse it a lot and brings out a tendency to opt for a very warm color pallet. HDR is best kept on at all times. Indoor shots come out better.
Low-light photos are on the noisy side and not exactly impressive.
The 8MP, fixed focus selfie cam is serviceable, but suffers from the same overall issues as the main snappers. Again, HDR should be kept on to help it get less confused around sunlight.
4K quality is good, but not great. Videos are sharp, but could use some more detail. Unreliable exposure metering is still an issue and so is the warmer color pallet. The lack of any stabilization is very apparent at 4K.
1080p video retains good quality, compared to its 4K counterpart. Razer did include some form of stabilization at FullHD, but it crops the viewfinder quite a bit and has a tendency to drift horizontally from time to time, especially while using a tripod.
On a more positive note, Razer does seem to have the right marketing idea, especially for a first-time competitor on the smartphone scene. Not only is PR targeted at the right audience, but a $ 699 (EUR 750) launch price is surprisingly competitive as well. Quite an unexpected turn of events, when you consider most of company's other premium asking rates.
Noteworthy alternatives
Like we said earlier, the Razer Phone is a device quite unlike any other, with its own clear marketing angle. Keeping that in mind, nothing short of a decked-out current flagship will do, as far as raw gaming performance goes. An EUR 750 budget or so actually gives us a lot of wiggle room on a pure pricing basis.
If a solid specs sheet and a spacious display is what you are after, the Huawei Mate 10 can deliver. A 5.9-inch, QHD display, backed up by the company's Kirin 970 top-end chip, means excellent gaming performance. The 16:9 aspect ratio is still the preferred choice as well.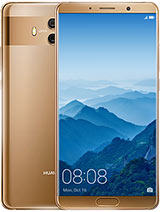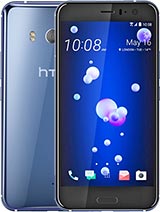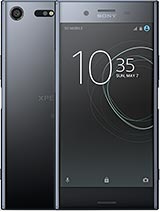 Huawei Mate 10 • HTC U11 • Sony Xperia XZ Premium
Going by the same general logic, both the HTC U11 and the Sony Xperia XZ Premium will chew through modern heavy Android titles with ease thanks to the powerful Snapdragon 835 and the Ardeno 450. And while other high refresh rate mobile panels are hard to come by, opting for the latter Xperia will still net you a specs advantage and potential bragging rights among friends, thanks to the whopping 3840 x 2160 pixel resolution. Just like Razer's ULTRAMOTION panel, however, taking full advantage of that 4K display is not straightforward.
If these options are a bit too boring for your taste, you could also opt to go down the new trendy ultrawide aspect ratio path. Assuming continued proper app optimization by developers, there might just be some future gaming advantages in doing so. The Xiaomi Mi Mix 2 instantly springs to mind. Another Snapdragon 835 beast, but one with an 18:9 aspect ratio. Not to mention a stunning appearance.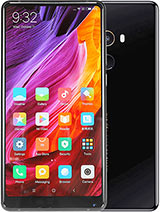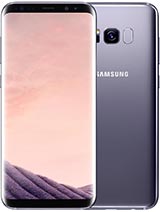 Xiaomi Mi Mix 2 • Samsung Galaxy S8+
Speaking of which, we can't overlook Samsung's excellent 2017 lineup. Sadly, the Galaxy Note8 is still way too pricey to compare with the Razer Phone. However, the 6.2-inch, 18.5:9 Galaxy S8+ has come down in price quite nicely since its launch. Its Super AMOLED panel is one of the best the industry currently has to offer and it is backed by either a Snapdragon 835 or the equally capable, if not better Exynos 8895, depending on the market.
Since we are in search of an ultimate gaming device, it is definitely worth mentioning that the latter has support for Samsung's Gear VR platform. The price to entry is quite low and experiences have been constantly growing in number and getting better. The Oculus backing is a nice futureproof reassurance as well.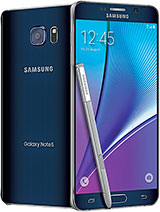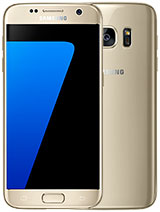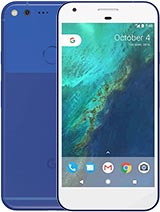 Samsung Galaxy Note5 • Samsung Galaxy S7 • Google Pixel XL
Then again, if you are seriously into mobile VR, you can probably do one better in terms of pure visual experience than the S8+. Since a curved panel is not exactly the best idea for convincing VR, looking into the older Galaxy Note5 or the significantly smaller, but more powerful Galaxy S7 might not be a bad idea. Both have flat Super AMOLED panels – a better bet for VR. Plus, you could save a fair bit of money, in exchange for sacrificing some performance and future-proofing.
Google's Daydream VR platform might be a good alternative to Gear VR as well. It is definitely too early to say which one has better future prospects. While support for Daydream is a lot more widespread and varied across manufacturers, opting for company backed hardware could net some benefits, The Pixel 2 phones are way out of budget, but the original Pixel XL isn't.
And since we are already looking into creative solutions to the gaming dilemma, we might as well throw a few more your way. The Sony Xperia XZ1 Compact, for instance, is a distinctly unique offer in its own right. If you can live with a display diagonal of just 4.6 inches, you can benefit from a Snapdragon 835 pushing pixels on to a panel with 720p native resolution. As we discovered in our respective review, the performance benefits are tangible.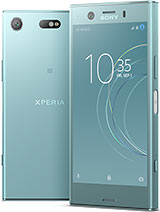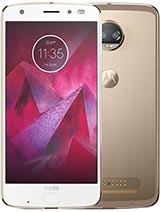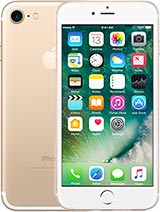 Sony Xperia XZ1 Compact • Motorola Moto Z2 Force • Apple iPhone 7
The Motorola Moto Z2 Force also has a unique trick up its sleeve and a potentially game-changing one (no pun intended). Thanks to its flexible Moto Mod platform, Motorola is offering a Moto gamepad accessory. Dual analog sticks, shoulder buttons, the works. Razer, start taking notes.
Last, but not least, why not look into an iOS device? Apple's platform is renowned for its gaming potential. Sadly, the Razer Phone budget can only stretch as much as a 4.7-inch iPhone 7.
The verdict
So, is the Razer Phone the revolutionary device that will finally shake the smartphone industry, rearrange priorities and change the rules? No. Realistically, it can probably hope to match or best the sales of its Nextbit Robin ancestor and gain some traction with loyal brand fans.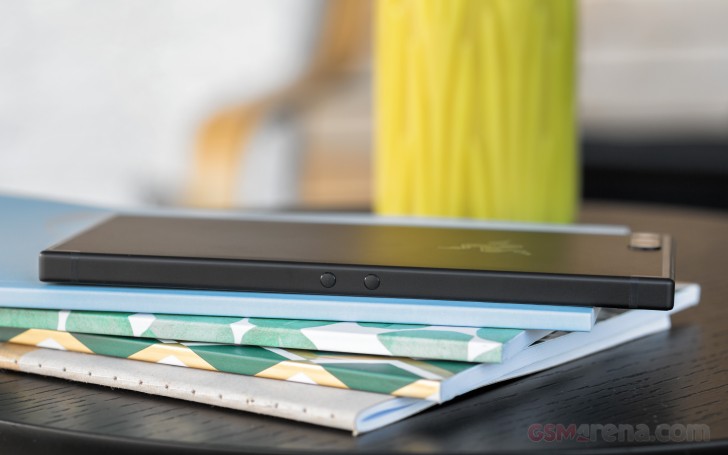 That being said, unless you belong to that group, the shortcomings of the Razer Phone seem to currently vastly outweigh its dubious benefits, making it unfit for a daily driver recommendation for most. In many ways, buying the Razer Phone is similar to picking up a high-end Razer Blade Pro laptop, a first generation one at that: It's a luxury, niche item you want to own, not necessarily one you need, nor the most optimal and functional choice.
Still, we have high hopes that the Razer Phone will be extremely important in its own right as a catalyst for future mobile gaming tech. None of its growing pains are really insurmountable. So, who knows, we just might be lucky enough to be standing on the brink of the next big smartphone trend.
Let's block ads! (Why?)