Introduction
The Note8 is here and we can't help but feel the tension rising, especially in Europe where this is the first Note device to officially land in two years. It's been quite some time, so a lot is riding on the Galaxy Note8.
That being said, you may have noticed Samsung's not revving up the PR machine this time around, gliding at cruising speed instead.
This could very well be due to the still fresh memory of the Note7's woes or the fact that the Note line was never really intended to be a mainstream device with the kind of mass appeal of a Galaxy S or an iPhone. It's more of a specialized productivity tool, catering to a select group of power users.
Samsung is playing it safe with the feature set too. There are no mind-blowing innovations in the Note8. The phablet is predictably sized and equipped, sporting a familiar, if slightly tweaked design. Even the dual-camera setup is by no means revolutionary. On the contrary, perhaps it's even slightly overdue.
Samsung Galaxy Note8 key features
Body: Polished aluminum frame, Gorilla Glass 5 front and back; IP68 certified for water and dust resistance. Midnight Black, Orchid Grey, Deepsea Blue, Maple Gold color schemes.
Display: 6.3″ Super AMOLED 'Infinity Display', 2,960x1440px resolution, 18.5:9 (2.06:1) aspect ratio, 522ppi; HDR 10 compliant (no Dolby Vision).
Rear camera: Primary 12MP, Type 1/2.55″ sensor, f/1.7 aperture, 26mm equiv. focal length; Secondary 12MP, Type 1/3.4″ sensor, f/2.4 aperture, 52mm equiv. focal length; dual pixel phase detection autofocus and OIS on both; 2x zoom. 2160p/30fps video recording.
Front camera: 8MP, f/1.7 aperture, autofocus; 1440p/30fps video recording.
OS/Software: Android 7.1.1 Nougat; Samsung Grace UX; Bixby virtual assistant; Smart Connect, Smart Connect Home
Chipsets:Qualcomm Snapdragon 835: octa-core CPU (4×2.35GHz Kryo 280 & 4×1.9GHz Kryo 280), Adreno 540 GPU. Exynos 8895: octa-core CPU (4x2nd-gen Mongoose 2.3GHz + 4xCortex-A53 1.7GHz), Mali-G71 GPU.
Memory: 6GB of RAM; 64GB of storage; microSD slot for cards up to 256GB, UFS cards support.
Battery: 3,300mAh Li-Po (sealed); Adaptive Fast Charging (same as S7/S8); QuickCharge 2.0 support; WPC (Qi)&PMA wireless charging.
Connectivity: Single-SIM, Dual-SIM available in certain markets; LTE-A, 4-Band/5-Band carrier aggregation, Cat.16/13 (1Gbps/150Mbps); USB Type-C (v3.1); Wi-Fi a/b/g/n/ac MU-MIMO; GPS, Beidou, Galileo; NFC; Bluetooth 5.0.
Misc: S-Pen stylus with 4096 pressure levels; fingerprint/iris/face recognition; single speaker on the bottom; 3.5mm jack; bundled AKG headphones; Dex dock compatibility allowing dekstop use mode on a bigger screen.
Main shortcomings
Now, we'll be the first to admit that this is a pretty strange place for the Note8 to be. We have no intention whatsoever of downplaying what is probably the most versatile smartphone today. At least on the surface though, there's nothing to be extremely excited about. Now, it might just be a blessing in disguise, letting us evaluate it from a power-user perspective, without worrying too much about the impression it makes or fails to make to the mass-user.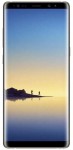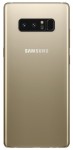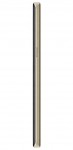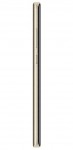 Samsung Galaxy Note8 in official photos
As the saying goes, the right tool for the right job. That latter "right" is just as important. So, join us on the following pages as we examine the Note8 and its credentials, without losing sight of the job description.
Unboxing
If accessorizing is your thing, the Note8 will hardly leave you disappointed. Its box is packed to the brim (literally) with all sorts of goodies. As for the packaging itself, it is traditional Samsung – a two-piece, all black, soft-touch cardboard box, complete with glossy blue lettering on the front.
Opening the inner lid reveals a plastic cradle for the Note8 itself. Everything else is neatly organized underneath. For starters, you get one of Samsung's Adaptive Fast chargers, rated at 5V at 2A or 9V at 1.67A. Interestingly enough, the same charger can also power the DeX dock, which is rated at 12V and doesn't work with other regular phone chargers. There is also a SIM ejector in the bundle.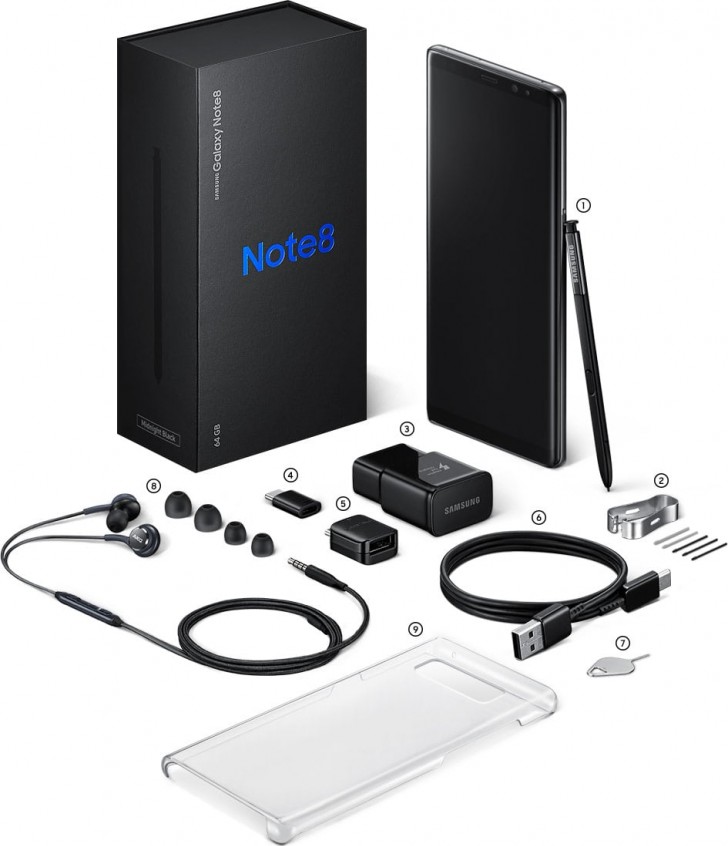 You'll also find a USB 3.1 Type-C to Type A cable for data transfer and charging, as well as a pair of converters. One is a microUSB, while the other a simple Type-A unit, for compatibility and potentially, data migration.
The S-Pen gets some love as well, namely a set of five spare tips with the relevant replacement tool. Three of these are black, the other two white. As far as shape, size, and sharpness goes, they look identical.
Other than a clear case for the Note8, Samsung have included a pair of wired earbuds. These come courtesy of AKG and have a retail value of $ 99 on their own. But pricing is not indicative of quality, and we are happy to report the headphones sound really good – we got deep bass and nice and clear mids. These are the same headphones which came bundled with the S8 and S8+, complete with a dual-driver (8mm and 11mm) setup and a microphone for phone calls.
Samsung Galaxy Note8 360-degree spin
Dissecting the design of the Galaxy Note8 is hardly a daunting task. Everything is centered around Samsung's new Infinity Display. At 6.3-inches in diagonal, the unit in the Note8 is the most impressive of its kind to date. Even more so than the one on the Galaxy S8.
The basic construction is unchanged as well – there is a polished aluminum frame all around and Gorilla Glass 5 on both the front and rear. All sealed together well enough to guarantee IP68 water and dust resistance. This is quite a feat on a Note device considering the sizable slot for the S-Pen.
There are quite a few distinct features in the Note8 design as well, and the S-Pen might be partially responsible for at least some of them. The struggle for space is real in every modern smartphone, so accommodating a stylus inside the body isn't exactly an easy task. The Note8 is slightly bigger than its S8+ sibling in every dimension, but surprisingly not that thicker. Still enough to affect the width of the side bezels to some extent.
The Note8 has a distinctly boxier feel to it, and it comes down to more than just the extra half millimeter of depth. Samsung went for a less curved front and rear, making for a simpler, more streamlined design. The change is also just enough to have some effect on handling. We think it helps since the Note8 has a bit more room on the side to comfortably place your thumb and grab.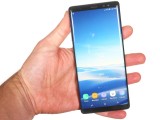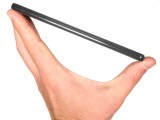 Galaxy Note8 in the hand
Color options also differ a bit on the Note8. You still get the standard Midnight Black, as well as the familiar Orchid Grey and Maple Gold. The blue variety, named Deep Sea Blue, is slightly different, and there is a Star Pink option, only limited to Taiwan at the moment. Oddly enough, there is no Arctic Silver.
Hardware overview
Just like the Galaxy S8 and S8+, the symmetry is strong with the Note8. Since the home button no longer has a physical manifestation, you can easily grab the Note8 from either side. But, complaining about such things is kind of impossible once you lay eyes on the virtually borderless display within a subtle yet solid frame.
Despite what is clearly a strong effort in design though, Samsung is yet to get rid of the top and bottom bezels around the Infinity display. Speaking of, there is more than enough gadgetry perhaps to justify the size of the top bezel. For one, a dedicated RGB status LED makes sure you won't miss a n incoming event, even if you don't like Samsung's AOD solution. Right next to that is the illuminator for the Iris scanner. The scanner itself is on the far right. This dual setup is necessary since this biometric sensor operates with IR light – invisible to the naked eye, but necessary for capturing the retina pattern. It's a familiar arrangement, dating back to the Note7.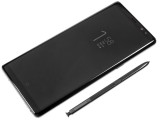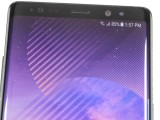 Lots of tech on the front
Going back to the left side of the earpiece, we also find the traditional proximity and ambient light sensors. Lastly, the 8MP autofocus selfie camera also plays a part in the new facial recognition system.
The bottom bezel (or the tiny bit that's left of it) holds absolutely nothing. We presume Samsung still needed to reserve some space underneath for components. Plus, the home button and navigation keys are positioned low enough as it is.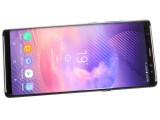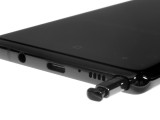 Seemingly empty bottom bezel
And in case you are still not familiar with Samsung's current solution, YES, indeed the Note8 does technically have a home button. In the absence of a physical button, there is now an area in its place, which is specifically designated to detect a home command when pressed hard enough. There are some dedicated pressure sensors underneath it, so it continues to function even when the screen is off. Plus, there is even haptic feedback, which tries to emulate the tactile feedback you get when pressing a physical button. Samsung also lets you adjust the pressure sensitivity of the control, which is convenient.
The rest of the Android navigation controls – Back and Task switcher – are available on-screen too, identical to the S8 approach. By default, these are using the more traditional pattern, back key on the right, but you can rearrange them. Since it is a software solution, the entire navigation area gets out of the away when you are enjoying some full-screen content or playing games, for instance. The Note8 also has an optional pin toggle which, when turned on, places a dot near the left corner of the navigation bar. Double-tapping it pins the bar or auto-hides it.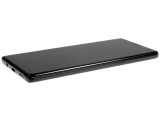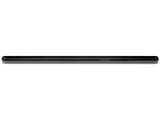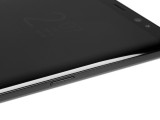 Right-hand side
Once again, we do appreciate the extra grip the less-curvy Note offers over its S8 and S8+ siblings. You wouldn't think a gentler slope can be that much of a factor, but it is. Hand positioning on the Note8 doesn't have to be as awkward. Resting your thumb on the right-hand side of the device is a lot more comfortable than on the S8.
Other than making it a better resting place, Samsung hasn't done anything new to this area. The solitary power button occupies it, arguably positioned a little too high. That, however, is part of a bigger handling issue with the Note8. At 162.6mm, it sits even taller than the already hard to manage S8+. Adopting a sort of grip re-position maneuver is a necessity for one-hand use, especially if you want to reach the fingerprint reader on the back.
However, this is arguably a much smaller issue on the Note8, since the Note line has always been geared towards two-handed use in more ways than one.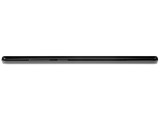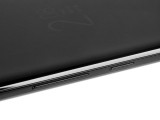 Lelf-hand side
On the left-side, Samsung's Bixby button is arguably even harder to reach with an index finger. However, we think that this is not necessarily a bad thing. Bixby has come a long way, which we will elaborate on further up in the software section, but its overall usefulness is still questionable. This time it's harder to hit the button by accident.
We do understand Samsung's desire to not rely too much on third-party or industry-standard solutions as somewhat of a contingency plan for the future. This is likely the same logic that is currently powering Tizen development. However, it seems like a good bet right now that most users would've appreciated being able to remap the key. Having a key just sit around and go unused on a device with such a high premium on space doesn't make much sense.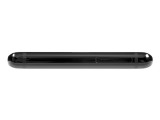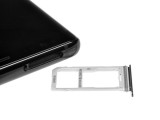 Top bezel
Moving on to the top side of the Note8, we find another familiar hardware setup: a SIM/memory card tray and a hole for a secondary microphone. The tray has a rubber seal to protect the internals from water ingress. There are dual-SIM versions of the Note8, which can take two Nano-SIM cards in this slot. Sadly, it is a hybrid setup, so you have to make a choice between a second line and extra storage.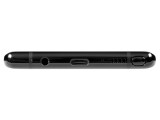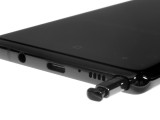 Bottom bezel with S-Pen slot
Despite being a tad wider, the bottom side of the Note8 looks and is arranged in pretty much the same way as on the Galaxy S8 pair. A USB 3.1, Type-C jack in the middle, flanked by a single speaker on one side and the 3.5mm audio jack on the other. Samsung still managed to find enough space to house the S-Pen – great job!
The pen detection and ejection mechanism work pretty much like on the Note7 and the Note5 before that. The S-Pen itself is familiar as well. You get an addictive clicky button on one end for grabbing and pulling in out, or…you know…annoying everyone at your next work meeting.
The other button on the S-Pen triggers actions and menus, just like always. The way it works hasn't changed since the original Note. It's still a passive control, which is convenient since you don't have to charge it or worry about getting wet.
If you happen to have an older S-Pen laying around that you like better, we did verify backward compatibility all the way back to the Note 4. The latest iteration does come with a few new software tricks, but more on that later.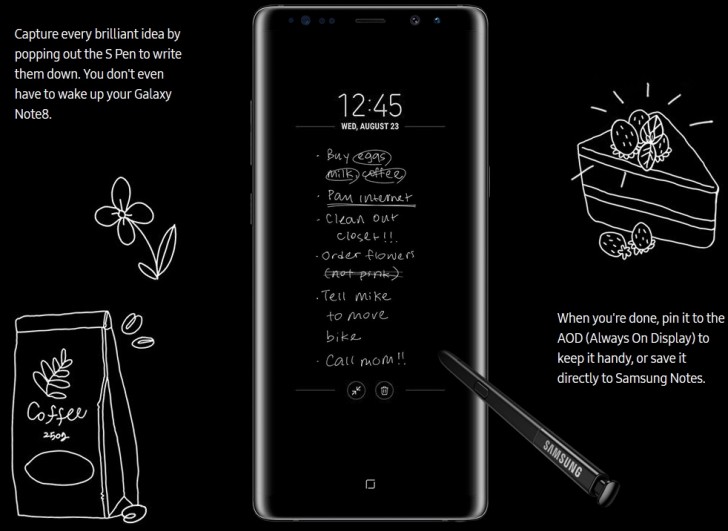 The digitizer built into the phone's touchscreen can recognize up to 4096 different pressure levels when you are using the S Pen so you can change the line thickness just by varying the pressure you apply – just like you do when pencil-sketching on a piece of paper.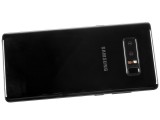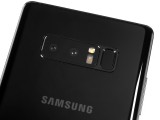 Back side
Before we complete the hardware tour, there are a few things to note about the back of the device, other than its sloping Gorilla Glass 5 design. It has to do with the fingerprint reader. Its placement on the Note8 is arguably even higher making it even more inconvenient than on the S8+. At least it's a bit further to the side so it's not as easy to smudge your camera lens when you send your index finger searching for the fingerprint reader. Apparently, Samsung has pretty much given up on improving usability for the sensor, at least in this generation. The shift in focus to other trendier biometric authentication methods is obvious as well.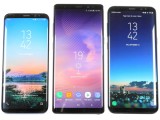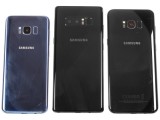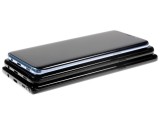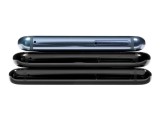 Samsung Galaxy Note8 next to the S8 and S8+
Still, if we circle back to the two-hand usage scenario argument, reaching the sensor does become less of a chore. As far as performance goes, it is just as quick and dependable as that on the S8. That is to say – we've seen quicker scanners, but not by much.
Display quality
Samsung's Infinity Display is still probably the most impressive smartphone panel for more than a few reasons. If you subscribe to the bigger-is-better way of thinking, then at 6.3-inches, the one in the Note 8 trumps its S8 siblings.
On the other hand, if the curvature along the screen edges is what tickles your fancy more, you might find the S8 and S8+ a bit more appealing. The Note8 is a lot more conservative in this respect. To be fair, now that the S8 pair has been around for a few months and the novelty is a bit worn out, the Note8 certainly comes across as less striking. Then again, for an end user, especially one upgrading from say, a two-year old device, the Infinity display design is breath-taking.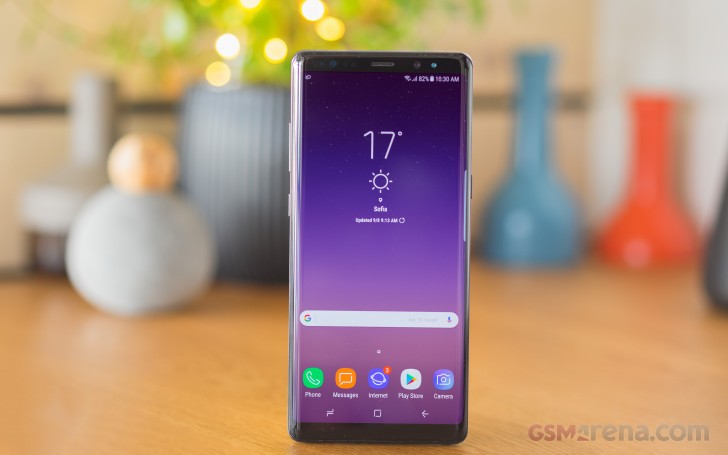 Curvature aside, the thing that takes longer to get used to is the ultra-wide (or tall) aspect ratio. One way to look at it is that 18.5:9 has a 15% larger height to width ratio than the traditional 16:9.
An increasing number of apps are starting to play nice with this new "stretched" aspect ratio. And it's particularly well suited to apps, which present their content in a scrolling feed (Twitter, Facebook, Instagram you name it) because you get a taller viewport.
Apps and games are one thing, Android can scale those easily. Media content, on the other hand, will take years to adapt to the new screen format if it adapts at all. So, prepare for a good deal of black bars around your videos or photos or learn to live with some stretching or cropping.
It's not all bad – the new format is better for watching movies as they come in the even wider 21:9 format. Netflix is making a push in that direction as well. And even when watching older videos, living with letterboxing isn't all that bad as, at the end of the day, you are still getting more usable space.
High Dynamic range support is another major display trend this year. Chances are, the push to HDR will only get more intense. Just like the Galaxy S8 and S8+, the Note8 is at the bleeding edge of this content revolution. There are, however, certain certification and content issues still to be overcome. The Note8 supports the HDR10 standard, but not Dolby Vision.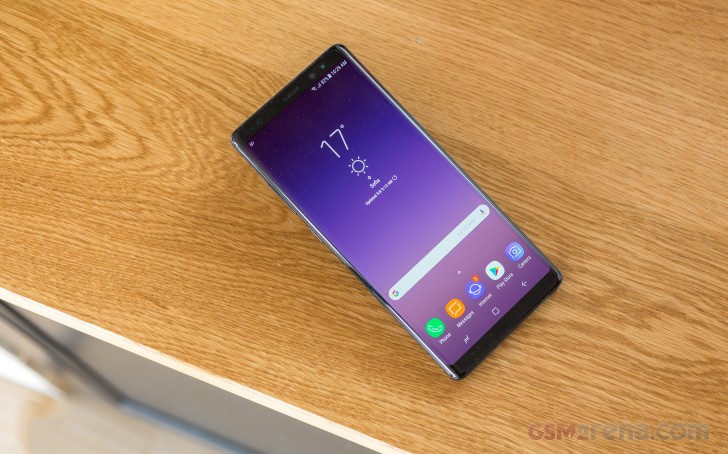 However, the HDR situation is currently a bit more complicated than that. Samsung's new Infinity Display panel holds the UHD Alliance's "Mobile HDR Premium" certification – it is the first smartphone display to get it. It got there through a combination of 112% coverage of DCI-P3 and 141% of the sRGB color spaces, impressive levels of brightness and contrast ratios. DisplayMate recently gave the panel its highest ever "A+" rating, so it should be perfectly well prepared for HDR, regardless of formal certification.
In theory, Mobile HDR Premium means the Note8 has the same capabilities as recent high-end TV's, branded with the Ultra HD Premium badge and should allow you to enjoy the same HDR content. In real-world, practical terms, Netflix currently seems to hold the most promise as an HDR content provider. The platform is still adapting to the new-found HDR fad on mobiles though. Only recently it decoupled HDR video from its 4K plan and added official support for three new mobile devices: LG V30, Sony Xperia XZ1 and the Galaxy Note8. Interestingly enough, the S8 and S8+ are still not on the list, so there obviously are kinks to iron out.
The future looks bright, but picking up a Note8 today probably means you won't be able to find much HDR content. However, the Note does feature a brand new Video Enhancer. It is meant to process non-HDR videos and simulate extended HDR-like dynamic range for photos and clips. However, we can't quantifiably test how well that works.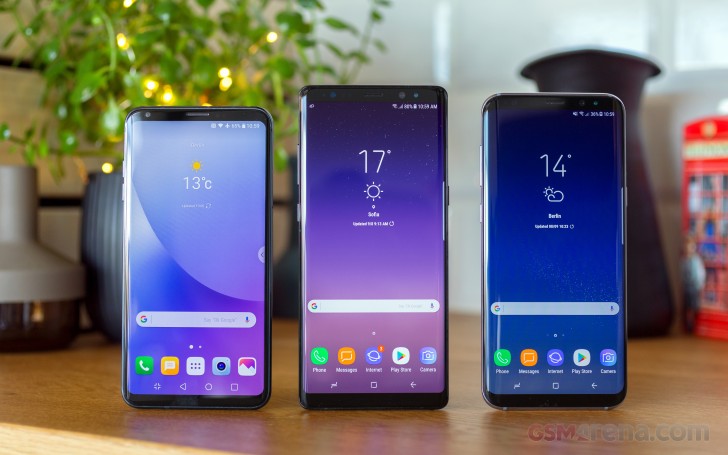 Since the S8, S8+ and Note8 all share a resolution of 2960 x 1440px, it is only natural that the 6.3-inch Note8 has a slightly lower pixel density at 521ppi than the other two at 529ppi and 570ppi, respectively. However, the difference is negligible, and the Note8 is tack sharp. It is also worth mentioning that Samsung runs the display at 2220 x 1080 pixels resolution out of the box. There is a setting which allows you to switch to its native 2960 x 1440 pixel resolution, or even go down to 1480 x 720. Things do look noticeably fuzzy on the latter.
On a sub-pixel level, Samsung employs a setup it calls Diamond Pixels. It has a few key characteristics: first, the Red, Green and Blue pixels are all different sizes. The Blue is the largest since it has the lowest light emitting capacity. Then comes Red and the noticeably smaller Green. Shape is also different. In order to maximize sub-pixel rendering, the first two are shaped like diamonds, while Green is oval and squished in between. The 45-degree symmetry of the arrangement should prevent aliasing and artifacts in drawing straight and diagonal lines on the Pentile display.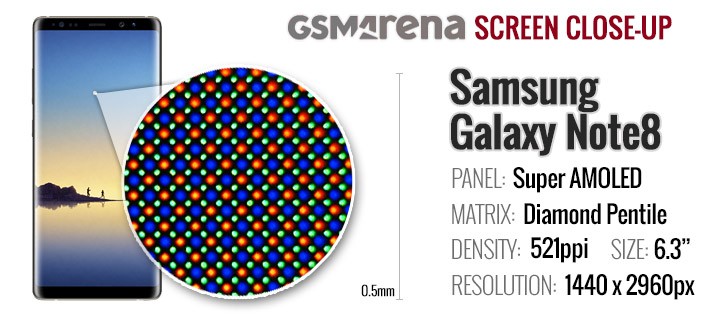 AMOLED panels have always been the go-to screens for saturated and "punchy" colors. The Note8's Infinity Display makes no exception. Besides the already mentioned wide native color gamut, you might remember, Samsung also mentioned high-saturation 'Deep Red' OLED when it first unveiled the display tech on the S8. This is a basically a fancy term to signify even punchier colors. Images are amazingly vibrant on the Note8.
That is especially the case if you leave the default Adaptive display mode on. In it, we measure an average deltaE of 5.2 and a maximum on 10.2 – pretty respectable scores but not really superior to the S8+. The more subtle curvature and size difference alone are indicative that the two devices do use different panels, so such variances were expected.
It is worth mentioning that our standard color tests all measure color accuracy compared to the sRGB color space. Just like the S8 duo, the Note8 has a total of four selectable screen modes, each with its own gamut specifics. If you really want to get technical about it, AMOLED Cinema is very accurate as per the DCI-P3 color gamut. AMOLED Photo is what lets you come as close to Adobe RGB as possible and Basic Screen mode aims towards sRGB or Rec. 709. The latter is usually what digital content and consumer digital cameras, TVs, laptops and other tech aim to cover.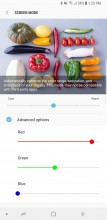 Best color mode
So, Basic is the most accurate mode in case your content is meant to be viewed in sRGB. It netted an average deltaE of 3.1 and a maximum of 5.5. It doesn't necessarily look the best on the phone's screen as it seems Samsung has applied a rather neutral gamma curve and the UI will look bland and not as contrasty when you switch to this mode.
We were happy to find that one novelty in the Note8 is an adjustable White Point. The controls could be a bit more granular, and the option is only available in Adaptive mode. However, having it allows for some manual calibration, if you have the right equipment. By putting brightness at exactly 53% (using a third-party app) and dialing in the channel sliders, as shown above, we were able to get the average deltaE down to just 2.5. This represents such a low deviation that we can consider the screen perfectly color-accurate.
However, the Adaptive display is the mode you probably want as your day-to-day setting. What it does is try to detect what kind of content is currently on-screen and adjust itself to that. It also makes good use of the entire extra-wide color gamut range of the panel to offset some of the washouts in a brighter ambient light. This is great for outdoor use.
Speaking of, the S8 pair pretty much blew us away and we expected a lot from the Note8 as well. Now, we did manage to get to a brightness as high as 850 nits in Auto mode by shining a light in to the ambient light sensor, but that is still a bit lower than the 870 nits of the S8+. In fact, at 100% brightness in Adaptive mode, without any input from the light sensor, the Note8 appears to run a bit dimmer than its S8 sibling as well. The difference is small, especially when you consider that the Note8 will happily go into overdrive when exposed to the sun outdoors, so we didn't really notice a real-life difference when using the phones normally. Still, we couldn't exactly confirm DisplayMate's recent claim of a record-shattering 1,200 nit reading on the Note8.
Display test
100% brightness
Black, cd/m2
White, cd/m2
Contrast ratio
Samsung Galaxy Note8 (Max Auto)
0
850
∞
Nokia 8
0.382
703
1840
Samsung Galaxy S8+ Max auto
0
647
∞
Samsung Galaxy Note7 (Max auto)
0.00
647
∞
Samsung Galaxy S8 Max auto
0
618
∞
LG V30 (Max Auto)
0.032
616
19250
Xiaomi Mi 6
0.462
603
1305
HTC U11 (Max Auto)
0.373
583
1563
Sony Xperia XZ1
0.409
575
1406
LG G6 max auto
0.277
564
2036
Motorola Moto Z2 Force (Max Auto)
0
559
∞
Huawei P10 Plus
0.335
547
1633
HTC U11
0.308
483
1568
LG G6
0.228
468
2053
Samsung Galaxy S8+
0
442
∞
Samsung Galaxy S8
0
440
∞
OnePlus 5
0
435
∞
Google Pixel XL
0
432
∞
Samsung Galaxy Note7
0.00
428
∞
LG V30
0.002
414
207000
Samsung Galaxy Note8
0
412
∞
Motorola Moto Z2 Force
0
376
∞
Since this is an AMOLED panel, contrast is practically infinite. The lowest available white luminance is also nice at 2.1 nits so it would be easy on your eyes if you operate the phone in complete darkness.
As for the difference you may spot between our published readings and the 850 nits we mentioned: OLED brightness is dependent on the percentage of the screen being lit up. We thus got the 850 nits score from a very small white rectangle. 647 nits is what you can realistically expect when using the entire screen. For the sake of fair comparison, we've stuck to the usual APL (average picture level) 80% which we've always used so far. This means that the white pattern, which we use to measure the max brightness of an AMOLED screen takes 80% of the display surface area.
Sunlight legibility is another area where the Note8 manages to score pretty close to the S8 and S8+, but still a few points short. Nevertheless, 4.148 is well impressive and won't fail you even in direct sunlight.
Sunlight contrast ratio
Samsung Galaxy S8




4.768

Samsung Galaxy S8+




4.658

Samsung Galaxy S6 edge+




4.615

Oppo R11




4.454

Samsung Galaxy S7 edge




4.439

OnePlus 3




4.424

Samsung Galaxy S7




4.376

HTC One A9




4.274

Samsung Galaxy Note7




4.247

Samsung Galaxy A3




4.241

Nokia 8




4.239

OnePlus 3T




4.232

Google Pixel XL




4.164

ZTE Axon 7




4.154

Samsung Galaxy Note8




4.148

Meizu Pro 7 Plus




4.147

Samsung Galaxy S6 edge




4.124

Samsung Galaxy A7 (2017)




4.124

Samsung Galaxy Note5




4.09

LG V30




4.022

Huawei Nexus 6P




4.019

OnePlus X




3.983

Vivo Xplay5 Elite




3.983

Oppo R7s




3.964

Apple iPhone 7




3.964

Huawei P9 Plus




3.956

Meizu Pro 6 Plus




3.935

Lenovo Moto Z




3.931

Samsung Galaxy A7 (2016)




3.918

OnePlus 5




3.914

Samsung Galaxy C5




3.911

Samsung Galaxy C7




3.896

Samsung Galaxy A5




3.895

Samsung Galaxy J7 outdoor




3.879

Samsung Galaxy J2 outdoor




3.873

Samsung Galaxy A8




3.859

Apple iPhone 6




3.838

Sony Xperia XZs




3.818

Samsung Galaxy A9 (2016)




3.817

Motorola Moto X (2014)




3.816

Samsung Galaxy J7 (2017)




3.812

Samsung Galaxy A5 (2017)




3.804

Samsung Galaxy J7 (2016) outdoor mode




3.802

Xiaomi Redmi Pro




3.798

LG V20 Max auto




3.798

Sony Xperia XZ




3.795

Samsung Galaxy A5 (2016)




3.789

Apple iPhone 6s




3.783

Meizu Pro 5




3.781

Microsoft Lumia 650




3.772

Xiaomi Mi 6




3.767

Sony Xperia XZ1




3.765

Samsung Galaxy J7 (2016)




3.756

Oppo F1 Plus




3.709

Vivo X5Pro




3.706

Sony Xperia X Compact




3.694

Samsung Galaxy A3 (2017)




3.688

Apple iPhone SE




3.681

Huawei Mate 9




3.68

Samsung Galaxy A7




3.679

Meizu PRO 6




3.659

BlackBerry Priv




3.645

Sony Xperia XA1 Ultra




3.597

Apple iPhone 7 Plus




3.588

LG G6




3.556

Apple iPhone 6s Plus




3.53

Motorola Moto Z Play




3.526

Samsung Galaxy J3 (2016)




3.523

Samsung Galaxy J3 (2016) outdoor mode




3.523

Acer Jade Primo




3.521

Microsoft Lumia 950




3.512

Oppo R7 Plus




3.499

nubia Z11




3.466

Huawei P10 Plus




3.456

HTC U Ultra




3.453

Samsung Galaxy J7




3.422

Meizu MX5




3.416

LG V20




3.402

Huawei P10




3.379

Samsung Galaxy J5 (2016)




3.378

Oppo R9s




3.352

Honor 8 Pro




3.341

Oppo R7




3.32

Lenovo P2




3.316

Honor 9




3.289

Xiaomi Mi 5s




3.276

Nokia 5




3.261

Nokia 6 (Chinese version)




3.244

Xiaomi Mi 5




3.24

Nokia 6 (Global version)




3.238

Samsung Galaxy J2




3.235

Sony Xperia X Performance




3.234

Xiaomi Mi Note 2




3.228

Motorola Moto X Play




3.222

Oppo F3 Plus




3.218

Huawei Mate 9 Pro




3.206

Huawei P9




3.195

ZTE Nubia Z17




3.159

Lenovo Vibe Shot




3.113

Motorola Moto X Force




3.105

LG Nexus 5X




3.092

HTC U11




3.089

Huawei Mate S




3.073

Microsoft Lumia 640 XL




3.065

Sony Xperia XA1




3.012

Sony Xperia L1




2.994

Sony Xperia X




2.989

Huawei P10 Lite




2.974

Samsung Galaxy Note




2.97

Sony Xperia Z1




2.95

Huawei Mate 8




2.949

Xiaomi Redmi 4




2.92

Xiaomi Redmi 3S




2.913

Sony Xperia XA Ultra




2.906

LG G5




2.905

HTC One S




2.901

Xiaomi Redmi 3s Prime




2.893

Xiaomi Mi 5s Plus




2.884

Sony Xperia XZ Premium (sRGB)




2.877

Sony Xperia XZ Premium




2.877

Sony Xperia Z5




2.876

Nokia 3




2.871

Microsoft Lumia 550




2.851

Lenovo Moto M




2.813

Xiaomi Redmi 3 Pro




2.803

Sony Xperia Z5 compact




2.784

Meizu MX6




2.751

LG V10




2.744

Xiaomi Redmi 3




2.735

Xiaomi Redmi Note 4 (S625)




2.714

Meizu M5




2.71

Sony Xperia M5




2.69

Huawei P9 Lite




2.679

Xiaomi Redmi 4 Prime




2.679

Vivo V3Max




2.659

Xiaomi Mi Mix




2.658

Doogee Mix




2.642

Xiaomi Mi 4i




2.641

Xiaomi Redmi 4a




2.635

Sony Xperia XA




2.609

Motorola Moto G4 Plus




2.582

Motorola Moto G4 Plus (max auto)




2.582

Meizu M5s




2.58

Xiaomi Mi 4c




2.574

LeEco Le Max 2




2.567

Microsoft Lumia 640




2.563

Asus Zenfone 3 ZE552KL




2.563

Xiaomi Mi Max 2




2.561

Lenovo Moto G4




2.544

Lenovo K6 Note




2.544

Oppo F1




2.528

Sony Xperia Z5 Premium




2.525

Huawei Honor 7 Lite / Honor 5c




2.506

Sony Xperia M4 Aqua




2.503

Oppo F1s




2.481

Motorola Moto G




2.477

Lenovo Vibe K5 Plus




2.473

Huawei G8




2.471

Huawei nova




2.467

Sony Xperia Z




2.462

Lenovo Vibe K5




2.459

Meizu m3 max




2.447

HTC 10 evo




2.407

Huawei Honor 7




2.406

Sony Xperia E5




2.386

ZUK Z1 by Lenovo




2.382

HTC 10




2.378

Oppo F3




2.376

vivo V5 Plus




2.371

Meizu m1 note




2.362

Huawei nova plus




2.329

HTC One E9+




2.305

Alcatel One Touch Hero




2.272

Apple iPhone 4S




2.269

Lenovo Vibe K4 Note




2.254

Sony Xperia C5 Ultra




2.253

Xiaomi Redmi Note 3 (MediaTek)




2.249

Sony Xperia C4 Dual




2.235

Xiaomi Mi Note




2.234

Motorola Moto G (2014)




2.233

Huawei P8




2.196

Meizu M5 Note




2.189

Huawei Honor 6




2.169

Xiaomi Redmi Note 2




2.166

OnePlus Two




2.165

HTC One X




2.158

LG Aka




2.145

Xiaomi Redmi Note 4 (X20)




2.145

Archos 50 Diamond




2.134

Xiaomi Redmi Note




2.119

Xiaomi Mi 4S




2.095

Acer Liquid X2




2.084

Huawei P8lite




2.078

vivo V5




2.059

Moto G 3rd gen max manual




2.026

Xiaomi Mi 3




2.001

Xiaomi Mi Max




1.996

Sony Xperia E4g




1.972

OnePlus One




1.961

Meizu m3 note




1.923

BlackBerry Leap




1.892

Meizu m2 note




1.892

HTC Butterfly




1.873

Sony Xperia Z1 Compact




1.772

ZTE Nubia Z9 mini




1.759

Sony Xperia U




1.758

Asus Zenfone Selfie




1.68

Motorola Moto E (2nd Gen)




1.675

ZTE Nubia Z9




1.659

Jolla Jolla




1.605

Motorola Moto E




1.545

Sony Xperia M




1.473

Sony Xperia L




1.351

Xiaomi Redmi 2




1.311

HTC Desire C




1.3

Sony Xperia C




1.283

Meizu MX




1.221

Sony Xperia E




1.215
The point we are trying to get across is that while it's amazing, the Note8 display is not exactly better than the S8 duo. The differences are there and potentially important for certain professional users but they don't necessarily benefit the regular user.
Galaxy Note8 battery life test – Exynos & Snapdragon models
Let's jump right into the thick of it here, since the Note8's battery life has been a heated topic of discussion lately. Hopefully, at this point, we have all managed to move on from the Note7's exploding battery fiasco. Judging by Samsung's continued apologetic tone and pretty obvious caution in advertising the Note8, the internal fallout hasn't dissipated quite yet. Lessons learned, new safety measures well in place and extravagant battery designs dialed back. All this left the Note8 with a 3,300mAh pack – smaller than the S8+ and Note7 and slightly bigger than the S8.
After rigorously resting the phablet we can confidently dismiss all the rampant endurance concerns. Even with its smaller pack, the Note8 managed a great 89-hour score in our proprietary test. Looking at the numbers in more detail and comparing them to the Galaxy S8, reveals a nice and consistent behavior. 3G talk time, Wi-Fi browsing and video playback all fall in line perfectly. Even the S8+, with its extra juice fairs only marginally better at the latter two tasks, while ending up with a practically identical overall endurance rating due to the much improved stand-by performance on the Note 8 Exynos.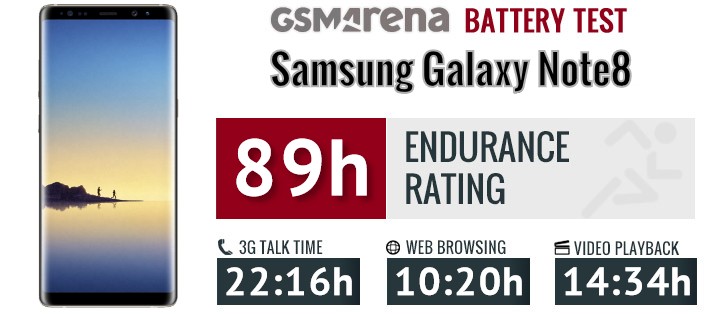 The only logical conclusion to make here is that Samsung really pulled out all the stops in background optimization. In fact, the Exynos Note8 managed over 100 hours more in standby than its Exynos S8+ sibling in the same exact conditions.
A few side notes before we move on. These numbers were scored on an Exynos 8895 unit. Also, for the sake of thoroughness, we ran the tests in 2220 x 1080 pixels and 1480 x 720 pixels modes as well. The minor differences we recorded were in the minutes, and are well within the margin of error of the tests. Perhaps an alternative usage pattern might lead to some meaningful advantages of going low-res, but our experience doesn't point in that direction. We guess one such potential scenario is gaming, but then again you already had the option to limit resolution for games specifically within Game launcher. This falls in line with what we observed while testing the S8 and S8+, as well as re-testing the S7 and S7 edge after the Android Nougat update introduced the option to adjust the resolution.
We managed to get our hands on a US Snapdragon 835 unit as well. Its overall endurance rating turned out quite a bit lower than the Exynos alternative.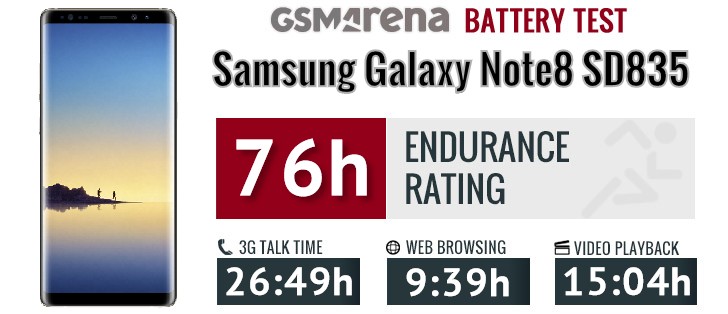 Going through the individual numbers, we see that the web browsing and video playback stats of both models pretty much match up. Our past experience also suggests the Snapdragon 835 has a slightly more efficient modem overall but we also conducted the Snapdragon model's call test on a US network so there might be potential network differences too.
The big dip in the Snapdragon battery performance comes from standby times. Standby performance is not the Snapdragon 835's strong suite and we've hardly gotten more than 200h-230h of standby from any of the recent Snapdragon 835 devices. The stateside Note8 is no exception as its battery lasted 200h in standby. It appears Samsung could only do so much with background optimization on a non-Exynos chip.
The Always On display feature was always going to be a battery drainer, no two ways about it. Samsung's claim that it would cost you 1% per hour seems about right, and it does leave a huge dent in the overall endurance rating.
Since its launch, the AOD setting has been optimized and now allows you to schedule times to activate it. Of course, your mileage will vary depending on how long you keep the phone out of your pocket because the phone turns off AOD once it detects it's lying face down or is in a pocket or purse.
Samsung is still sticking with its Adaptive Fast Charging solution. Frankly, it does a good job filling the 3,300mAh battery from zero to 40% in about 30 minutes. There is also support for Qualcomm's Quick Charge 2.0.
Last, but not least, the Note8 is also capable of wireless charging compliant with both WPC (Qi) and PMA. Samsung will also sell you a fast wireless charging pad, which can fill up the battery nearly as fast as cable.
The battery testing procedure is described in detail in case you're interested in the nitty-gritties. You can also check out our complete battery test table, where you can see how all of the smartphones we've tested will compare under your own typical use.
Connectivity
Since the Note8 shares most of its internals with the S8 pair, it is only natural for connectivity options to carry over as well. The phones are basically identical in this department. Just like with the Infinity Display, the Note8 can't really make a bold claim and capitalize on being first on the scene to break the 1gb/s LTE mark. It is still an amazing accomplishment, though. Both the Snapdragon 835 and Exynos 8895 utilize LTE-A (4CA) Cat16 1024/150 Mbps modems. Yes, both chips are not only very close performance-wise, but should be equally capable of sustaining blazing fast network speeds (as long as your carrier supports them.)
It's worth noting that the Exynos 8895 version supports 5 carrier aggregation, while its Qualcomm counterpart has to get by with 4. In practice, you likely won't be able to reach that high anytime soon so we wouldn't fret over this detail too much.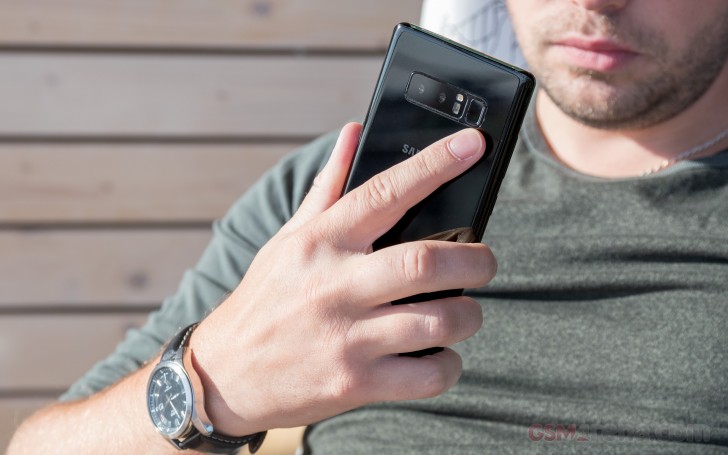 In keeping with Samsung's typical marketing, there are both single and dual SIM versions of the Note8 out there. Region dependent, of course. Unlike with recent Galaxy A models however, the tray here employs a hybrid design. This could, potentially, be a problem for anyone that doesn't trust the cloud and still has high storage requirements – higher than the provided 64GB at any rate.
In terms of local connectivity, you get dual-band Wi-Fi 802.11 a/b/g/n/ac, MU-MIMO, Bluetooth v5.0, with support for A2DP, LE, aptX and ANT+. The particular Bluetooth adapter has a neat trick up its sleeve – streaming audio to two devices at the same time. The feature works pretty well, but perfect sync is not really feasible.
NFC is a given and so is Samsung's proprietary MST technology for card payments in supported markets. Of course, the list gets even longer if you decide to count sensors, of which the Note8 has quite a few: Iris scanner, fingerprint, accelerometer, gyro, proximity, compass, barometer, heart rate, SpO2.
There is a full set of location services supported as well: GPS, Galileo, Glonass and BeiDou.
Samsung might have been a little bit late to the USB Type-C party, but at least the Korean giant took the time to get the implementation right on the S8 pair. The Note8 borrows the same excellent setup. That is to say, a fast USB 3.1 data link, behind the port, capable of speeds of up to 10 Gbit/s. However, the real icing on the cake lies in the phone's support for video output through a cable connection to the port – an increasingly rare feature, even among flagships.
Samsung opted to include the versatile DisplayPort Alternate Mode, which is how the phone manages to drive a display with the DeX dock. And before you call us out on the fact that the latter has HDMI output, consider that DisplayPort is versatile enough to be backward compatible with VGA, DVI and HDMI through the use of passive and active adapters, depending on the use case. We are yet to receive official confirmation on this, but as far as we know, DisplayPort 1.3 should be behind the video out feature and thus theoretically capable of up to 4K@120Hz or even 5K@60Hz and 8k@30Hz.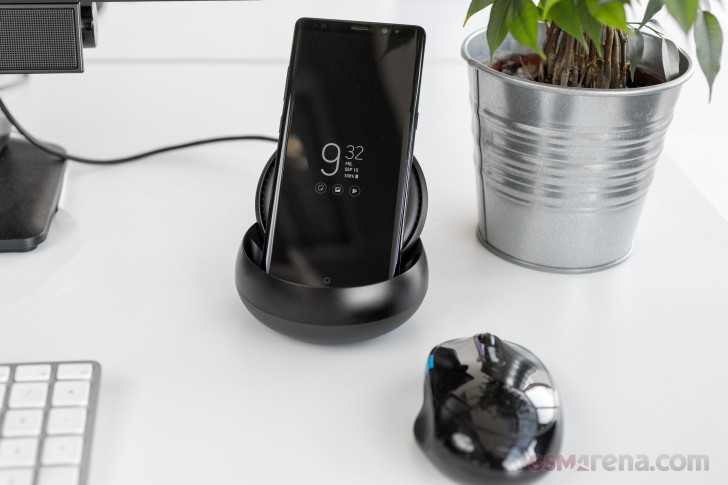 In real-life terms however, the most practical way for users to output video from the Note8 will be through the DeX dock (usually purchased separately but sometimes bundled with the phone). This is especially true now that Samsung is giving one away for free with the device in most markets. It has a specific video output mode designed to mirror the device screen at up to 4K. Using DeX for its main desktop-replacement UI functionality only nets you a resolution of 1080p.
Dex has not managed to gain much traction so far but it really has its strong points. Samsung has solid partnerships in place and already has a very usable set of apps functioning well in desktop mode including, but not limited to a Microsoft office suite and a fully-featured browser.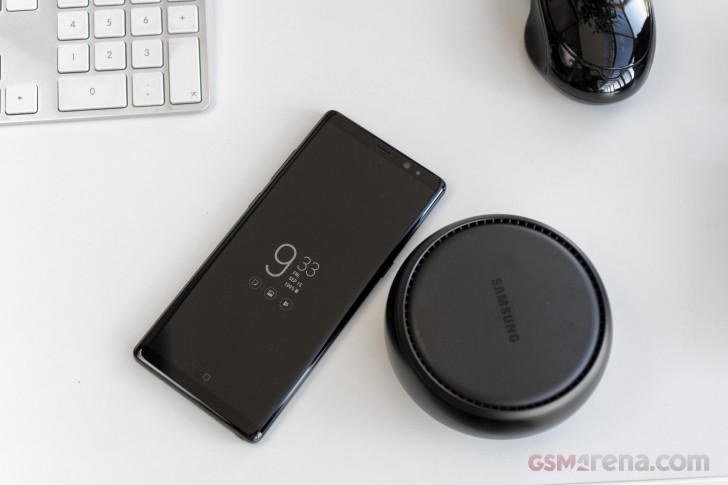 Of course, beyond wired connectivity, the Note8 has its Smart View interface to support an assortment of wireless display sharing protocols, including Miracast and Google's proprietary Chromecast. MirrorLink is also part of the mix. If you have already invested in something like a compatible car entertainment system, the phone upgrade won't break your setup.
Finally, a tiny piece of bad news, since this is a flagship and one starved for space, Samsung didn't feel the need to cram in an FM receiver.
S-Pen
The Samsung Galaxy Note8 runs on Android 7.1.1 Nougat – that's 0.1.1 more than your regular S8s and S8 Pluses. The version of the Samsung User Experience UI, which is running on top of Android is also a couple of notches up – 8.5 vs. 8.1. That, however, you'll hardly notice, but the S-Pen you will, so let's start with it.
You can use it without waking the phone up – click the top end of the S-Pen to pull it out of its silo, and you're straight into Screen-off memo – as in you can write on the otherwise off display, white on black. That feature was introduced on the Note5 and back on the Note7 it came with a twist – you could pin a note on the AOD.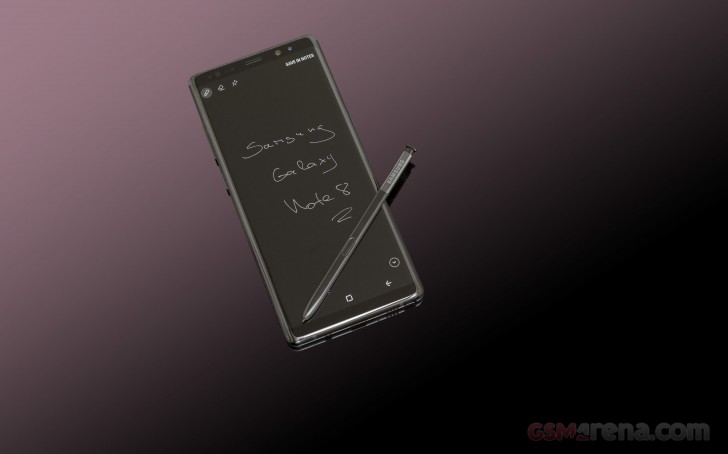 Same here, though Samsung advertised you could pin up to 100 pages of notes on the display. Challenge accepted.
We made it to 120, and it pinned just fine, though it could be down to the fact that it was merely 120 pages of writing the count in the lower right corner – heavier notes could hit the cap sooner, for all we know. The point is, you can pin a long, long grocery list with no issues (or your next rap lyrics or whatever). You can also just save it to Samsung Notes, where the pinned one will eventually go to once you pin a new one.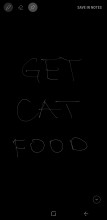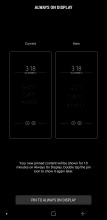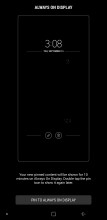 Screen-off memo
Samsung Notes is your go-to place for scribbling stuff. Your notes are listed chronologically, or arranged in collections (there's one by default for the screen-off memos), and you can see an expanded preview if you hover over a note with the S-Pen. Each note can contain typed text, written text, doodles, images and voice recordings.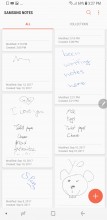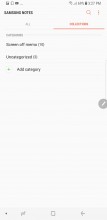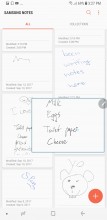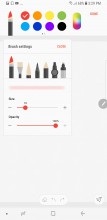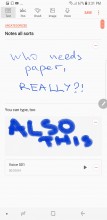 Samsung Notes: All • Collections • Preview • Brush settings • Everything in a note (okay, minus an image)
It's one of many ways to use the S-Pen, though. When you pull out the stylus with the phone unlocked, the Air command menu appears (though that's a setting that can be turned off, or set to create a note straight away). You can have up to 10 shortcuts there, and those can be either S-Pen features or shortcuts to apps. You can't just put a contact there, that's for the Edge panels, though it's hardly practical to pull out the S-Pen to call someone.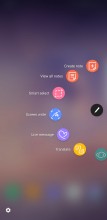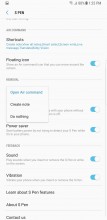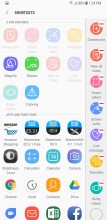 Air command menu • Possible actions upon removing the pen • A lot of stuff can go into Air command
Advanced screenshot capture is made infinitely easier by the pen. Smart select allows you to take differently shaped screenshots, extract text from them, or pin them on the screen.
Alternatively, you can create short GIF animations. Then there's Screen write that takes a fullscreen snap that you can write on with the full set of different pens and brushes (and then crop, if you will).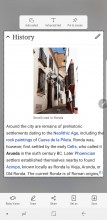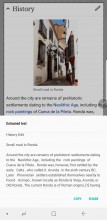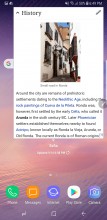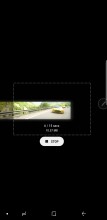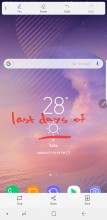 Smart select • GIF capture • Screen write
Live message is one of the key additions this year, though. Since still sketches are too mainstream, you can record a GIF animation of your act of drawing, so that the other party can feel extra special by watching the message unravel before their eyes. There's even a coloring book with a ton of drawing outlines for you to fill in and share (or not). If you're a better artist than that, you can go ahead and draw your artwork and share it on the Penup network.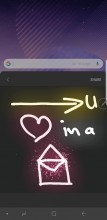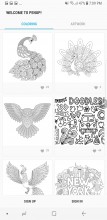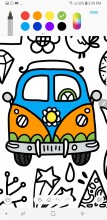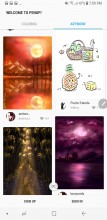 Live message in the making • Penup with a coloring book and original drawings
There's a magnifier too with a number of different magnification ratios. Meanwhile, Glance lets you have a tiny thumb of an app on the bottom of the screen, which you hover to evoke the full-size app. Translate does just that – it uses Google translate to give you quick translations when you point at a word. There's a toggle that switches between single-word translations and translating a block of text.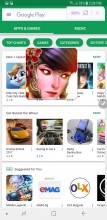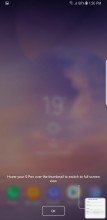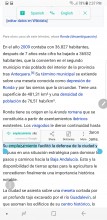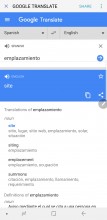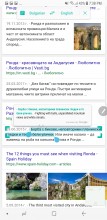 Magnify • Glance • Translate single word • Expand to Google Translate • Translate selection
There's also Bixby vision for the S-Pen. You point at an object on the screen, and Bixby does its magic of selecting what it thinks you're trying to select and then gives you the option to either look for similar images or do actions with the text if there is any. As you've probably gathered already, a lot of the features are doubled here and there.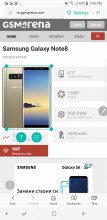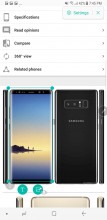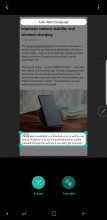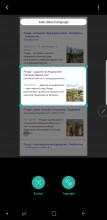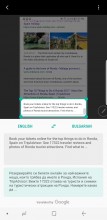 Bixby vision
There are numerous other smaller use cases for the S-Pen. For, example, you can hover over an image in the gallery for an enlarged preview, or over a calendar entry for more details. You can also scroll up and down by hovering the S-Pen over the edge of the screen.
Also, if you prefer writing input for form filling, you can set up a tooltip to appear when you hover above a field. Tap on that, and you'll go into writing mode.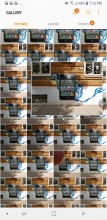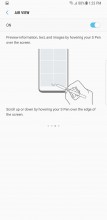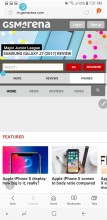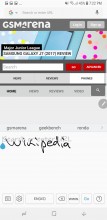 Preview on hover • Hover scroll • Direct pen input
Edge panels
Since we're doing the feature presentation in this review in an unusual sequence anyway, let's get the Edge panels out the way too. They've been a staple of Samsung flagships since there have been curved-screen Galaxies, and years later we're still not entirely sure of their usability.
As you're probably well aware, the Edge panels are panes of tools and shortcuts that you bring up from the side of the phone by pulling on a handle. The handle (and consequently the panels) can be on either side of the display, and you can set up its size, vertical position and opacity.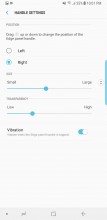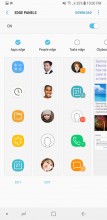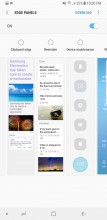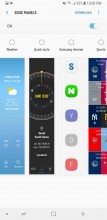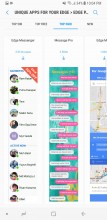 Edge panel handle settings • Assortment of available panels
The available panels include Apps edge (pre-configured app shortcuts), People edge (pre-configured contact shortcuts), Tasks edge (various shortcuts, e.g., Take a selfie or Create event), while Device maintenance is your one-stop shop for checking storage, memory and battery modes. Smart select allows you to take screenshots of a crop of the screen, doing text recognition or keeping an image pinned to the top. You can deactivate Edge panels if you don't want and enable others (including downloading additional panels).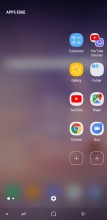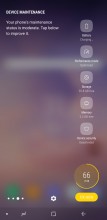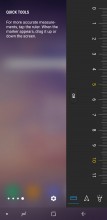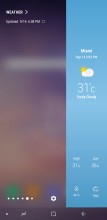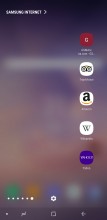 Edge panels in action
The third and final Edge screen feature is Edge lighting. It's a prettier, easier to notice variety of a notification light. It works when the Note8 is face down and uses the sides of the screen to create a colorful aura around the phone. We'll admit that leaving an expensive phone like this one face down feels cringe inducing, hence we never gave that feature much use.
App pair is one of the newly introduced productivity features. For apps you usually use together you can create shortcuts that launch them both in a pre-set arrangement. Think watching a YouTube video while shopping for the stuff in it (#consumerism), or dragging and dropping files between two separate instances of the file manager.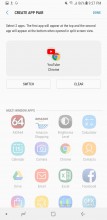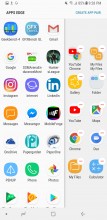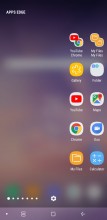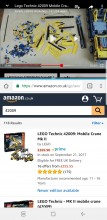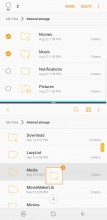 App pair
Bixby talks now
Samsung's pushing heavily its Bixby AI assistant, and it has a prominent presence at launch events and on promo material. Well, there's a whole hardware button dedicated to summoning it, so it's not like Bixby will go unnoticed anyway.
We get all the PR effort Samsung is putting in to get the hype train rolling. By all accounts, Bixby is a massive undertaking and a whole lot more than a simple spin on the company's outdated S Voice platform. Samsung wants Bixby to be a pervasive and persistent presence, like a digital butler that sees everything, hears everything and can help in every aspect of your daily life. If nothing else, the name sure fits the bill.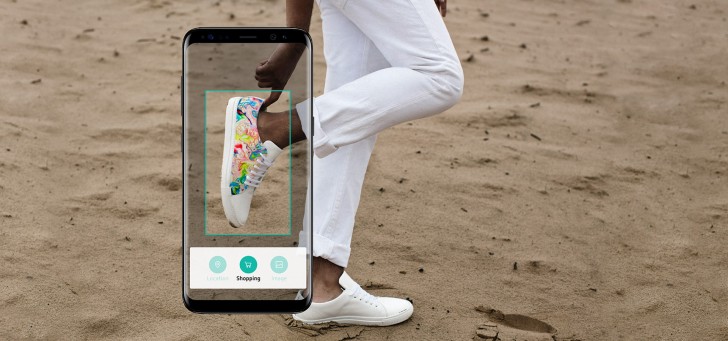 The Korean giant arguably succeeded on most of these points. You can pretty much call upon Bixby from every interface and if you ever find yourself stuck in a UI that doesn't offer any shorthand link to the AI, there is always the Bixby button. This, in itself, shows the level of commitment Samsung currently has to the platform. The company's vision for the future involves a seamlessly connected home, with all your electronics and appliances playing ball and Bixby near the center of it all.
But even Samsung's optimistic predictions place that reality at least three years into the future. The real question is, what can Bixby do for you today, where established assistants like Google's own and Siri have accumulated significant amounts of usage data and patterns.
Straight off the bat, we will note that Samsung is aware of the platform's early nature and is not pushing it down user's throats for lack of a better metaphor. In its current state, it is surprisingly easy to turn Bixby off and ignore it altogether.
The easiest way to perceive Bixby is through its individual parts. First up, there is Bixby Home. In a lot of ways, this homescreen pane is similar to the older Google Now experience – a dedicated interface, with a feed of contextually relevant information. It can either be brought up by tapping the Bixby button three times or by swiping right from the left edge of the screen. The latter home pane positioning can be toggled off or on, as per your liking.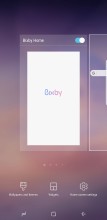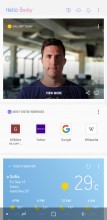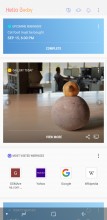 Bixby Home interface
Bixby Home looks simple on the surface, but there is actually quite a bit of customizability hidden away under the hood. For one, cards can be hidden, pinned to the top or turned off. There is no apparent rearrangement option beyond that, but Samsung does offer a toggle for something it rather descriptively calls "Samsung Interactive and Customized Services for Hello Bixby" that makes the platform and thus the cards location- and context-aware.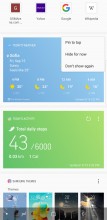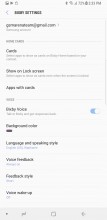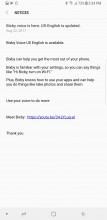 Editing cards • Bixby options
As for the cards, themselves, they actually come courtesy of various apps which are installed on the phone. In a rather forward-looking fashion, Samsung has provided an API to enable displaying content from third-party developers. Even at this early stage, there are already a few notable applications that can talk to Bixby in this fashion, like Spotify, Twitter, Foursquare and Uber.
It is also worth noting that Bixby can put cards on your lockscreen as well. Of course, that all depends on whether you permit it to do so, again on a convenient per-app basis.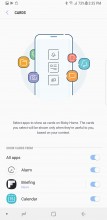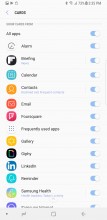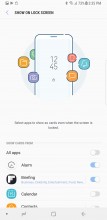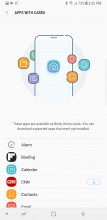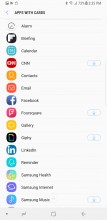 Bixby cards come courtesy of your apps
Reminder is a particularly convenient part of Bixby. It is a calendar, and a task app rolled into one. But the trick is, Reminder is location- and context-aware, as well.
Once you enable the feature, it manifests itself as a separate app. In it, you can input content the old-school way.
However, Reminder also appears on your share list, so you can share a web page, photo, a conversation or even a video file with the app and create a reminder based on that. Once the timing or location conditions for that reminder are met, you can just jump back in your content. Reminder even remembers where you left off your video or song.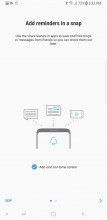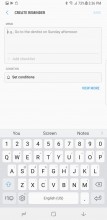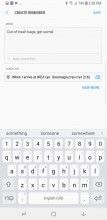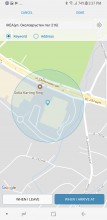 Reminder offers time and location based conditions
Bixby Vision is an interesting take on what has been one of the big goals of AR and computer vision enthusiasts for quite a few years now. If you've ever tried Google Goggles before, the concept here should already be familiar to you – point your camera at an object, recognize it and its properties and get relevant information.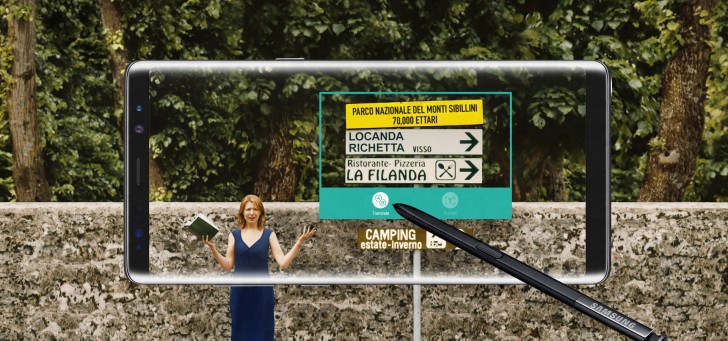 This sounds like a perfectly easy end-goal, but the underlying implications are immensely complex and difficult to tackle. Samsung aimed for a fairly advanced implementation. Bixby can potentially recognize objects in one of the following categories: Shopping, Places, Text, Wine, Image and QR code. As you can imagine, it's a hit-or-miss situation and some categories work better than others.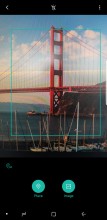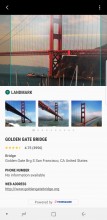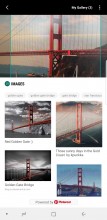 It's been good with landmarks
Once Bixby Vision detects something it thinks it can recognize, it gives you suggestions as to what category it thinks it falls under. Bixby then relies on user input to take it the rest of the way. Detection often ends up cropping too much of the item, so you should take the time to adjust the windows for best results.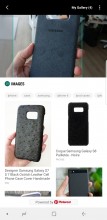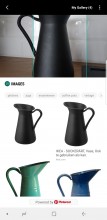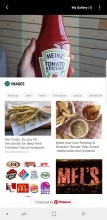 Not so great with other stuff
The image search is fairly straightforward and mainly looks for general shape and color matches, patterns and compositions. Text and QR also work well, as one would expect in 2017. Looking up shopping links and wine listings is a lot tougher, and results from our tests were all over the place.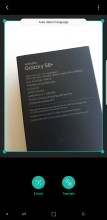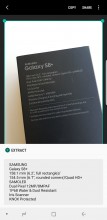 Text OCR isn't infallible
There are shortcuts to Vision scattered all around the interface. Naturally, you can enable it from the camera or Bixby Home, but there are also options for passing an image from the gallery or the web for analysis.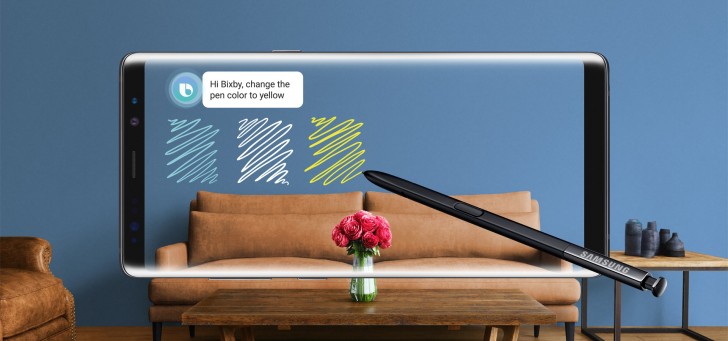 Bixby Voice wasn't initially available when the Galaxy S8 was announced, but it's here now on the Note8. You need to enable it in Bixby settings, and then you can go ahead and press the Bixby button to talk (make sure to keep it pressed for the entire request and let go to make it happen).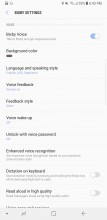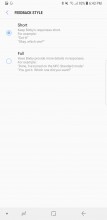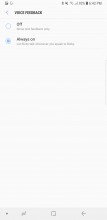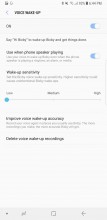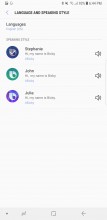 Bixby Voice settings
So far the service only works in English (US) and Korean, and there are three different voices to choose from – Stephanie sounds American, Julia is supposedly British, and John… well, John is male. There's a tutorial of sorts where you pronounce a set of sentences so the voice recognition can get used to your particular accent. You gain experience points for every new interaction with the assistant – Samsung clearly wants to give you an incentive to use Bixby.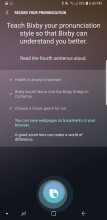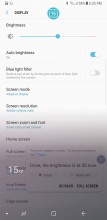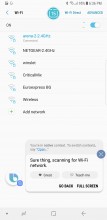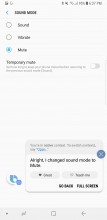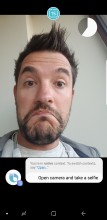 Teaching Bixby • Brightness setting +15xp • Connect to Wi-Fi • Turn off sound • Take a selfie
And use it you could, albeit for a specific set of tasks. It's good for doing stuff around your phone – setting brightness, taking a photo, setting up reminders, toggling Bluetooth on and off. Just make sure you don't send it into airplane mode – it'll do it, and then you won't be able to issue any more requests due to the lack of internet connection. There's a long list of email-related tasks it would do for you as well. You can ask it about the weather, and then use follow-up questions and it'll oblige.
What it won't do is look up restaurants on the internet or give you driving directions – both of these well within the abilities of Google Assistant and Siri.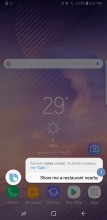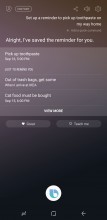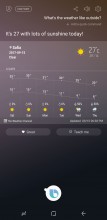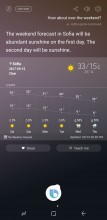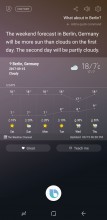 Nope, no restaurants • Reminders are ok • Weather with follow up questions
Overall, we're still baffled by this whole craze for having a personal assistant on your phone. On a fundamental level, we find issuing orders to your phone cool in an 80s sci-fi movie kind of way, but not particularly useful from a practical perspective. And then, when there's the reasonably well working Google Assistant out there that has already gained momentum, why do Android manufacturers insist on building in-house solutions from the ground up.
Who knows, maybe in a few years we'd be proven backward-thinking, but right now we're all for typing and tapping our way around the phone.
DeX
The Galaxy Note8 works with the same DeX dock which was launched with the Galaxy S8 and makes the phone into a desktop computer. Provided, of course, that you supply your own monitor (TV will do, too), keyboard, and mouse.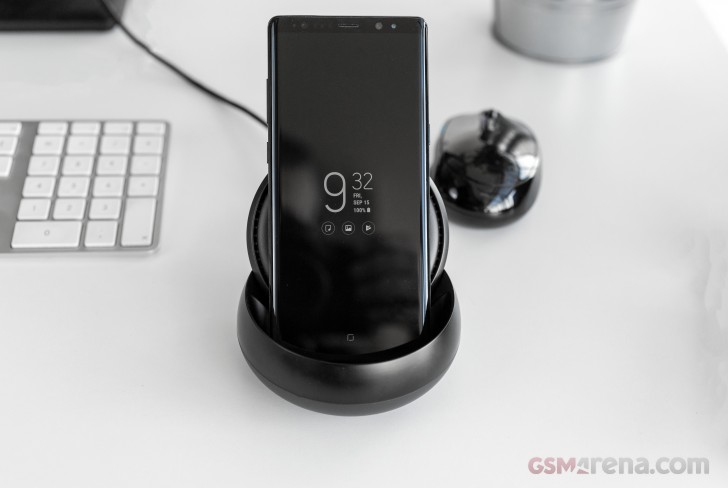 Since the experience is unchanged from the one offered by the S8, you can read about it in detail in our Galaxy S8 review.
General UI
The Note8's Samsung User Experience 8.5 is for all purposes practical the same as the one on the Galaxy S8 and S8+. The iconography is the same; the menu arrangements are the same, the color scheme is the same – it's the S-Pen that makes the difference.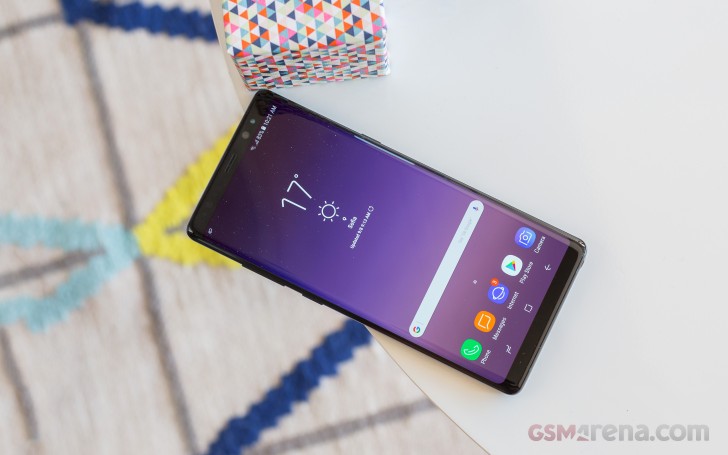 Hence, the pin-up memos are what sets the always on display on the Note8 apart from the S8 and S8+. That aside, the AOD experience is unchanged. The settings are on the Lock screen and security section of the settings menu, instead of Display, which we still can't get used to (been so for a while) but there's a handy shortcut suggestion in the bottom of the Display section.
Anyway, there's a selection of analog and digital clocks to choose from, plus a calendar or image option. The Night clock mode was scrapped for the S8 and isn't making a return on the Note8. Here it's a separate mode of the AOD, which means that you can't have the full-blown AOD in the day, and the Night clock at… um.. night. In this Edge clock mode, you don't get notifications, by the way. You can still set a daily schedule when AOD will be active.
Just like on the S8, which was the first Samsung phone to lose its home button, the Note8 gets a Home button icon on the AOD. It's a setting, and you can disable the icon, but the 'Home' area will still function, you just need to remember where to press.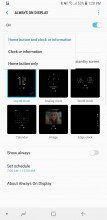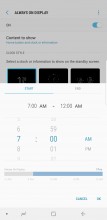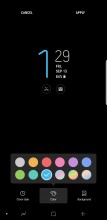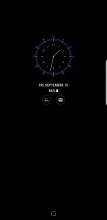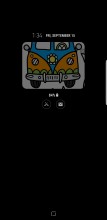 Always On Display
Then there's the lockscreen itself which displays the standard Nougat notification feed with grouping and direct reply. There are two shortcuts in the bottom corners, Dialer, and Camera by default, but you can change them to any app you want.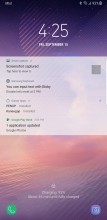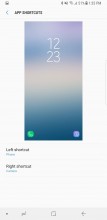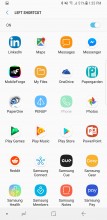 Lockscreen • Shortcuts settings • Pick an app, any app
You may not get to see the lockscreen at all though, depending on how you choose to handle the unlocking process, and you're not at all short on options. There's the fingerprint unlock, but everyone's got that now, and given the uncomfortable location of the sensor you'd better cross it off the list.
Coming straight from the Note7 we have iris recognition, and if that's not enough for you, face recognition will scan and look for your mug. It's not 30,000 point 3D mapping like the iPhone X's, so it's not half as secure, beware. Also, you can't have both iris and facial scan active at the same time, though the fingerprint sensor unlock can work with either of those.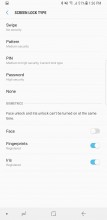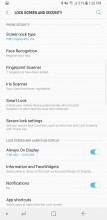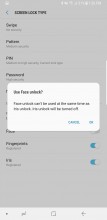 Screen lock settings
Iris recognition should theoretically be the safest. It works with a dedicated camera aided by an infrared illumination. In our experience, it unlocked the phone nearly instantly when you hold it the right way. Now that right way is the somewhat tricky bit, but you do have the preview to guide you. When there's bright sunlight pointing straight into the camera, it may refuse to work, but other than that we had no problems, even in dark conditions and even with sunglasses on.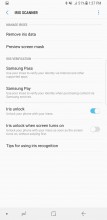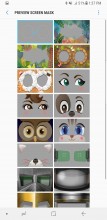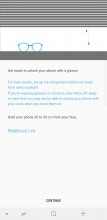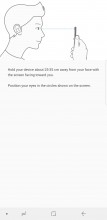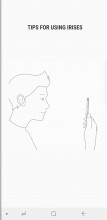 Iris recognition
Fingerprint unlock is present, of course, just not terribly convenient. That said, if you have the extra long fingers needed for it, it's perhaps the fastest option of all. It's not the fastest fingerprint reader, but it's always-on, no pressing or waking up required. It also completely bypasses the lockscreen.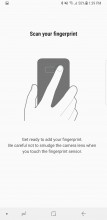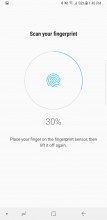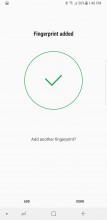 Fingerprint recognition
There's always the option for a simple swipe unlock, no biometrics whatsoever, as well as PIN, pattern, or password. You'll need to set up one of those three as a backup to the biometric methods anyway. Innovate with that PIN, please.
We mentioned the iconography, and that's because Samsung has a whole concept for it called 'Light and Line.' The stock icons look cool, there's no denying, and the simple and clear designs for the preinstalled apps make them easy to tell apart. You can have third-app icons on a padding with the same shape as the stock ones, or you can leave them as they are. Multiple grid sizes are available, and you can set them differently for the homescreen and app drawer.
The nav bar buttons are in the same style, but more importantly, you can rearrange them to match Google's idea of Back-Home-Recents, instead of the other way around. Alternatively, long-time Samsung users can stick to the opposite arrangement. Oh, a dot has popped up in the Note8's nav bar, and double-tapping on it toggles the nav bar's auto hide mode on or off. Is that a v8.5 feature that's eventually going to make it to the S's or is it Note-only?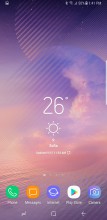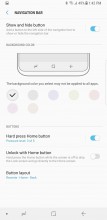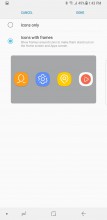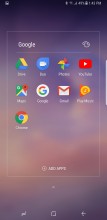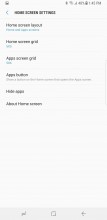 Homescreen • Navigation bar settings • Icon settings • Icons with no padding • Homescreen settings
By default, you have no Apps icon to take you to the app drawer. Instead, you evoke it with a swipe up or down from pretty much anywhere on the screen. It's not the most natural implementation, though – on a Pixel, you practically drag the app drawer up from under the dock, while here you swipe up or down, and the app drawer just appears.
Also, why not keep the downward swipe for calling up the notification shade, making it easier to access? Anyway, you can have the Apps icon, if so you wish, but that won't change the swiping behavior.
Alternatively, you can opt for a one-level UI, iOS-style, where all your apps are on your homescreens and there's no app drawer.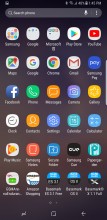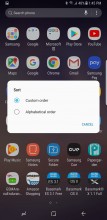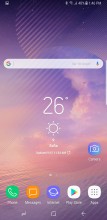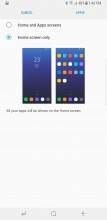 App drawer • Sorting options • Apps icon in the bottom right • Single – tiered mode
The notification shade is identical to the S8's. On the first pull, only the first six toggles are displayed – just the icons, no text. Pull down a second time or do a two-finger pull (yes, that still works), and you get the full list of toggles, complete with text. Where there's contextual info to be shown, it replaces the button's respective title – under Wi-Fi, you'd see the network you're currently connected to, under Bluetooth it's the headphones you have paired.
You can choose between three button layouts, or rather you can select between 3 and 5 icons for each of the three rows – that number you cannot customize. You can pick from 22 toggles in total, so if you want to have all of them there and you go for the 3×3 layout you're looking to have 3 panes of toggles.
Samsung hid the Auto brightness in a drop down menu next to the slider, which also contains a toggle to control whether you see the slider displayed at the first pull or the second. There's also a red area on the slider where the phone warns you that brightness might strain your eyes – much like headphone volume warnings.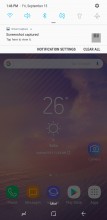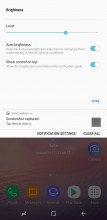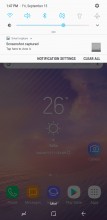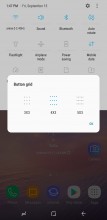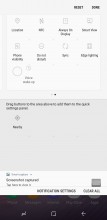 Notification shade: Default view • Brightness settings • Slider on first pull • Toggle rearrangement • Toggle Layout
The task switcher isn't unlike the one on the S8. It is the rolodex that's been around for a while, with Nougat niceties like screen pinning and multi-window support. To be fair to Samsung though, its flagships had multi-window since way before it was cool (debuted on the Galaxy Note 3), and it's only now making its way to stock Android.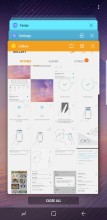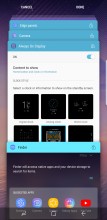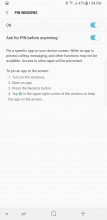 Task switcher • Lock apps • Screen pinning •
And yet, Samsung's implementation is still better and more powerful than what you'd find on a Pixel, or on the LG V30, for example. Here, you can resize the windows to just about any ratio, you can swap them, and you can even have pop-up apps on top of the two ones that are in multi-window.
Another thing you can do is literally crop a small strip of an app, cutting away unneeded interface elements, and have it docked to the top or bottom of the display so you can have it always visible.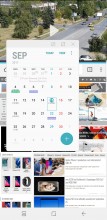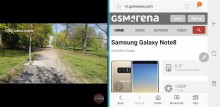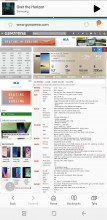 Multi-window: Pop-up view • Resizing/swapping options • In landscape • Docked cropped view
Secure folder has been around for a while, but that doesn't make it any less useful. It's where you can keep files, memos, and apps away from prying eyes. It's locked independently from the lockscreen – one can use a fingerprint, the other an iris. You can also install two copies of an app – one in plain sight and one in the Secure folder. And you can hide the folder too, so people can snoop all they want and will not find anything suspicious.
Samsung says Secure folder is like having a second phone. It does feel a lot like it too – you can have a different Google account in the Secure folder, you can launch the camera from here and photos you take go straight into the secure gallery. There are secure Contacts too, calls to them do not show up in the regular call log, but you can import contacts from your phone's non-secure-folder alter ego.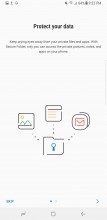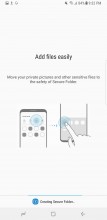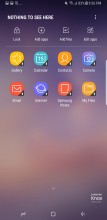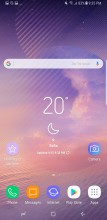 Secure folder: Intro • Creating in process • Inside it • Can you spot the shortcut?
Samsung Galaxy Note8 performance test: Exynos & Snapdragon
Samsung plaid things pretty safe regarding hardware. You could also argue that timing simply worked out this way. But, whatever way you cut it, the Note8 is based on the same duo of current top-end chips, like the S8 – the Exynos 8895 and the Qualcomm Snapdragon 835.
Before we get into any actual numbers and analysis, it is worth noting that both of these are efficient 10nm silicone, powerful enough to drive a flagship experience, with little to no compromises. That said, you can expect both variants of the Note8 to chew through power-user tasks as intended.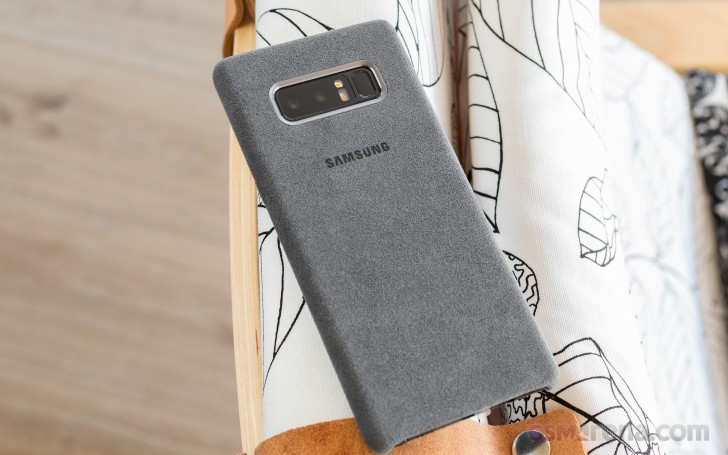 Still, Samsung's official stance on all matters regarding performance variances remain unchanged. Namely, the Korean giant wants you to believe there are not. Besides not being feasible from a purely objective technical standpoint, we know for a fact that that is not the case with the US and non-US S8 units.
Both chips have a total of eight cores – a pretty standard setup. Qualcomm has its custom Kryo 280 cores working at 2.35 GHz. These do have a bit more wiggle room in terms of maximum frequency (2.45 GHz, as rated by Qualcomm), but this is what Samsung decided to go for. As for the Exynos 8895, it has four of redesigned M1 "Mongoose" V2 custom cores, clocked at 2.3 GHz and a less power-intensive cluster of four Cortex-A53 units, at 1.7 GHz.
There are some differences in the graphics department as well: an Adreno 540 on the Snapdragon 835 and a Mali-G71 MP20 on the Exynos 8895.
As far as some other interesting comparisons go, we lined up some of the company's older flagships, like the S7 edge and the Note5. We also included the Note7, regardless of its demise. So, we can get a pretty good idea of performance variances throughout the years on both the Snapdragon and Exynos fronts.
We also have a selection of current flagships from other manufacturers, most running on the Snapdragon 835 chip. This makes for a good potential optimization comparison. Naturally, we threw in Huawei's Kirin 960 chip in the mix, as well as the older Snapdragon 821. The LG G6 and Google Pixel XL are still selling quite well with it on board.
Kicking things off with some pure CPU performance numbers and GeekBench 4 in particular, we find the Exynos-powered Note8 out-inch its S8 siblings by only a few points in multi-core. The difference is a bit more noticeable between the Snapdragon 835 inside the phablet and the S8+. This does indicate that the Korean giant is clearly working hard to minimize the performance delta between the two chips.
GeekBench 4.1 (multi-core)
Higher is better
Samsung Galaxy Note8




6784

Samsung Galaxy S8+




6754

Samsung Galaxy S8




6656

Motorola Moto Z2 Force




6629

OnePlus 5




6604

Samsung Galaxy Note8 (SD 835)




6590

Nokia 8




6568

Sony Xperia XZ1




6541

HTC U11




6393

Samsung Galaxy S8+ (SD 835)




6301

LG V30 (non-final)




6151

LG G6




4175
Single-core runs on GeekBench 4.1 paints a very identical picture. Even looking as far down as the Snapdragon 821 inside the LG G6, performance variances just aren't all that significant.
GeekBench 4.1 (single-core)
Higher is better
Samsung Galaxy S8




1991

Samsung Galaxy Note8




1987

Samsung Galaxy S8+




1986

OnePlus 5




1932

Nokia 8




1925

HTC U11




1919

Motorola Moto Z2 Force




1915

LG V30 (non-final)




1904

Samsung Galaxy Note8 (SD 835)




1862

Sony Xperia XZ1




1840

Samsung Galaxy S8+ (SD 835)




1832

LG G6




1767
On to more compound benchmarks and Basemark OS II 2.0. We can clearly see a lot of Snapdragon inclination here as well. The US Note8 does appear to make up quite a few points here, but do bear in mind that this is a really old benchmark platform, no longer equipped to properly handle new types of loads. In modern Android terms, the Exynos 8895 does objectively handle loads better and more efficiently.
Basemark OS 2.0
Higher is better
Apple iPhone 7 Plus




3796

Motorola Moto Z2 Force




3609

OnePlus 5




3601

Nokia 8




3503

Samsung Galaxy Note8 (SD 835)




3424

Samsung Galaxy S8




3376

Samsung Galaxy Note8




3333

Samsung Galaxy S8+ (SD 835)




3319

Samsung Galaxy S8+




3298

Sony Xperia XZ1




2986

HTC U11




2970

Huawei P10 Plus




2940

Samsung Galaxy Note7 (Exynos)




2676

Samsung Galaxy S7 edge (E8890, Nougat)




2670

Huawei Mate 9




2637

Samsung Galaxy Note7 (Snapdragon)




2432

Samsung Galaxy S7 edge (S820)




2352

Google Pixel XL




2281

LG G6




2126

Samsung Galaxy Note5




1880
AnTuTu 6 seems to favor the Snapdragon variant as well. However, we are happy to see that the differences are really small, meaning we can safely rule out any major substitutions in the flash storage department either. Both units we tested have 64GB chips, which appear to be equally snappy.
AnTuTu 6
Higher is better
OnePlus 5




180331

Motorola Moto Z2 Force




178674

HTC U11




177343

Nokia 8




175872

Samsung Galaxy Note8 (SD 835)




175153

Apple iPhone 7 Plus




174987

Samsung Galaxy S8




174435

Samsung Galaxy S8+




174070

Samsung Galaxy Note8




172425

Samsung Galaxy S8+ (SD 835)




168133

Sony Xperia XZ1




144462

LG G6




143639

Google Pixel XL




141186

Samsung Galaxy Note7 (Exynos)




134660

Samsung Galaxy S7 edge (S820)




132849

Samsung Galaxy Note7 (Snapdragon)




130111

Samsung Galaxy S7 edge (E8890, Nougat)




129629

Huawei P10 Plus




126252

Huawei Mate 9




122826

Samsung Galaxy Note5




81615
The Mali-G71 MP20 and Adreno 540, driving graphics inside the Exynos 8895 and Snapdragon 835, respectively have always had their differences. Back when the S8 was unveiled and went through our review procedure, we discovered a rather significant drop in performance in the Adreno 540. We never quite put our finger on the cause back then, but we did naturally expect the situation with the Note8 to be identical.
GFX 3.0 Manhattan (1080p offscreen)
Higher is better
Samsung Galaxy Note8 (SD 835)




63

Motorola Moto Z2 Force




61

HTC U11




60

Apple iPhone 7 Plus




60

OnePlus 5




60

Samsung Galaxy S8+ (SD 835)




57

Nokia 8




57

Samsung Galaxy Note8




51

Samsung Galaxy S8




50

Samsung Galaxy S8+




50

Samsung Galaxy Note7 (Snapdragon)




49

Sony Xperia XZ1




49

Samsung Galaxy S7 edge (S820)




49

Google Pixel XL




47

LG G6




41

Samsung Galaxy Note7 (Exynos)




40

Samsung Galaxy S7 edge (E8890, Nougat)




38

Huawei Mate 9




30

Huawei P10 Plus




28

Samsung Galaxy Note5




21
GFX 3.0 Manhattan (onscreen)
Higher is better
Apple iPhone 7 Plus




56

OnePlus 5




56

Sony Xperia XZ1




48

Samsung Galaxy Note8




42

Samsung Galaxy S8+




40

Motorola Moto Z2 Force




40

Samsung Galaxy Note8 (SD 835)




37

Samsung Galaxy S8




36

HTC U11




35

Samsung Galaxy S8+ (SD 835)




34

Nokia 8




33

Google Pixel XL




30

Samsung Galaxy Note7 (Snapdragon)




29

Samsung Galaxy S7 edge (S820)




29

Huawei Mate 9




28

Samsung Galaxy Note7 (Exynos)




27

Samsung Galaxy S7 edge (E8890, Nougat)




27

LG G6




24

Huawei P10 Plus




19

Samsung Galaxy Note5




15
However, new numbers make it clear that something has changed big time. In most OpenGL 3.0 and 3.1 loads, the Mali-G71 MP20 seems to do better at pushing pixels on screen. However, the Adreno 540 consistently showed higher frame rates off-screen – pretty inconsistent with what we observed on the S8 pair.
GFX 3.1 Manhattan (1080p offscreen)
Higher is better
Samsung Galaxy Note8 (SD 835)




43

Samsung Galaxy Note8




42

Samsung Galaxy S8+




42

Motorola Moto Z2 Force




42

HTC U11




41

OnePlus 5




41

Samsung Galaxy S8+ (SD 835)




39

Nokia 8




39

Apple iPhone 7 Plus




39

Sony Xperia XZ1




39

Samsung Galaxy S8




36

Samsung Galaxy Note7 (Snapdragon)




32

Google Pixel XL




32

Samsung Galaxy S7 edge (S820)




32

Samsung Galaxy S7 edge (E8890, Nougat)




29

Samsung Galaxy Note7 (Exynos)




28

LG G6




26

Huawei Mate 9




22

Huawei P10 Plus




19

Samsung Galaxy Note5




15
GFX 3.1 Manhattan (onscreen)
Higher is better
Apple iPhone 7 Plus




42

OnePlus 5




40

Sony Xperia XZ1




40

Samsung Galaxy Note8




23

Samsung Galaxy S8




23

Samsung Galaxy S8+




23

Huawei Mate 9




23

Motorola Moto Z2 Force




22

Samsung Galaxy Note8 (SD 835)




20

HTC U11




19

Samsung Galaxy S8+ (SD 835)




18

Nokia 8




18

Google Pixel XL




17

Samsung Galaxy Note7 (Snapdragon)




16

Samsung Galaxy S7 edge (S820)




16

Samsung Galaxy Note7 (Exynos)




15

Samsung Galaxy S7 edge (E8890, Nougat)




15

LG G6




12

Huawei P10 Plus




12

Samsung Galaxy Note5




6.7
GFX 3.1 Car scene (1080p offscreen)
Higher is better
Nokia 8




32

Samsung Galaxy Note8 (SD 835)




25

Samsung Galaxy Note8




25

Samsung Galaxy S8




25

Samsung Galaxy S8+




25

Motorola Moto Z2 Force




25

HTC U11




24

OnePlus 5




24

Sony Xperia XZ1




24

Samsung Galaxy S8+ (SD 835)




23

Samsung Galaxy Note7 (Snapdragon)




20

Google Pixel XL




19

Samsung Galaxy S7 edge (S820)




18

Samsung Galaxy Note7 (Exynos)




16

LG G6




16

Samsung Galaxy S7 edge (E8890, Nougat)




16

Huawei Mate 9




13

Huawei P10 Plus




12
GFX 3.1 Car scene (onscreen)
Higher is better
Sony Xperia XZ1




25

OnePlus 5




24

Motorola Moto Z2 Force




15

Huawei Mate 9




14

Samsung Galaxy Note8 (SD 835)




13

Samsung Galaxy Note8




13

Samsung Galaxy S8




13

Samsung Galaxy S8+




13

HTC U11




13

Samsung Galaxy S8+ (SD 835)




12

Nokia 8




12

Samsung Galaxy Note7 (Snapdragon)




11

Google Pixel XL




11

Samsung Galaxy S7 edge (S820)




10

Huawei P10 Plus




9

LG G6




8.5

Samsung Galaxy S7 edge (E8890, Nougat)




8.3

Samsung Galaxy Note7 (Exynos)




8
Differences start to shrink more and more with more demanding GPU loads, two things remain consistent – the Mali-G71 MP20 seems to perform predictably in the S8, S8+ and Note8, while the Adreno 540 in the Note8 does noticeably better than the on inside the S8 pair.
Basemark X
Higher is better
Samsung Galaxy S8+




43862

Samsung Galaxy S8




42370

Samsung Galaxy Note8




40890

OnePlus 5




38844

Motorola Moto Z2 Force




38615

Sony Xperia XZ1




38583

HTC U11




38399

Nokia 8




37593

Samsung Galaxy Note8 (SD 835)




37211

Huawei Mate 9




36519

Samsung Galaxy S8+ (SD 835)




34951

LG V30 (non-final)




33719

Samsung Galaxy Note7 (Snapdragon)




33520

Samsung Galaxy Note7 (Exynos)




32648

Samsung Galaxy S7 edge (E8890, Nougat)




32609

Samsung Galaxy S7 edge (S820)




32160

Google Pixel XL




30861

Huawei P10 Plus




30602

LG G6




30507

Samsung Galaxy Note5




26281
Digging a bit deeper, we think we finally reached the route of the problem. According to official specs, the Adreno 540 should have a maximum clock frequency of 710 MHz. The one inside our US Note8 unit does indeed, match that speed. However, our S8+ Snapdragon unit is capped 40 Mhz lower at 670 Mhz.
Basemark ES 3.1 / Metal
Higher is better
Apple iPhone 7 Plus




1517

Samsung Galaxy Note8




1268

Samsung Galaxy S8




1189

Samsung Galaxy S8+




1111

Samsung Galaxy Note8 (SD 835)




875

Motorola Moto Z2 Force




867

Nokia 8




855

Sony Xperia XZ1




853

HTC U11




836

Samsung Galaxy S8+ (SD 835)




817

OnePlus 5




796

Huawei Mate 9




794

Samsung Galaxy Note7 (Exynos)




727

Samsung Galaxy S7 edge (E8890, Nougat)




680

Samsung Galaxy Note7 (Snapdragon)




629

Google Pixel XL




626

Samsung Galaxy S7 edge (S820)




624

LG G6




541

Samsung Galaxy Note5




316
To be frank, the difference in GPU clock speed is a new discovery for us, but it concerns the Snapdragon 835 models of the S8 and S8+ rather than the Note8.
The key takeaway here is that the GPU performance variance between the two Note8 chipset variants is now smaller than ever.
All things considered, the only problem we really had with the Note8, while using it as a gaming platform had to do with ergonomics, rather than performance. In its quest to abolish bezels, Samsung has left a pretty limited area for you to rest your fingers on when holding the phone horizontally. To mitigate this, the OS offers a special edge touch rejection while in game. It works pretty well and only leaves the user with the task to overcome any residual tendency to shy away from gripping the screen.
Granted, the less curvy panel on the Note8 and slightly more grippy sides do make for better horizontal handling overall. Well, at least a bit, tha
Telephony and loudspeaker
The Samsung Galaxy Note8 is available in single SIM and dual SIM versions. We have for review the dual SIM flavor, for a change, and the second slot is of the hybrid variety.
The call log and phonebook are still in the same combined interface. The dialer itself can be summoned from any tab by tapping on the green button in the bottom right corner.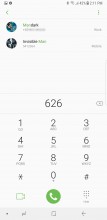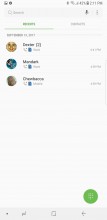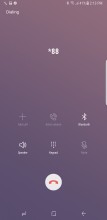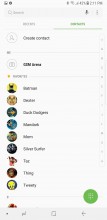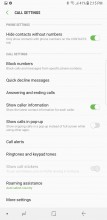 Dialer • Call log • In a call • Contacts • Call settings
The Do Not Disturb mode can work on an automated schedule. When it's on, only priority notifications can get through, and you decide what counts as "priority" – it can be anything from calls by select contacts to reminders from key apps.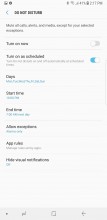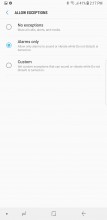 Do not disturb
The Samsung Galaxy Galaxy Note8 has a single, bottom-firing speaker – that setup hasn't changed for a while on Samsung flagships, and we wish we'd see stereo speakers some day. Single it may be, but it managed to pump out enough decibels for a 'Good' rating in our testing.
| | | | | |
| --- | --- | --- | --- | --- |
| Speakerphone test | Voice, dB | Pink noise/ Music, dB | Ringing phone, dB | Overall score |
| BlackBerry Priv | 62.1 | 61.7 | 66.5 | Below Average |
| BlackBerry KEYone | 62.2 | 66.0 | 67.7 | Below Average |
| Sony Xperia XZ Premium | 62.9 | 65.2 | 71.6 | Below Average |
| Sony Xperia XZ1 | 65.4 | 68.0 | 69.1 | Average |
| Samsung Galaxy Note5 | 66.9 | 67.1 | 71.8 | Average |
| Samsung Galaxy Note8 | 67.8 | 69.5 | 71.5 | Good |
| Samsung Galaxy S8+ | 68.5 | 69.4 | 71.6 | Good |
| Samsung Galaxy Note7 | 69.7 | 69.9 | 72.3 | Good |
| Apple iPhone 7 Plus | 68.3 | 72.2 | 72.9 | Good |
| Huawei P10 Plus | 64.8 | 69.8 | 82.5 | Good |
| HTC U11 (Theater) | 69.2 | 72.7 | 78.4 | Very Good |
| HTC U11 (Music) | 68.7 | 73.0 | 79.1 | Very Good |
| LG V30 | 66.9 | 72.3 | 84.5 | Very Good |
| Google Pixel XL | 73.4 | 72.1 | 84.1 | Excellent |
| Huawei Mate 9 | 83.1 | 74.5 | 85.0 | Excellent |
Text input
The Galaxy Note8 uses the Samsung Keyboard, which long-time Samsung users swear by. It's quite feature-packed, with a dedicated numbers row, a row above that for word suggestions and additional characters on each key (accessible via long-press).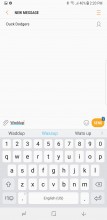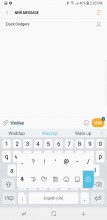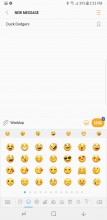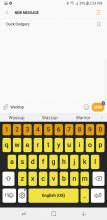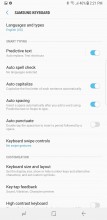 Keyboard
If that seems too tall, you can scale the keyboard down (or up, if you want bigger keys). We don't like that the Space key is quite short, though.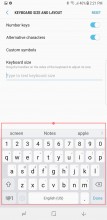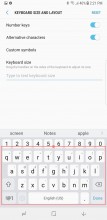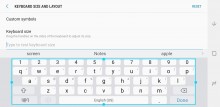 Keyboard size: Default • Smallest • Largest in landscape
Additional typing tools include swipe input, My Hot Keys (predefined phrases that can be typed by long-pressing a number key) and voice dictation.
Other apps
Samsung continues to bundle the Microsoft app package that includes Word, Excel, PowerPoint, OneDrive and Skype.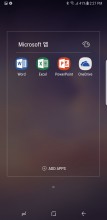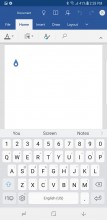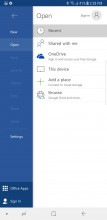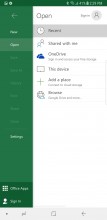 Microsoft app package
The Samsung-customized web browser makes use of the Samsung Pass service and features Web sign in – a password manager secured by your iris or fingerprint. This makes logins as simple as unlocking the phone and people can't peek over your shoulder to see your password.
That's good to have, as using a third-party password manager may not work with anything other than fingerprint (Last Pass doesn't), and the fingerprint reader isn't super conveniently placed. That said, you'd be losing the syncing across non-Samsung devices if you opt for Samsung's solution.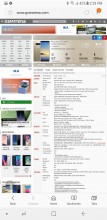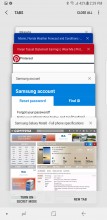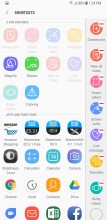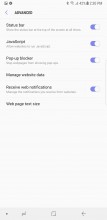 Samsung browser
Samsung Health is the company's health tracking app that makes full use of the heart rate and blood oxygen sensors. It also tracks walking/running/cycling and you can manually input water and coffee intake and so on.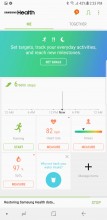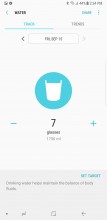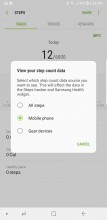 Samsung Health
Device maintenance can be accessed from Settings, not just from the Edge panel. It still offers the same features and takes care of battery, RAM, Storage and Device security. This gives you tools to clean-up unnecessary files or track down apps which drain the battery or use too much RAM. There are buttons to do this one by one but also one big Optimize now button to do it all.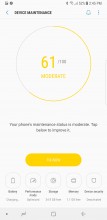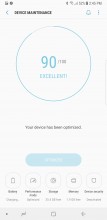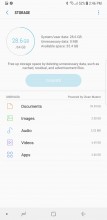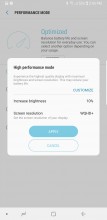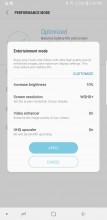 Device maintenance • One-tap optimization • Storage • Performance modes
Battery management has two power saving modes – Medium and Maximum. Medium limits display resolution and CPU speed decreases brightness and turns off the AOD and the background network usage. Maximum is even more severe, setting a black background and disabling most of the smartphone's functionality, to help you squeeze a few hours of usage on even very low charge.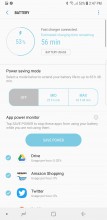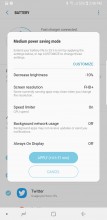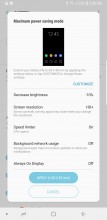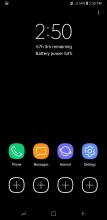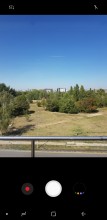 Battery management • Medium power saving • Maximum power saving
The My Files app is the default file browser. It features Google Drive and Samsung Cloud integration. You can ZIP folders to make them easier to share as a single file, and you can do batch actions.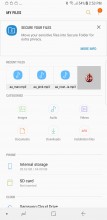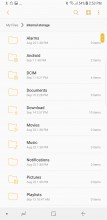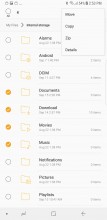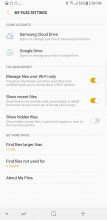 My Files
Finally, there's Galaxy Apps, Samsung's own app store. Galaxy Essentials is a good place to find great tools (like Kids Mode), but for general app shopping, you would probably be better off with Google Play.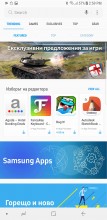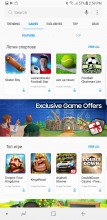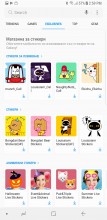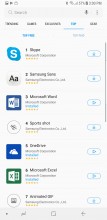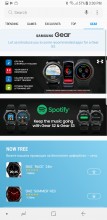 Galaxy Apps
Gallery
The Samsung Gallery has been focused on Stories for a while now. Stories are shared, collaborative albums – that means your friends can add their own photos from the party or just a Story on a shared theme (e.g. sunsets).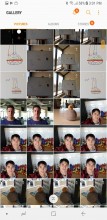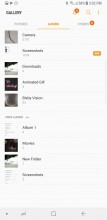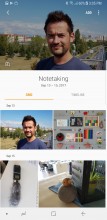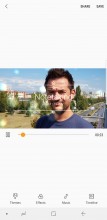 Gallery: Timeline view • Albums • Storymaking
There are two editors on the Note8, a basic one from within the gallery, and a Pro one that you launch from the three dots menu. The basic one only has color filters, stickers and drawing capability.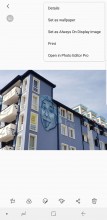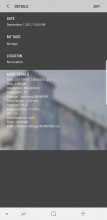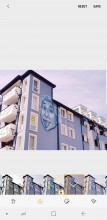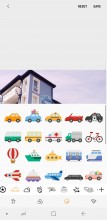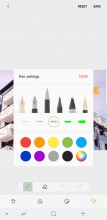 Viewing an image • Image details • Basic editor
The Pro editor has these too but adds proper control over tone curves and color parameters.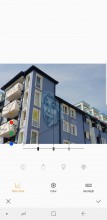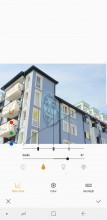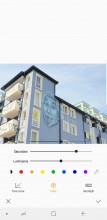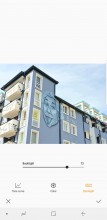 Editor Pro
Google Play Music for music playing
Google Play Music is the default player for your tunes on the Note8. It can play your local files, as well as stream music from the cloud and it's backed by Samsung's extensive sound enhancements.
They include the SoundAlive tool, which has an intuitive interface for tuning the equalizer. Presets and two simple dials are available for basic users, a manual 9-band equalizer for more advanced users.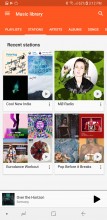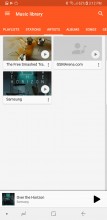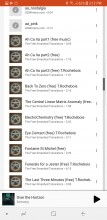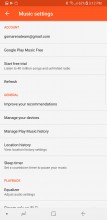 Google Play Music
Adapt Sound tunes the EQ to your hearing and your particular pair of ears and headphones by playing multiple frequencies and asking how well you hear them. Smart Volume automatically adjusts the volume of tracks from multiple sources.
UHQ sound resolution enhancer is available as well for upscaling compressed audio. There are also features such as Surround sound emulation and Tube Amp Pro simulator.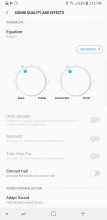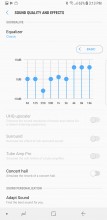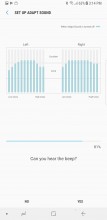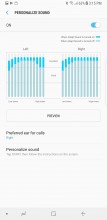 Equalizer and Adapt Sound
Video player
There is no video player app pre-installed, so the Gallery handles the videos by default. Like with the music player, you can grab the traditional Samsung one from the Galaxy Essentials collection in Galaxy Apps (the Video Editor is there too). Even if you don't the Gallery app is up to the task. It has full subtitle support with advanced features to modify their appearance. The app lets you play only the audio track of the video.
With the odd display ratio, which doesn't match any standard video aspect ratio, you're given the option to view videos in their original proportions leaving you with black bars, stretch them to fill the display (resulting in disfigured videos), or crop an 18.5:9 portion. We quickly got used to those options and we didn't minded this limitation as much as we thought we would.
A pop-up view is also supported, which you can resize with a pinch gesture – don't look for resizing handles.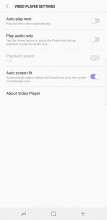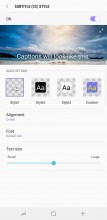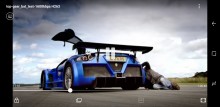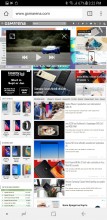 Video player: Settings • Subtitles • Fullscreen view • Pop-up view
You can download third-party video players, and they can tap into the system-wide Video Enhancer feature as well. We tried VLC, MX Player and BS Player and they were all recognized correctly. Even YouTube worked. It touches up the contrast curve and color rendering to make the video footage pop.
Flawless audio output
The Samsung Galaxy Note8 delivered a memorable performance in our audio quality test. It had very high volume levels in both parts of the test and the clarity was splendid even with headphones attached.
The fact that all readings were perfect with an active external amplifier is hardly shocking – most decent smartphones can pull that off these days. The fact that degradation was so limited when our standard headphones set came into play is far more impressive. Even the stereo crosstalk reading was barely affected.
| | | | | | | |
| --- | --- | --- | --- | --- | --- | --- |
| Test | Frequency response | Noise level | Dynamic range | THD | IMD + Noise | Stereo crosstalk |
| Samsung Galaxy Note8 | +0.02, -0.01 | -92.5 | 92.5 | 0.0015 | 0.0095 | -93.2 |
| Samsung Galaxy Note8 (headphones) | +0.03, -0.02 | -92.2 | 92.2 | 0.0058 | 0.051 | -79.9 |
| Samsung Galaxy S8+ | +0.01, -0.03 | -92.1 | 92.1 | 0.0020 | 0.0086 | -92.5 |
| Samsung Galaxy S8+ (headphones) | +0.03, -0.03 | -92.5 | 92.5 | 0.0024 | 0.046 | -77.3 |
| LG V30 | +0.02, -0.01 | -93.2 | 93.1 | 0.0008 | 0.0069 | -94.2 |
| LG V30 (headphones) | +0.03, -0.02 | -92.9 | 92.9 | 0.0057 | 0.051 | -68.1 |
| LG G6 | +0.01, -0.02 | -93.3 | 93.3 | 0.0059 | 0.0095 | -94.4 |
| LG G6 (headphones) | +0.01, -0.02 | -93.4 | 93.4 | 0.0067 | 0.020 | -56.3 |
| OnePlus 5 | +0.03, -0.01 | -94.1 | 94.1 | 0.0010 | 0.0070 | -94.2 |
| OnePlus 5 (headphones) | +0.15, -0.08 | -94.0 | 94.0 | 0.0033 | 0.139 | -59.9 |
| HTC U11 | +0.05, -0.11 | -94.1 | 94.1 | 0.0017 | 0.0067 | -94.5 |
| HTC U11 (headphones) | +0.05, -0.02 | -93.7 | 93.8 | 0.0018 | 0.105 | -53.7 |
| Sony Xperia XZ Premium | +0.01, -0.03 | -90.6 | 90.4 | 0.018 | 0.027 | -92.6 |
| Sony Xperia XZ Premium (headphones) | +0.30, -0.20 | -90.5 | 90.0 | 0.0018 | 0.145 | -65.7 |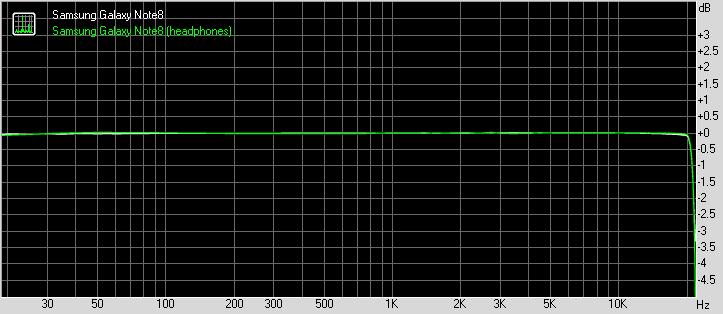 Samsung Galaxy Note8 frequency response
You can learn more about the tested parameters and the whole testing process here.
Dual cameras, dual OIS
It's official, Samsung finally made the leap into the trendy dual-camera space. For some, this might be a bit overdue. Others will surely appreciate the level-headed approach the Korean giant typically has for such major steps in any direction. Regardless of how you look at it, however, this veritable Samsung first was not accompanied by fanfare. It is more of a logical step forward and a pretty safe and measured one at that.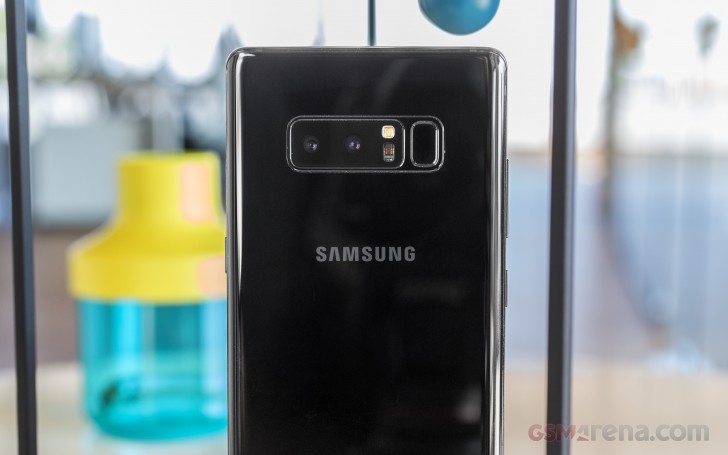 Samsung opted for a telephoto approach, much like that on the Apple iPhone 7 Plus. The Note8 has two 12MP snappers. They are not exactly created equal, which is unfortunately still a limitation in smartphones. The main camera is actually the same Dual Pixel one, as found on the Galaxy S8 and S8+. It is tried and true and very capable – f/1.7 aperture, 26mm equivalent lens and PDAF. Powered by either a SLSI_S5K2L2_FIMC_IS sensor on the Exynos model or a Sony IMX 333 in the Snapdragon one. Both with 1.4 um pixels. So, the situation is exactly identical to the S8 and S8+.
That being said, anything the second camera has to offer is essentially a bonus at this point. From a hardware standpoint, it has the same 12MP resolution, f/2.4 aperture and a 52mm equivalent lens. Finding the exact sensor make and model proved to be a challenge, but it is definitely a smaller one. It is also obvious that the telephoto shooter is noticeably darker than its sibling.
On a more positive note, however, both cameras have optical image stabilization – a first in the smartphone realm. Although, we should note that Apple isn't really lagging behind in this area, with the recently announced iPhone X sporting identical stabilization. OIS is a really nice touch, especially on a darker camera. It should allow it to shoot at lower speeds in bad lighting condition and gather more light, while remaining confident in its ability to correct small camera shakes and jitters.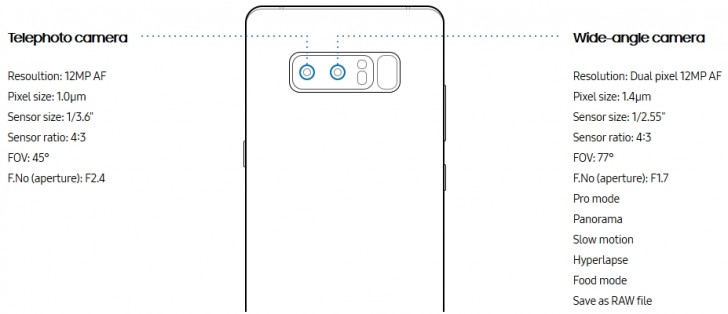 However, it has its issues. More like inherent shortcomings, to be fair. For one, the telephoto snapper does not have a Dual Pixel sensor. There has been some confusion on the matter, likely due to Samsung's less than careful wording at the announcement event. In any case, the end result is noticeably slower focus when shooting with the narrower camera. It still has autofocus, but it is a lot less advanced.
However, we are getting a bit ahead of ourselves and this might sound overly harsh on the secondary camera, which shouldn't be the case. For most users, it will likely be recognized as the hardware that powers Samsung's new and pretty impressive Live focus portrait mode, rather than a zoom lens.
You are more than likely to use the secondary camera in this supplementary role and rely heavily on the main 26mm one instead. In fact, OIS or not, the Note8 actually forces you to use it instead of the 52mm one once the light drops below a certain point. The main camera is also necessary to take advantage of Samsung's smart image stacking for improved still quality.
We still believe this aspect is the biggest camera innovation to debut with the S8 pair. Officially called "Multi-Frame Image Processing", it is similar to the HDR+ on Google's Pixel XL – a phone widely praised for its camera prowess. Unlike the latter, however it does not require a toggle on the Note8 and simply works seamlessly in the background.
We are still not exactly sure how the feature works under the hood, but from what we can gather, after launching the camera, the device starts taking photos continuously in a burst buffer. Then, as you press the stutter it picks out the last 10 or so taken at this moment and blends them together, trying to pick up as much detail and produce an image as clear as possible. Typically, this involves pixel by pixel comparisons to isolate noise and other undesired artifacts and to gauge sharpness and all this is done in the background. To be fair, if you start hitting the shutter button quickly, you will notice a few delays between shots, from time to time. Still, the user experience is perfectly tolerable.
While on the topic of shutter buttons, the camera interface is worth briefly looking into. It is a pretty familiar sight, but a few extra controls are added to the mix, here and there. Everything is conveniently laid out, for the most part, but we do have a couple of complaints.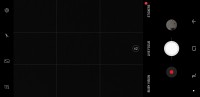 Simple Camera UI
First of all, there is no dedicated video recording UI. This shouldn't really be an issue for most real-world scenarios, but precisely framing is immensely more difficult without seeing the proper viewfinder before you start recording. Also, the interface is arguably busy as a whole. It even has notification badges for new content.
However, that is nitpicking, especially since Samsung does have an abundance of powerful features it has to fit inside the UI. We do have to note that the constant sticker shortcut, we found incredibly annoying on the S8 pair is no longer there.
Since the Note8 is a more serious device by design, it is good to know that there will be no Bear hat icon on the viewfinder at all times like it is on the S8. However, that is not to say the stickers are gone. Not in the least bit. In fact, stickers, stamps and filters are more than ever now.
Things are now organized into two big categories – filters and stickers. Filters are further sub-categorized in two categories. There is plenty to choose from and a download interface to get even more.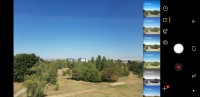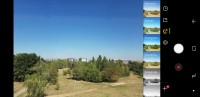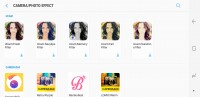 Camera filters
Stickers are where things start to get a little out of hand. There are three categories here. We'll start from the last one, since it is the simplest – stamps. They are all black and white and use some impressive typography. They also come with convenient controls for move, resize and even rotate. Actually, we have to admit, these are quite cool.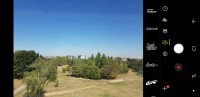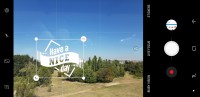 Stamps look and work great
The other two categories house dynamic overlay effects. Samsung already had plenty of those in the S8, but now there are way too many to easily navigate. The two sub-categories do help some, in the sense that the "hat" category seems to have more toned-down options. If you want to look like a seal with "kawai" eyes, look in the other category. Face tracking is good, but not great, though.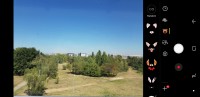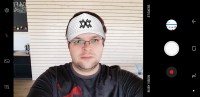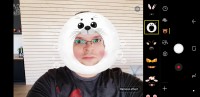 SWAG central
If you inexplicably find yourself in a shortage of such overlays, there are more to download.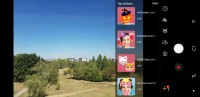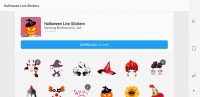 Sticker downloads
Other notable changes in the camera UI include the absence of a quick shortcut to portrait and selfie effects. Those are still present, just not on the main interface. Bixby vision has a new tab control in the revamped interface. It is now a tap, rather than an icon.
The Note8 comes with a few extra camera modes. All of them are pretty self-explanatory. You can download more as well.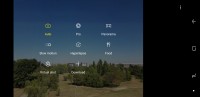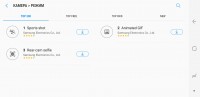 Camera Modes
Pro mode is really impressive. It is full-featured and offers varied granular controls at your disposal – ISO, white balance, shutter speed, exposure compensation and even options for metering and manual focus with focus peaking. You name it, it's there.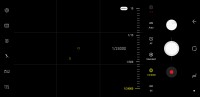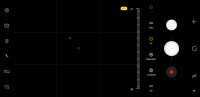 Pro mode is really powerful
You might notice that the Selective focus feature is now absent from the mode menu. It is actually gone altogether, replaced by what Samsung calls Live Focus. It is powered by the new dual-camera setup and offers adjustment for the effect both before and after taking the shot.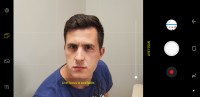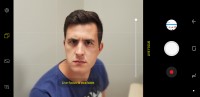 Live Focus effect
Having data from two cameras definitely makes for a more convincing end result. Although the odd strain of hair does get blurred out on occasion.
Camera image quality: Photos
The Note8 can capture stills at up to 4032×3024 pixels with the 12MP snapper. This does mean a native aspect ratio of 4:3 for the sensor. Of course, you could shoot in 16:9 instead, but this isn't really recommended. Stills can also be captured in the display's native 18.5:9 aspect, but that does make them quite awkward to use on any other display.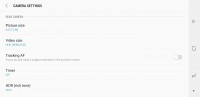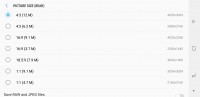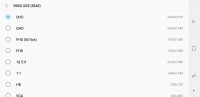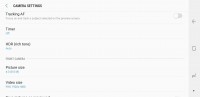 Camera settings
Unlike the S8, the Note8 does offer video recording in 18.5:9 as well. And while on the topic of resolution, the front 8MP, autofocus selfie is good for stills at up to 3264×2448 and 1440p video.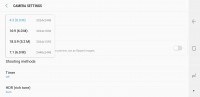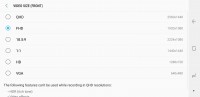 Selfie camera resolution
JPG is a natural default, but there is also a convenient option to save a RAW photo, along with every shot you take in Pro mode. There are also toggles for focus tracking and automatic shape correction in the settings menu.
There are a few quick launch and voice control options to explore as well. The Floating Camera button is a nice idea. It is pretty straight-forward, just a second shutter button you can drag around and place freely on the camera interface. It can be a lifesaver when trying to shoot one-handed at tricky angles. EIS for video can also be toggled on or off for both rear cameras, so you get to decide whether you want the cropped view or not.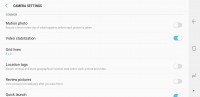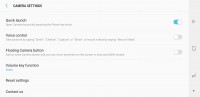 More camera settings
Enough talk and on to some samples. In broad daylight, there really isn't anything bad we can say about the way the Note8 captures stills. Detail is abundant, dynamic range is great, there is practically no noise or noise suppression artifacts.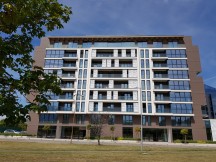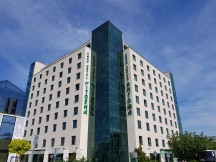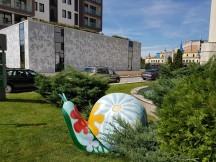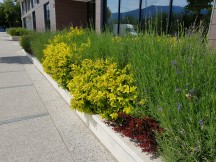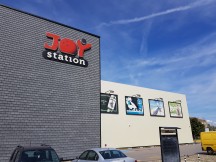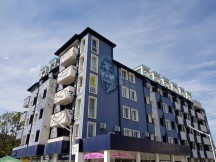 Samsung Galaxy Note8 26mm main camera samples
Samsung has always preferred ramping up color saturation and sharpness to a certain point, and the Note8 makes no exception. Punchier photos just look better on AMOLED panels, no two ways about it. If you are after a true to life, natural look, you could be a bit disappointed.
Of course, we took the same-ish shots with the 52mm telephoto snapper as well. Since there was plenty of light to go around, there were no issues with quality whatsoever. The Note8 was also more than happy to allow us to use the secondary sensor.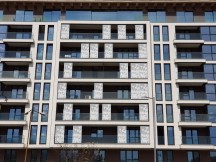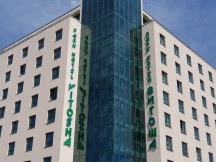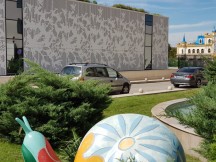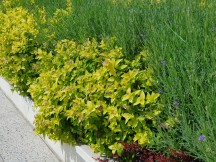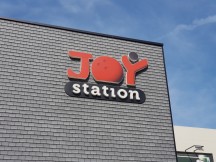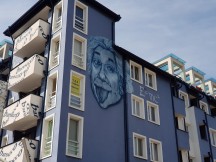 Samsung Galaxy Note8 52mm telephoto camera samples
To be honest, it was kind of hard to part with the Note8 over the weekend, so we took it along on a few outings. These were all taken using the Full view stills mode. With it shots come out with a resolution of 4032×1960 pixels. As we said, that's pretty wide for practically every other screen, but it fits the 18.5:9 Infinity display perfectly.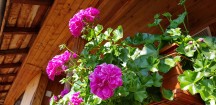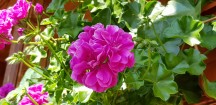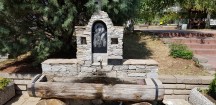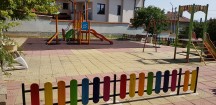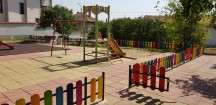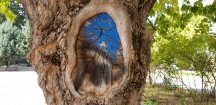 Galaxy Note8 Full view samples
In keeping with Samsung's solid track record on the matter, the Note8 handles auto HDR detection pretty well. Shots themselves do look a bit softer on average. If you decide to go in and toggle the option manually on an otherwise unsuitable scene can result in some over-sharpening halos around edges.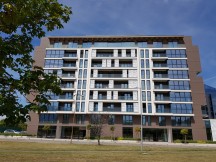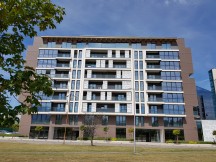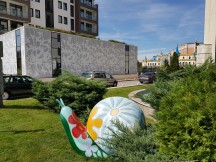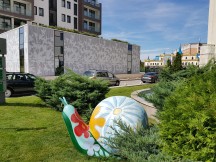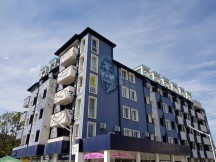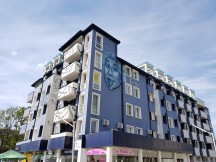 HDR off • HDR on • HDR off • HDR on *HDR off • HDR on
We tested manual HDR on the second 52mm camera as well.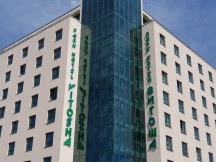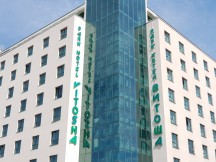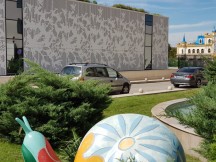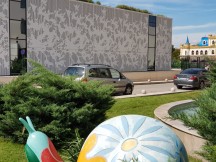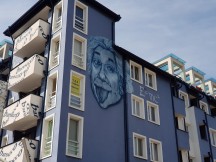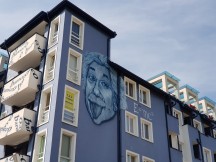 HDR off • HDR on • HDR off • HDR on *HDR off • HDR on
When the light goes down, the Note8 really starts to flex its camera muscles. The OIS, the bright f/1.7 lens, the large 1.4um pixels, and the Multi-Frame Image Processing all combine to produce great low-light shots.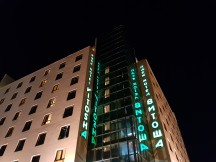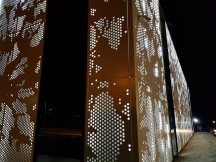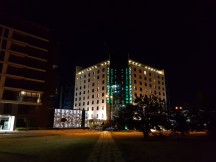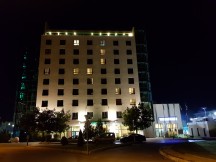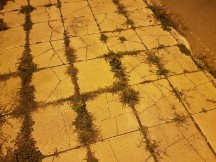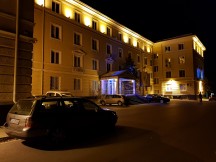 Samsung Galaxy Note8 26mm low-light samples
Here are some Full view samples for you to check out as well.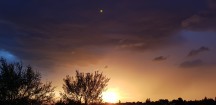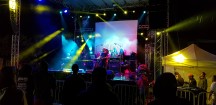 Galaxy Note8 26mm Full view low-light samples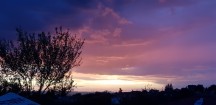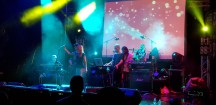 Galaxy Note8 52mm Full view low-light samples
While not exactly perfect, Live Focus shots are definitely an improvement over the Selective Focus mode in the S8 pair. Having data from another sensor is always good. Plus, we love the added freedom of adjusting the effect after taking the shot.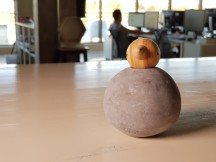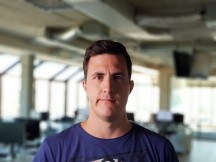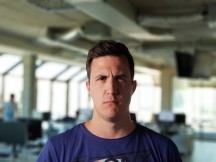 Galaxy Note8 Live Focus samples
There is also the photo compare tool for you to check out. For the sake of thoroughness, we shot our posters with both the 26mm and 52mm cameras.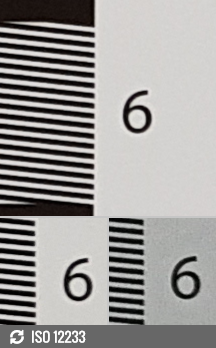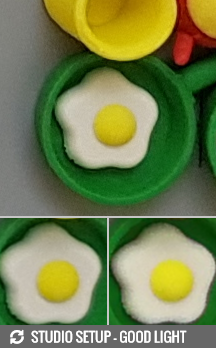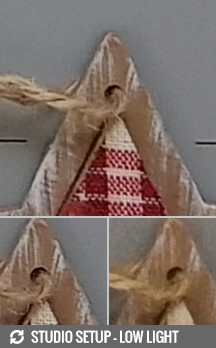 Samsung Galaxy Note8 in our photo compare tool
Like we already mentioned, the telephoto camera can only operate down to a certain level of light. Once you cross the threshold, the Note8 automatically switches over to the wider, brighter one and zooms digitally instead. So, what we are getting at is that one of the photos in the sets is not like the others.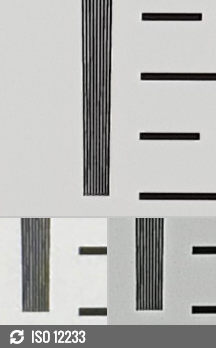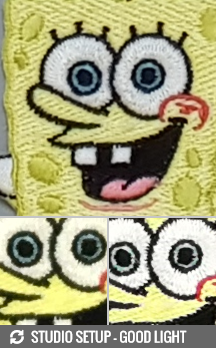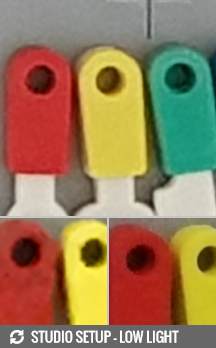 Samsung Galaxy Note8 telephoto camera in our photo compare tool
The Note8 captures great-looking panoramas with plenty of detail. Dynamic range is good, so are the colors. Stitching artifacts are practically non-existent.


Samsung Galaxy Note8 panorama sample
Samsung borrowed the 8MP selfie sample for the Note8 from the S8 pair as well. Rightfully so, since it just got an overhaul this year. It has a f/1.7 aperture, autofocus and Auto HDR and we can't really ask for more. As far as resolution goes, the selfie also captures stills in 4:3 natively. Video is captured at QHD or 1440p.
Our samples turned out pretty great both outdoors and around the office. There is no shortage of detail and no apparent softness, even near the corners. Quality is probably comparable to something along the lines of the Galaxy S4's main camera, so we've really come a long way. Be advised, however, that the selfie does come with a modest level of skin tone correction enabled out of the box (skin beautification). That might need some adjustment to match your personal taste.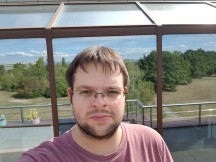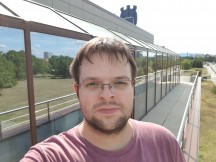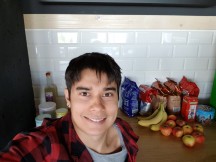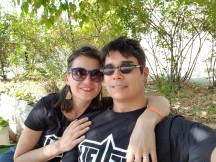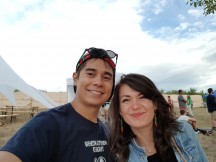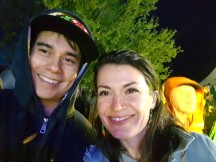 Samsung Galaxy Note8 selfie samples
Camera image quality: Videos
Not much has changed in the video department over the S8. Using its main 26mm camera, Note8 still captures one of the sharpest, most detail-rich 4K videos we have seen in a while. You can extract frames and almost have them pass as an 8MP photo. Noise is low and dynamic range impressive. Interestingly enough, despite the Note8's tendency to oversharpen stills and exaggerate colors a bit, processing in video seems to be a lot more natural and laid back. Again, it all comes down to personal taste, but there is a notable difference in our opinion.
Video gets saved in MPEG-4 AVC, with a bit rate of a little over 48 Mbps and 48 KHz stereo audio. Not bad. HEVC has finally been added as an encoder option. Now that YouTube officially supports it, we definitely recommend using its efficient compression over h264. There is no discernible loss in quality between the two. None which we managed to notice, anyway.
Unlike some of its competitors, the Note8 still lacks any really high frame-rate video recording options. Yo do get a choice between 30 and 60 fps at 1080p. Both retain flagship quality levels, overal. With a bitrate of about 28 Mbps, the latter is really the route to take for buttery-smooth motion.
The Note8 offers EIS in all resolutions, all the way up to 4K. It can be toggled off in the camera settings in situations where you don't really want to sacrifice a portion of the frame for a stable shot. OIS is also helping in the background.
The EIS system seems to work even better when you drop the resolution down to 1080p.
Here is the video compare tool for the Note8 as well in both 4K and 1080p. Feel free to pit it against any contender of your choice.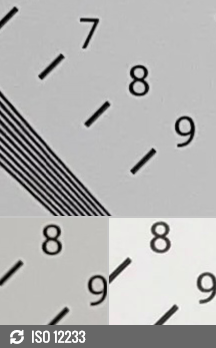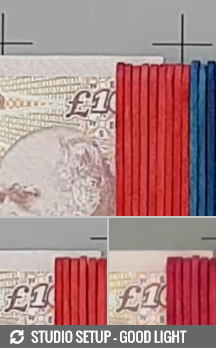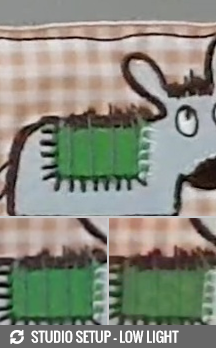 Samsung Galaxy Note8 in our 4K video compare tool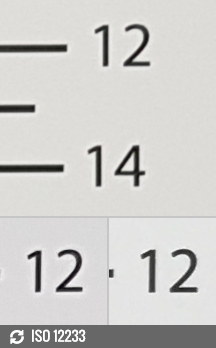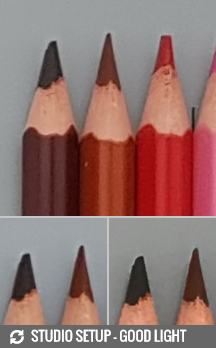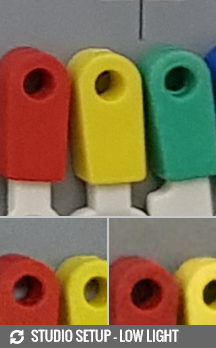 Samsung Galaxy Note8 in our 1080p video compare tool
What about that telephoto camera, you might ask? Well, it can capture video independently and keep up well enough with the main one. Since it has the MP to match, it can go as high as 4K as well. It even captures using the same MPEG-4 AVC format with pretty much identical bitrates.
In good lighting conditions, the quality is good, almost as good as the main one. Detail is plenty, noise is kept at bay. However, as the light goes down and conditions get more and more challenging, the darker 52mm snapper starts to lag behind a bit.
However, there are no solid grounds for complaining on the quality front. The only really troubling aspect of the secondary camera video capture seems to be the unreliable focus. We realize we are no longer working with Dual Pixel hardware, but even so, the random focus hunting seems too much. Perhaps it is a question of software tweaks more than anything else. We did receive an update while writing this review, with claimed camera app stability improvements on board, so perhaps improvements are on the way.
In its current state, you do have to pay extra attention to the focus while recording video with the telephoto lens. Tapping the viewfinder locks the focus and exposure in place and you should be ready to go.
Besides OIS, the 52mm cam get EIS as well, all the way up to 4K resolution. It works well, overall, but we did observe a few odd rapid jitters of the frame a few times while shooting. The primary camera exhibited no such issues.
The camera review wouldn't really be complete without adding the Note8's shiny new telephoto camera to our video compare database as well. So, we put in the extra work in both 4K and 1080p resolutions.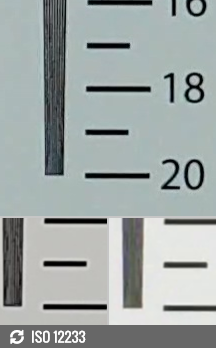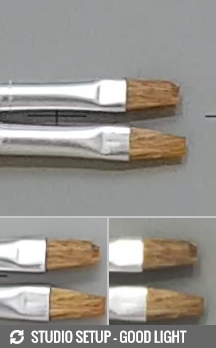 Samsung Galaxy Note8 Telephoto in our 4K video compare tool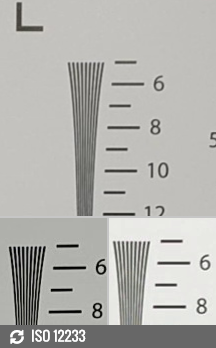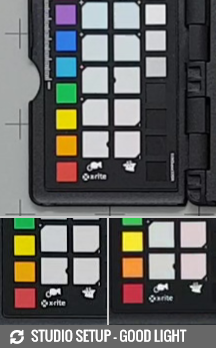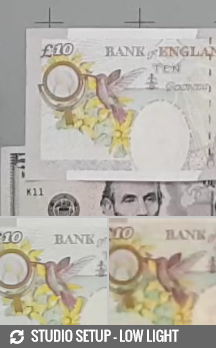 Samsung Galaxy Note8 Telephoto in our 1080p video compare tool
For some extra pixel-peeping pleasure, we are also including shorter, uncompressed versions of all the samples:
4K at 30fps (10s, 62MB), 1080p at 60fps (10s, 35MB), 1080p at 30fps (10s, 18MB), 4K at 30fps Telephoto (10s, 61MB), 1080p at 60fps Telephoto (10s, 36MB), 1080p at 30fps Telephoto (11s, 18MB).
Wrapping it up
Depending on where you are, you haven't seen a new Galaxy Note in two or three years (we're not counting the Note That Never Was). And from the skyrocketing pre-order numbers, we can tell there is plenty of pent up demand.
The S Pen hasn't changed much – that is to say it's still the heart of the Galaxy Note8 experience. The screen is barely bigger than the S8+ screen, though we do like its flatter shape. Note taking is unrivaled on mobile – there's just no viable alternative on any platform.
This season, the Note comes with another advantage over the S8, the dual camera. It offers 2x optical zoom and improved bokeh effects. It still offers excellent image quality in both good and low light. While a bit late to the party, Samsung was the first to add OIS to the secondary camera, a vital feature for telephoto shots.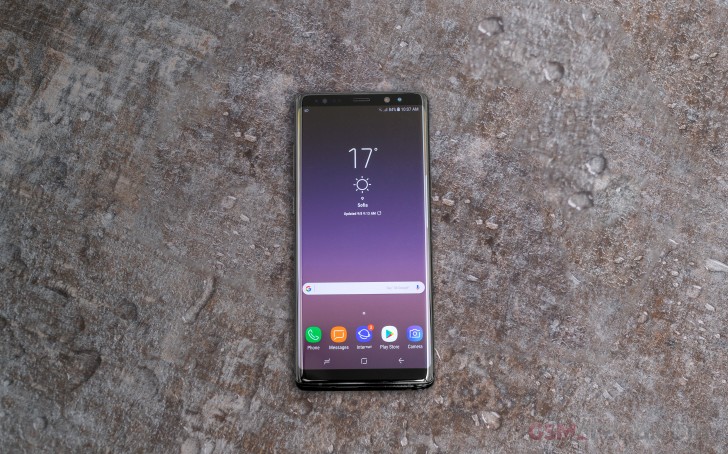 The last few Notes had lost their identity – other than the S Pen, they were not clearly better than the Galaxy S of the same vintage. They were bigger, but later the S edge and S Plus models did well to close that gap.
The Galaxy Note8 is once again clearly the top Samsung device of the year. Stylus aside, the screen supports HDR (while the S8 officially does not).
The dual camera offers a legitimate improvement as well. The basic feature is to offer 2x optical zoom – from 26mm to 52mm – and you get good quality images (helped by the OIS, which reduces handshake issues). It's also used for Live Focus, a digital bokeh that can be retuned after the photo was taken.
The battery capacity is slightly lower than that of the S8+, though our tests show that Samsung managed to even out the differences. It even fixed a small 3D performance issue with the Snapdragon version.
Samsung Galaxy Note8 key text findings
The overall design falls clearly in line with that on the S8 and S8+, but the Note does employ softer and narrower edges. The Infinity display, while bigger, is less curvy this time. This arguably makes for better ergonomics and handling overall.
The perfectly symmetric body is slick and durable, thanks to front and rear Gorilla Glass 5 and IP68 certification. However, the all-glass body is quite slippery.
The new 18.5:9 aspect ratio works great for portrait gaming and has its benefits for browsing and multi-tasking. However, the Note8 is quite tall for one handed use and reaching the notification area can be tricky. It is more of a two-hand device, as necessitated by the S-Pen.
The fingerprint reader is really awkwardly placed – too high up and right next to the camera.
The 6.3″ Infinity display is the bigger and arguably most impressive of its kind. It performs on par with the S8 pair, but is not necessarily brighter or with better contrast. The Note8 boasts Mobile HDR Premium certification, which should allow it to reproduce most HDR content out there eventually. Netflix is already offering support. The new white point manual adjustment allows for even better color calibration.
With 1 Gbit/s LTE, MU-MIMO Wi-Fi a/c and Bluetooth 5.0, to name a few, the Note8 is perfectly equipped in terms of modern connectivity options. We also appreciate the Display Port 4K video out support. DeX could start gaining more ground.
Battery life is surprisingly good on the Exynos variant of the Note8. Despite the smaller battery, it is on par with the S8+ thanks mostly to great standby times. The Snapdragon variety lags behind noticeably due to shorter standby times.
The software build on the Note8 is the same as on the S8, if you don't count the ability to toggle the nav bar on and off, and the S-Pen. But you obviously have to count the S-Pen since that's the defining feature and that's where you get a ton of functionality – advanced screenshots, magnification, translation, hover gestures, live messages, note taking – hard to name them all.
The Exynos 8895 chipset delivers a chart-topping performance in both CPU and GPU synthetic benchmarks. The Snapdragon 835 and Exynos 8895 chips perform almost identically in CPU benchmarks. By bringing the Adreno 540 GPU clock back to normal, Samsung has managed to mostly eliminate the graphics performance difference observed in the S8 and S8+. Overall, the Exynos and Snapdragon variants are closer than ever in performance.
The loudspeaker scores a Good rating in our test, pretty much at the level of the competition. It's still just a single speaker, though.
The main 26mm 12MP Dual Pixel camera on the Note8 performs just like on the S8 duo and is really impressive, both in bright light and low-light conditions.
The secondary 52mm telephoto 12MP shooter captures plenty of detail and also has the benefit of OIS. Still, it lacks Dual Pixel technology and is slower and less accurate to focus. Also, it is not as good as the primary camera in low-light, which is why the phone switches over automatically as it sees fit. Multi-Frame Image Processing is really impressive.
The new Live Focus mode works well and justifies having the extra sensor in itself. The camera UI is much more organized now. Stickers, stamps, filters and dynamic overlays are more plentiful than ever.
4K videos look great, 1080p maintains high quality as well. Both cameras have OIS and EIS that can go all the way up to 4K.
The Note8 borrows its great 8MP, f/1.7 autofocus selfie shooter from the S8 pair as well. It is bright enough to perform well in most lighting conditions.
Noteworthy alternatives
There used to be quite the size difference between a Galaxy S and a Note. This year it's smaller than ever with the Note8 beating the Galaxy S8+ by a mere 0.1″. Plus, that 6.2″ Super AMOLED panel has the same resolution, though it is missing support for HDR and (perhaps more importantly) an S Pen.
Of course, not everyone finds an S Pen useful but the money you save by getting an S8+ is always welcome. You get the same chipsets (though 25% less RAM) and a similar camera image quality. You'll lose the 2x optical zoom, however.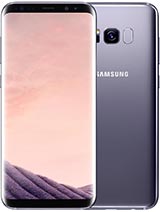 Samsung Galaxy S8+
If money is no object, you might consider the Apple iPhone X – one of a very few handsets that cost more than the Note. And it has a bezel-less design too, with an AMOLED display (courtesy of Samsung, by the way).
The new dual camera can record 4K 2160p / 60fps video as well as 1080p / 240fps, which is beyond the reach of the Note8. The dual camera has dual OIS too as well as 2x optical zoom, but it also adds the new studio light feature to make Portrait mode that much more dramatic.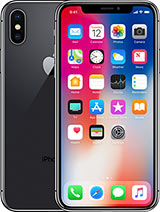 Apple iPhone X
LG was feeling confident that the V30 can take the Galaxy phablet head on. It too has an AMOLED display (LG's own make), which is nearly as wide as the Note8's, but not quite as tall. The V30 is more compact in general.
Its dual camera zooms out instead of in, offering a wide 135° view of the scene. The LG V30 boasts a brighter aperture, but Samsung has the bigger pixels. The V30 also has more extensive manual controls for video recording.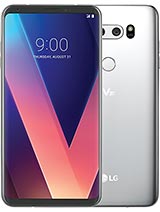 LG V30
The Sony Xperia XZ Premium has the world's only mobile 4K screen with HDR support (it measures 5.46″). It would have been perfect for VR, though Sony is not committed to mobile VR the way Samsung is.
Anyway, the single 19MP camera has a trick that even the iPhone can't match – slow-mo video at 960fps. True, it's at a lower resolution and it only captures less than a second real time.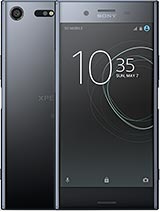 Sony Xperia XZ Premium
The Motorola Moto Z2 Force has yet another AMOLED screen (a 5.5″ QHD unit), but what makes it special is the ShatterShield – a plastic lens that is much more resistant to cracks than glass (scratching is another matter).
It supports MotoMods, which add new functionality but also rack up costs (to an already expensive phone). The built-in camera is great (and you can add others), but we're not quite fans of the hump. Battery life is average at best, hampered by a tiny battery.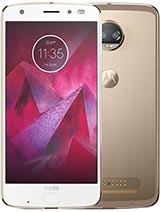 Motorola Moto Z2 Force
The HTC U11 impressed us with its camera, which offered quality and speed along the same lines as the S8 (and by extension the Note8). It can record 1080p video at 120fps – not quite iPhone X, but the Note8 drops you to 720p if you want slow-mo.
The U11 has EdgeSense – you squeeze the phone to trigger a certain action, including Amazon Alexa (instead of Bixby or even the Google Assistant). The new Google Pixels may have this same feature too.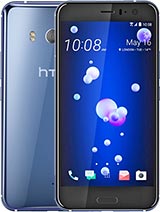 HTC U11
Two rivals are yet to come. The Google Pixel XL 2 will be unveiled on October 4, and while we know it won't be cheap, it is said to have a stellar camera. If you care about software, the Google phone has home-field advantage.
The other soon=to-be a competitor is the Huawei Mate 10 (expected October 16). It will have a 5.9″ display – LCD on the regular model, AMOLED on the Pro – with the latest Kirin chipset. We'll also likely see a new generation Leica dual camera with a f/1.6 aperture (watch out, V30).
Final verdict
Two flagships a year is always tricky – 6 months is not enough for technology to improve to the point where you get a definitive update. Exclusive features like the S Pen do help and Samsung also saved up the dual camera, even though the competition had been offering this feature since 2016.
The Samsung Galaxy Note8 is the most expensive phone of the series yet, a fact you can't get around. Fact number two: it's the most versatile smartphone you can currently get. That alone should be enough to give the right users the right motivation. Or, you have to have a use for it to justify the asking price. Either way, the Galaxy Note8 will deliver the goods. And will do so in a way that very few phones, if any, can match.
Let's block ads! (Why?)