Work with your opponents to score points, defend a doomed planet, and learn to write letters and numbers with today's collection of apps and games.
All app prices are subject to change at any time and without notice regardless of stated free duration. Price changes are solely under the control of the developers.

Echo Dawn: Shattered Visions ($ 0.99 → Free, 304.5 MB): Gather your team of heroes and lead them on a journey of a lifetime in Echo Dawn. Gamers who enjoy classic RPGs.
Echo Dawn will take you down memory lane with its old school graphics and gameplay. You're able to assemble your party by choosing classes for each of the four characters. Each character can be customized to match the way you want to play. Then lead your party across dangerous lands using an on-screen joystick. The turn-based battles require you to make strategic decisions with each of your characters in order to ensure victory.
Echo Dawn: Shattered Visions is available for free for a limited time. It has a 5-star rating with a total of 17 ratings.
Cahoots! ($ 1.99 → Free, 18.7 MB): Work with different sets of partners to score points in Cahoots. Those who enjoy trick taking card games like Spades, Euchre, and Pitch.
In Cahoots, every decision you make has consequences. All players share a suit with another player. The trick consists of two cards from each player, and at the end of the trick the suit with the highest total wins. Whichever player has the suit scores the points. The idea is to work with whoever necessary to increase the score while making sure you don't give your opponents too many points in the process. The game includes quick and match game modes, and an in-depth tutorial.
Cahoots! is available for free for a limited time. It has a 4.5-star rating with a total of 5 ratings.
GyrOrbital ($ 0.99 → Free, 2.3 MB): Defend a doomed planet in GyrOrbital. Fans of arcade games.
GyrOrbital will get you moving. It utilizes your iDevice's gyroscope to allow you to search space for incoming missiles. You must spin your body in every direction to discover all of the missiles in open space. Then just tap or swipe across collections of missiles to target and wipe them out. Try to survive for as long as possible. The game includes leaderboards via Game Center, and the option to tweet your score.
GyrOrbital is available for free for a limited time. It has a 4.5-star rating with a total of 94 ratings.
ABC Star – Letter Tracing ($ 1.99 → Free, 49.4 MB): Learn to write letters and numbers with ABC Star. Children ages one through six.
ABC Star will put your child on the right path. You're able to select from three lessons: Uppercase, Lowercase, and Numbers. Then hand your iPad off and allow your child to trace what's in front of them using visual and audio cues. As they progress, a little egg in the corner of the screen will slowly grow and eventually hatch at the end. The app also allows you to skip ahead to any letter or number you like, and includes multiple colors to choose from.
ABC Star – Letter Tracing is available for free for a limited time. It has a 4.5-star rating with a total of 10 ratings.
That concludes today's issue of Apps Gone Free. If you like staying on top of these daily deals, don't forget to check out our free AppsGoneFree app.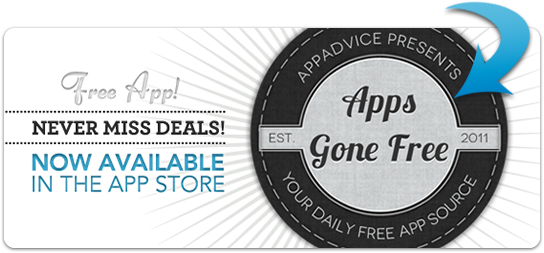 It provides all the deals each day, and even an archive of past deals that are still active.
Developers:
If you are a developer who would like to get your app included in our "Apps Gone Free" daily lists, here's our basic set of rules:
It must have at least a three-star average rating at the time it goes free.
The app must not have been free numerous times (3+) over the last six months.
The free version of your app must not include ads.
To submit an app, simply send a request to [email protected] with the subject "Apps Gone Free." Please include the name of the app, a link to it in the App Store, when and for how long you intend to offer the app for free, and anything else you would like to share. We will take it from there.
Let's block ads! (Why?)