Achieve financial goals, train your dog, and discover colors with today's collection of apps and games.
All app prices are subject to change at any time and without notice regardless of stated free duration. Price changes are solely under the control of the developers.
Savings Goals Pro ($ 3.99 → Free, 9.1 MB): Achieve financial goals with Savings Goals. Those saving for something.
No matter what you're saving for, Savings Goals will help you make it happen. It doesn't matter if it's a new car, monthly bills, or just putting money aside. Create a new goal, set a target amount, and set a target date. Savings Goals will determine how much you need to put away per day, week, month, or year depending on your target. You're able to create as many goals as you wish, and icons will visually display how close you are to achieving them.
Savings Goals Pro is available for free for a limited time. It has a 4.5-star rating with a total of 67 ratings.
Color Query Pro ($ 1.99 → Free, 19.7 MB): Discover colors with Color Query. Designers, painters, and decorators.
Color Query puts you in the know. Just point your iPhone at a wall or other object and snap a photo. Color Query will analyze the photo to determine its name and properties like RGB, CMYK, HSB, and HEX. You're also able to compare colors to five standard pallets, adjust colors, view variations, and save up to 15 samples.
Color Query Pro is available for free for a limited time. It has a 4.5-star rating with a total of 12 ratings.
Cardinal Land ($ 1.99 → Free, 43.5 MB): Put together geometric animal puzzles with Cardinal Land. Those who enjoy tangram-style puzzles.
Cardinal Land is not only fun, it's informative. Your job is to fill in the animal silhouette using colorful pieces. Just drag and drop to place, and tap to rotate. If a piece is in its correct position, it will snap into place. Move quickly in order to earn a perfect rating. After each puzzle has been completed, you'll receive a surprising fact about the animal. The game includes more than 80 puzzles.
Cardinal Land is available for free for a limited time. It has a 4.5-star rating with a total of 123 ratings.
Good Woofy ($ 0.99 → Free, 5.5 MB): Train your dog to stop barking while away from home with Good Woofy. Dog owners.
Good Woofy is a handy tool that will no doubt be appreciated by you and your neighbors. You must first record a command that will help quiet down your dog and a command that will praise them when they obey. Then place your iDevice somewhere where your pet can't reach it yet where it can be heard. Activate the recording feature and head out. Good Woofy will listen for barks and record what it hears. When you return home you'll be able to view how often your dog barked and playback the recordings. The app also includes the ability to adjust sensitivity, share stats, and share recordings.
Good Woofy is available for free for a limited time. It has a 5-star rating with a total of 100 ratings.
That concludes today's issue of Apps Gone Free. If you like staying on top of these daily deals, don't forget to check out our free AppsGoneFree app.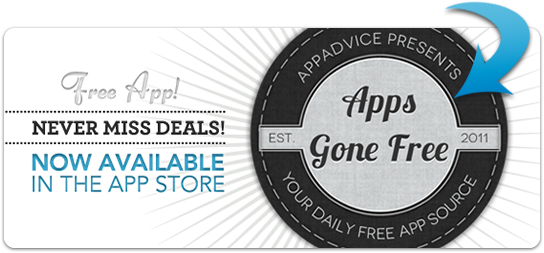 It provides all the deals each day, and even an archive of past deals that are still active.
Developers:
If you are a developer who would like to get your app included in our "Apps Gone Free" daily lists, here's our basic set of rules:
It must have at least a three-star average rating at the time it goes free.
The app must not have been free numerous times (3+) over the last six months.
The free version of your app must not include ads.
To submit an app, simply send a request to [email protected] with the subject "Apps Gone Free." Please include the name of the app, a link to it in the App Store, when and for how long you intend to offer the app for free, and anything else you would like to share. We will take it from there.
Let's block ads! (Why?)