Get a ball to the goal, relax by mixing colors, and remove EXIF data from photos with today's collection of apps and games.
All app prices are subject to change at any time and without notice regardless of stated free duration. Price changes are solely under the control of the developers.

Flows ($ 1.99 → Free, 64.5 MB): Relax by mixing colors in Flows. Those who just need to chill.
Flows is an interactive sandbox of fluid colors. You're able to choose from nine different color palettes. Each one consists of collections of colored squares. Swipe your finger across them to push the colors around the screen. When everything gets too muddled, reset the colors and start all over. Flows also provides calming background music.
Flows is available for free for a limited time. It has a 4.5-star rating with a total of 89 ratings.
EXIF Viewer by Fluntro ($ 2.99 → Free, 47.8 MB): Find out more about the photos you've taken with EXIF Viewer. Professional iPhoneographers.
Want to know everything about your photos? Just launch EXIF Viewer and provide it with access to your photo library. EXIF Viewer will then grab each photo's EXIF metadata and display the most important information right below. You can swipe across a photo to view even more detailed information. Tap on a photo to bring up the ability to remove the EXIF data. The app also includes a wide variety of other handy features including a photos extension, three viewing modes, a Messages app, and the ability to copy EXIF metadata to the clipboard.
EXIF Viewer by Fluntro is available for free for a limited time. It has a 4.5-star rating with a total of 826 ratings.
Sero ($ 0.99 → Free, 52.7 MB): Collect the spinning triangles and reach the goal in Sero. Fans of puzzle games.
Sero is a little ball that launches from a tube with a tap. But before ever doing so, you must manipulate the puzzle pieces in order to not only guide Sero safely to the goal but also collecting all of the triangles along the way. The triangles must be collected in a specific order, and you'll immediately know when something is amiss by paying close attention to the lights on the goal. The game includes 60 levels in all.
Sero is available for free for a limited time. It has a 4.5-star rating with a total of 33 ratings.
Dino Rush ($ 1.99 → Free, 178.4 MB): Help Dundy the dinosaur make his way through the tropical wilderness in Dino Rush. Fans of endless distance games.
Tap on the screen to cause Dundy to jump and fly over obstacles. You must continue to eat fruit to keep his energy levels and his speed up. Fail to do so and poor little Dundy will run out of energy and pass out. The game includes five worlds to explore, multiple characters to unlock, power-ups, and achievements and leaderboards via Game Center.
Dino Rush is available for free for a limited time. It has a 3.5-star rating with a total of 5115 ratings.
Amazon Kindle ($ 1.99 → Free, 162.4 MB): Over 1,000 books, audiobooks, and magazines are now free with your Amazon account. You also get your first paid book for free. First download this app and sign in with your Amazon account. Then go to Amazon.com and add the books you want to read. Any books added on Amazon.com will be available to read in the kindle app. Everyone.
Take your love of reading with you wherever you go by turning your iPhone or iPad into a Kindle. The Kindle app's newsfeed helps you discover new content and discuss entire books, passages, or just ideas with other users. You're also able to sample eBooks for free and access local library eBooks. Kindle's reading experience is at the top of the class, providing a customizable reading experience, instant translations, highlights, text sharing, and so much more.
Amazon Kindle is available for free today only (06/13). It has a 3.5-star rating with a total of 276225 ratings.
That concludes today's issue of Apps Gone Free. If you like staying on top of these daily deals, don't forget to check out our free AppsGoneFree app.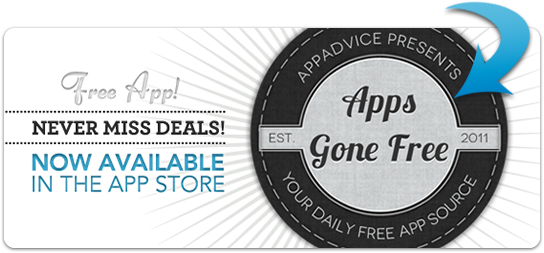 It provides all the deals each day, and even an archive of past deals that are still active.
Developers:
If you are a developer who would like to get your app included in our "Apps Gone Free" daily lists, here's our basic set of rules:
It must have at least a three-star average rating at the time it goes free.
The app must not have been free numerous times (3+) over the last six months.
The free version of your app must not include ads.
To submit an app, simply send a request to [email protected] with the subject "Apps Gone Free." Please include the name of the app, a link to it in the App Store, when and for how long you intend to offer the app for free, and anything else you would like to share. We will take it from there.
Let's block ads! (Why?)