Introduction
Vivo is no stranger to experimentation. In fact, looking at the admirably broad lineup of the BBK Electronics Corporation, it quickly becomes apparent that brands like OnePlus, Oppo and more recently Realme are where you turn to for competitive device offers across the flagship, mid-range and budget market segments. Vivo, on the other hand has a certain experimental history and spirit to it. And nothing really embodies that better than the "NEX" family of devices. Now with another flashy and intriguing member in its ranks.
The NEX Dual Display is nothing short of original, yet still surprisingly easy to understand on a conceptual level. In more ways than one, it is the sum of vivo's pre-existing efforts in coining a fresh new and more functional mobile design. One that clearly stems from the desire to maximize screen real estate and solve the selfie camera and sensor issue in a more elegant, notch-free manner.
The original NEX S and NEX A were after the same thing with the periscope camera module. This time around, the proposed solution is a bit more different and ambitious, utilizing an impressive, second 5.49-inch, Super AMOLED panel. Still, the goalposts are in their familiar place.
Vivo NEX Dual Display Edition specs
Body: Aluminum frame; Gorilla Glass 5 back, Unknown durable glass front.
Screen: 6.39″ Super AMOLED; 19.5:9 aspect ratio, Full HD+ (2340 x 1080 px), 403ppi.
Secondary screen: 5.49″ Super AMOLED, 16:9 aspect ratio, Full HD (1920 x 1080 px), 401ppi.
Rear cameras: Primary: 12MP (Sony IMX363, 1.4µm); f/1.79 aperture, dual-pixel PDAF; 2MP, 2.9µm, f/1.8 – for night mode; TOF 3D camera f/1.3 for depth detection.
Chipset: Snapdragon 845 chipset, octa-core processor (4×2.7 GHz Kryo 385 Gold & 4×1.7 GHz Kryo 385 Silver), Adreno 630 GPU.
Memory: 10GB of RAM + 128GB storage.
OS: Android 9.0 Pie with FunTouch OS 4.5.
Battery: 3,500mAh Li-Ion; 22.5W Fast Charging (10V/2.25A).
Connectivity: Dual-SIM; LTE-A, 3-Band carrier aggregation, Cat.16 (1024Mbps/150Mbps); USB Type-C; Wi-Fi a/b/g/n/ac; GPS; Bluetooth 5.0.
Misc: Under-display fingerprint reader; 3D Face Unlock; single bottom-firing speaker, 3.5mm port
Unique and surprising, yet clearly building on a foundation and not created in isolation, the new NEX Dual Display also embraces vivo's under display fingerprint reader tech and associated space savings. Better still, it is a latest generation sensor – the same one found on the OnePlus 6T. One actually reliable and quick enough to be usable in real life, making it a marked improvement over the original NEX handset.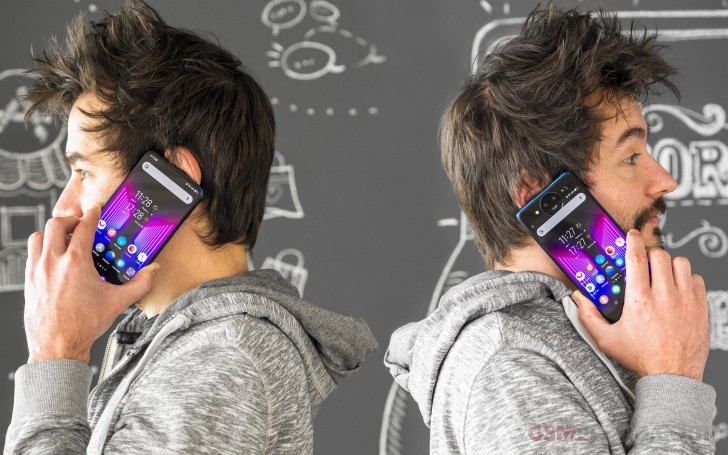 That's actually kind of a recurring theme with the NEX Dual Display. In more ways than one, it looks exuberant and even unnecessary at first glance. Look a bit deeper, though, and most of the tech and design elements start to make sense as a next logical iteration in vivo's goal to an all-display device.
That being said, though, there is no denying that the company's design and engineering teams turned the knob up to 11 and basically ripped it out for most aspects of the NEX Dual Display. This puts it squarely in experimental territory. Perhaps even gaining it a "tech showcase" status. But just because the NEX DD is unlikely to end up in many user's hands doesn't really make it any less interesting. Tag along on the following pages to see just how useful vivo's take on a second full-featured display really is.
Unboxing
First, however, let's take a quick look at the retail package and its contents. The vivo NEX Dual Display comes in a nice two-piece box, which also incorporates a bottom sliding compartment. It is definitely above average in quality and presentation, but far from the most lavish packaging, we have seen out there. Mind you, this is a good thing in our book since overpaying for a box is generally a waste of money at the end of the day. The phone has its own cradle and is decently protected for shipping, so no complaints.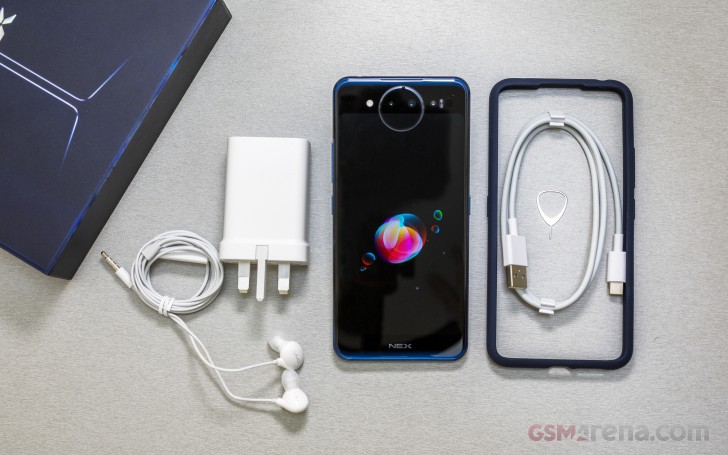 As far as accessories go, vivo has included a pair of decent-feeling and nice looking earbuds. These do have an in-line microphone, so technically it's a nice hands-free unit. Also in the box – a very thick bumper case, color-coded with your unit. So, it will either be in blue or red. Likely the former, since red is strictly limited to China at the moment and even harder to get.
As you can probably imagine the bumper looks quite weird. It merely covers the bezel of the phone, doing its best to extend some thickness to spill over the sides and protect the pair of displays when the phone is left on a surface. Since vivo was not about to cover the star attraction here – the second display, the back of the case is just as open as the front.
Still, the extra grip the bumper provides is very much appreciated, since the NEX Dual Display has to be one of the most slippery phones to pass by the office in a long time.
Last, but not least, there is also a wall charger in the box, along with a white USB Type-A to USB Type-C cable. It is actually the very same 22.5W unit that shipped with the original vivo NEX S.
Design
The vivo NEX Dual Display is definitely a looker. Not really in the conventional stylish sense, but not really in any particularly flamboyant way either. It is unapologetically different, though and designed in a way to highlight that fact.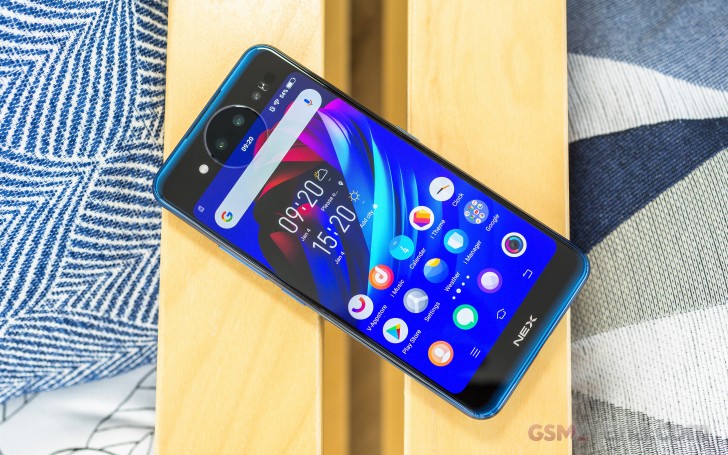 On the front, the design team clearly only had one goal – extend the display as far as possible and slim the bezels down aggressively. After all, that's the whole reason for the second display endeavor in the first place. And to vivo's credit, the end result is remarkably close to that proverbial "all display" look. That being said, we've seen side bezels thinner than the ones on the NEX Dual Display. The same goes for the top and bottom chins. Putting all of these together, however, is a veritable achievement in itself.
We particularly appreciate seeing a thinner bottom chin compared to the original NEX S. This time around it is roughly the size of Apple's chin for the iPhone XS. So, whatever display controller wrapping magic Cupertino was doing, it is apparently no longer exclusive. There are plenty mone neat little details above the display. The top chin only has a single control/cut-out, of sorts, for the earpiece, tugged away underneath. It is also mirrored around back since you can hold the NEX Dual Display the other way around and still have a conversation. Our best guess is that vivo simply positioned a single speaker well enough to service both sides.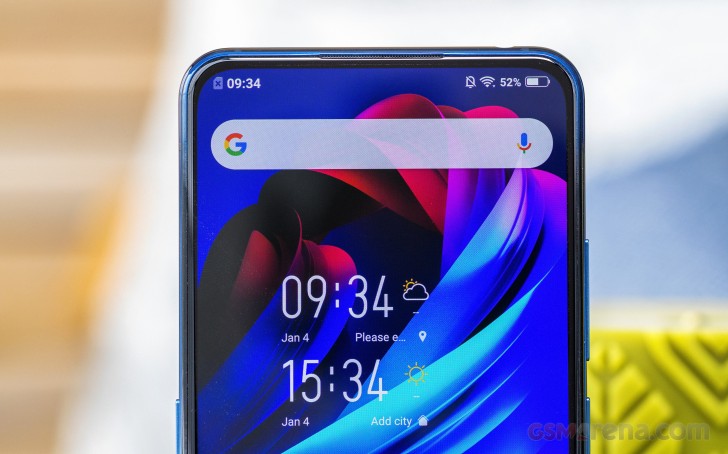 As for sensors, like proximity and the luminance meter – these are actually positioned underneath the AMOLED panel near the earpiece. Not a new technology, but still very cool to see in practice. Unfortunately, there is no notification LED on the front. The RGB LED strip around the camera on the back side handles that. So, vivo clearly envisions the NEX Dual Display spending most of the time face down.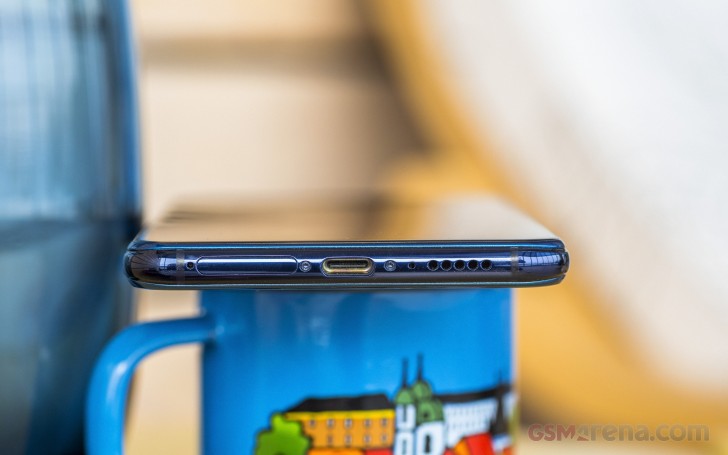 The only other potential issue we find with the front side of the phone is the unspecified protective finish on the panel. Perhaps it is hard enough, but we would have preferred a Gorilla Glass number of some sorts.
Speaking of materials, in contrast, the back side of the NEX Dual Display is clearly labeled as having Gorilla Glass 5 as its final layer. Last, but not least – the frame is solid aluminum. With so much going on on both sides of the phone, one could imagine that structural integrity would be a concern. Well, It's definitely not, likely thanks to the solid frame design. There is practically no flex in the unit. Still, it doesn't exactly feel too encouraging in the hand, mainly due to its extremely slippery surface. Both sides are fingerprint magnets and offer little traction. The bumper case really is a must.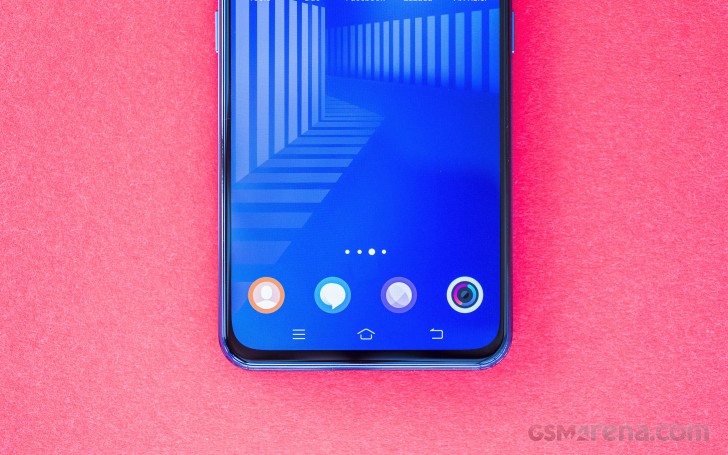 Around back, the overall design approach becomes a lot less subdued and clearly more flamboyant. Let's agree to call it "showmanship", since the NEX Dual Display clearly wants to stand out and be recognized. The sizeable "vivo" logo is probably the first clue here. Then there are the color gradient accents on the top and bottom chins. There is clearly not enough room to lay out a properly impressive visual surface, but vivo wasted no opportunity to slap on some recognizable "war paint" non the less.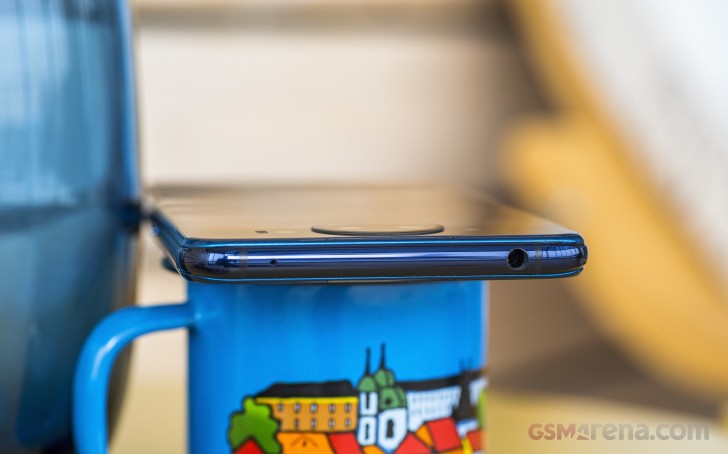 And if we think we are exaggerating the "showmanship" aspect here, look no further than the round camera module that actually covers a portion of the rear display, distorting the image and making for a sort of "shattered and displaced" appearance.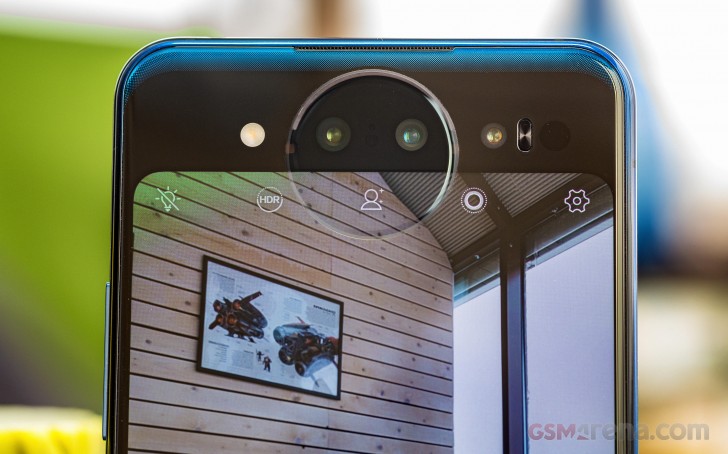 The module doesn't really need to be round. The only practical use vivo is getting out of it and we are using "practical" in the loosest sense here – are the pair of RGB LED strips positioned on the top and bottom segments of the camera ring. These light up on occasion to showcase various features. Mostly related to camera modes and Jovi – vivo's AI assistant. The idea was apparently to design something "humanoid" to look at. And while we can get behind that to some degree, why can't it simply be an on-screen animation instead of RGB LED rings? It just seems unnecessary.
To be fair, the implementation isn't quite as exuberant as it appears at first glance. Actually, only the top part of the light ring is an RGB LED array, while the bottom portion of the animated area is simply lit up by the display. Even so, since we can't get Jovi working outside China, we can't really experience half of the intriguing animations and their clever implementation anyway.
Controls
Speaking of kind of unnecessary or at least unorthodox design choices, this is a perfect segue to a controlled tour of the NEX Dual Display. Starting, of course, with the pair of power buttons. Yes, just like many recent Samsung phones, the NEX Dual Display has a pair of single buttons on either side of the frame. In this case, the left one is labeled "vivo" in tiny font, so one could assume it triggers the Jovi assistant and it does. Its more important function, however, is to wake up the secondary display on the back. The idea is that you simply need to build up muscle memory to always press the button on the right side to wake the phone, no matter which display you are looking at. Kind of neat, actually and very easy to get used to.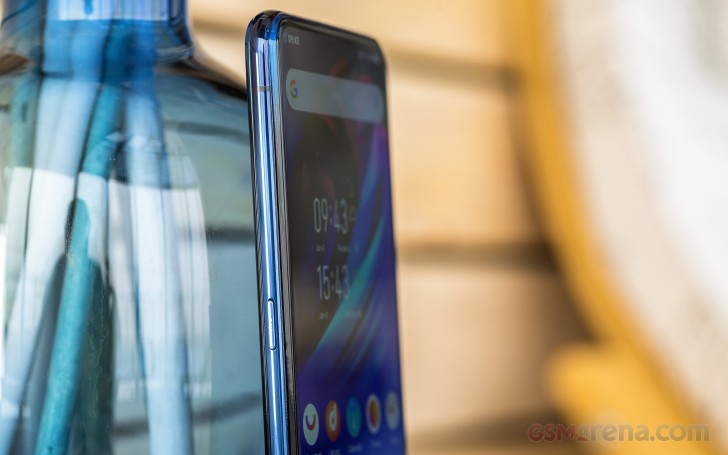 Other than the pair of power buttons, the rest of the controls scattered around the frame are pretty standard. A volume rocker on the right – nice and tactile, just like the other two buttons. On the top – a 3.5mm audio jack and secondary microphone. And on the bottom – a single speaker, USB 3.0 Type-C port and a dual Nano-SIM tray. Sadly, no memory card expansion slot.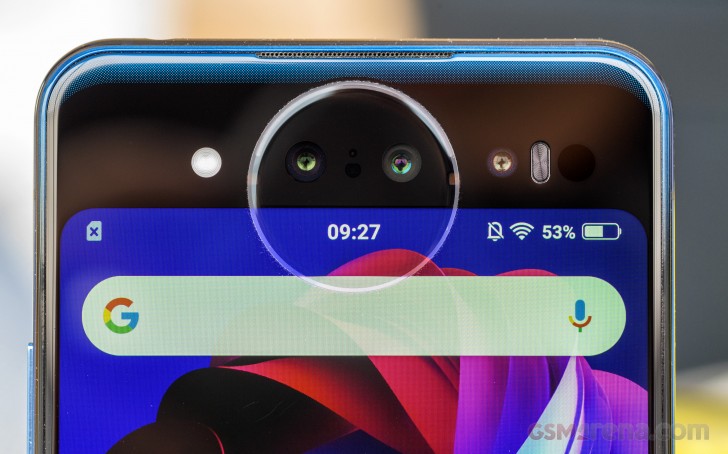 Things get a lot more exciting around back. We already mentioned the RGB LED strip on the top edge of the round module. There is a bit more interesting hardware here as well. Besides the two cameras, LEF flash and TOF sensor, which consists of a few parts, there is also a pair of "flood lights" on either side of the round camera module. These provide extra illumination for night-time shots and actually do a pretty good job.
More display than glass
While that statement is technically a bit ambiguous seeing how the surface, especially on the back is still glass, the NEX Dual Display is definitely more display than anything else. Vivo really went all out in this department. Well, to be fair, compared to the original NEX S, the main display did get a bit smaller at 6.39 inches, compared to 6.59, but even so, it is still a huge panel. Plus, if we count the second 5.49-inch panel in, the admittedly subjective screen real estate math puts the NEX Dual Display in a league of its own.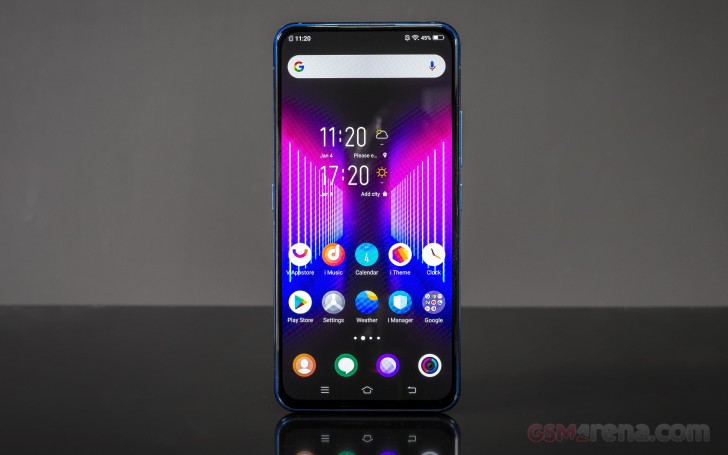 Better still, both panels are of the Super AMOLED variety. So, not only did vivo do some proper panel shopping, going for OLED over LCD, said panels were also sourced from Samsung, potentially speaking to their quality. Naturally, we rested both panels, starting with the exuberantly tall, even by current standards, 19.5:9 main unit.
Display test
100% brightness
Black, cd/m2
White, cd/m2
Contrast ratio
Samsung Galaxy Note9 (Max Auto)
0
658
∞
Huawei Mate 20 Pro (Max Auto)
0.003
657
219000
LG V40 ThinQ (Max Auto)
0.008
638
79750
Samsung Galaxy S9+ (Max Auto)
0
631
∞
Sony Xperia XZ3 (Max Auto)
0
620
∞
Asus ROG Phone (Max Auto)
0
542
∞
Huawei Mate 20 Pro
0.002
508
254000
Xiaomi Pocophone F1
0.314
461
1468
vivo NEX S
0
458
∞
Xiaomi Mi 8
0
458
∞
Asus ROG Phone
0
458
∞
OnePlus 6T (Max Auto)
0
455
∞
OnePlus 6T
0
453
∞
Sony Xperia XZ3
0
442
∞
vivo NEX Dual Display (sec. display)
0
436
∞
Google Pixel 3
0
426
∞
Oppo Find X
0
426
∞
Razer Phone 2 (Max Auto)
0.403
426
1057
vivo NEX Dual Display
0
413
∞
Razer Phone 2
0.401
380
948
Samsung Galaxy S9+
0
376
∞
Samsung Galaxy Note9
0
367
∞
LG V40 ThinQ
0.002
323
161500
It's a decent AMOLED unit, but not really on the same level as the ones Samsung puts in its current flagships. The main reason we have with it is that it is a bit on the dimmer side. It is still very much serviceable, but a max auto mode would have been a neat addition to the mix.
Actually, looking at the rear 5.49-inch panel, we see pretty much the same results brightness-wise. The smaller, or more specifically, less tall and slightly sell wide 16:9 rear display does put out a few extra nits, which can definitely be attributed to OLED pixels on a smaller diagonal.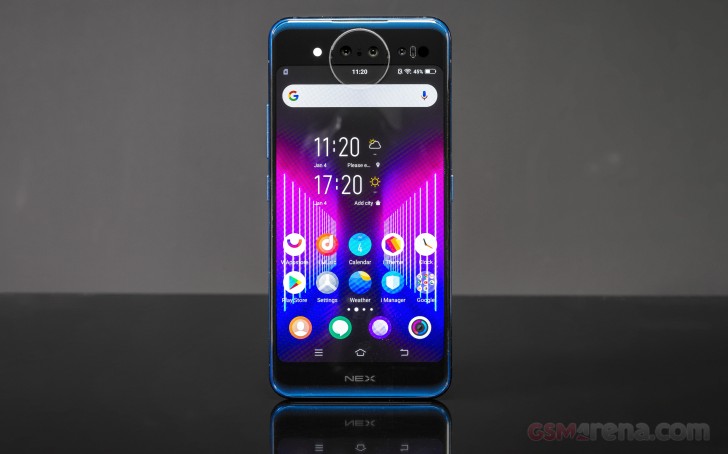 Other than that, the pair are really comparable in terms of performance. Their brightness could potentially be capped as well to same on some battery. We don't really have any solid proof of that, however. Plus, the pair rarely turn on at the same time, but more on that in the software section.
Sunlight contrast ratio
Apple iPhone XS




5.171

Apple iPhone X




5.013

Huawei Mate 20 Pro




4.965

OnePlus 5T




4.789

Samsung Galaxy S8




4.768

Asus ROG Phone




4.765

Samsung Galaxy S8+




4.658

Samsung Galaxy S9




4.63

Samsung Galaxy S6 edge+




4.615

Samsung Galaxy S9+




4.537

Samsung Galaxy Note9




4.531

Apple iPhone XS Max




4.516

Sony Xperia XZ3




4.502

Motorola Moto Z2 Play




4.459

Oppo R11




4.454

Samsung Galaxy S7 edge




4.439

Oppo RX17 Pro




4.434

OnePlus 3




4.424

Samsung Galaxy S7




4.376

Google Pixel 3




4.35

Samsung Galaxy A7 (2018)




4.324

OnePlus 6




4.321

Xiaomi Mi Mix 3




4.291

vivo NEX Dual Display (sec. display)




4.289

HTC One A9




4.274

LG V40 ThinQ




4.256

Oppo R15 Pro




4.251

Samsung Galaxy Note7




4.247

Samsung Galaxy A3




4.241

Nokia 8




4.239

Google Pixel 2 XL (pre-update)




4.234

OnePlus 3T




4.232

Samsung Galaxy A9 (2018)




4.22

Google Pixel XL




4.164

ZTE Axon 7




4.154

Samsung Galaxy Note8




4.148

Meizu Pro 7 Plus




4.147

OnePlus 6T




4.138

Samsung Galaxy S6 edge




4.124

Samsung Galaxy A7 (2017)




4.124

vivo V11




4.113

vivo NEX Dual Display




4.108

Huawei Mate 10 Pro (normal)




4.096

Samsung Galaxy Note5




4.09

Huawei P20 Pro




4.087

Xiaomi Mi 8




4.086

Meizu 15




4.082

Nokia 6 (2018)




4.052

Google Pixel 2 (pre-update)




4.023

LG V30




4.022

Huawei Nexus 6P




4.019

vivo NEX S




4.012

Honor Magic 2




4.01

Samsung Galaxy J7 Pro




3.998

OnePlus X




3.983

Vivo Xplay5 Elite




3.983

LG G7 ThinQ (outdoor)




3.978

Oppo R7s




3.964

Apple iPhone 7




3.964

Apple iPhone 8 (True Tone)




3.957

Huawei P9 Plus




3.956

Oppo Find X




3.954

Meizu Pro 6 Plus




3.935

Lenovo Moto Z




3.931

Samsung Galaxy A7 (2016)




3.918

OnePlus 5




3.914

Samsung Galaxy C5




3.911

Xiaomi Mi 8 SE




3.901

Samsung Galaxy C7




3.896

Samsung Galaxy A5




3.895

Samsung Galaxy J7 outdoor




3.879

Samsung Galaxy J2 outdoor




3.873

Motorola Moto G6 Plus




3.865

Samsung Galaxy A8




3.859

Samsung Galaxy A8 (2018)




3.842

Apple iPhone 6




3.838

Microsoft Lumia 950XL




3.837

Samsung Galaxy A6+ (2018)




3.834

Sony Xperia XZs




3.818

Samsung Galaxy A9 (2016)




3.817

Motorola Moto X (2014)




3.816

Samsung Galaxy J7 (2017)




3.812

Samsung Galaxy A5 (2017)




3.804

Samsung Galaxy J7 (2016) outdoor mode




3.802

Xiaomi Redmi Pro




3.798

LG V20 Max auto




3.798

Sony Xperia XZ




3.795

Samsung Galaxy A5 (2016)




3.789

Apple iPhone 6s




3.783

Meizu Pro 5




3.781

Microsoft Lumia 650




3.772

Xiaomi Mi 6




3.767

Sony Xperia XZ1




3.765

Samsung Galaxy J7 (2016)




3.756

Nokia 8 Sirocco




3.745

Sony Xperia XZ1 Compact




3.729

Apple iPhone 8 Plus (True Tone)




3.725

Oppo F1 Plus




3.709

Vivo X5Pro




3.706

Samsung Galaxy A3 (2017)




3.688

Huawei P20




3.683

Apple iPhone SE




3.681

Huawei Mate 9




3.68

Samsung Galaxy A7




3.679

Sony Xperia XZ2 Compact




3.675

Meizu PRO 6




3.659

BlackBerry Priv




3.645

Sony Xperia XA1 Ultra




3.597

Apple iPhone 7 Plus




3.588

Sony Xperia XZ2




3.58

LG G6




3.556

Apple iPhone 6s Plus




3.53

Motorola Moto Z Play




3.526

Samsung Galaxy J3 (2016)




3.523

Samsung Galaxy J3 (2016) outdoor mode




3.523

Acer Jade Primo




3.521

Microsoft Lumia 950




3.512

Oppo R7 Plus




3.499

Nokia 7 plus




3.479

nubia Z11




3.466

Sony Xperia M5




2.69

Xiaomi Mi A1




2.689

Huawei P9 Lite




2.679

Xiaomi Redmi 4 Prime




2.679

vivo V7+




2.671

Vivo V3Max




2.659

Xiaomi Mi Mix




2.658

Huawei Mate 10 Lite




2.654

Oppo F5




2.653

Doogee Mix




2.642

Xiaomi Mi 4i




2.641

Xiaomi Redmi 4a




2.635

Sony Xperia Z3




2.618

Xiaomi Mi 5X (Standard)




2.616

Sony Xperia XA




2.609

Motorola Moto G4 Plus




2.582

Motorola Moto G4 Plus (max auto)




2.582

Meizu M5s




2.58

Xiaomi Mi 4c




2.574

LeEco Le Max 2




2.567

Microsoft Lumia 640




2.563

Asus Zenfone 3 ZE552KL




2.563

Huawei P Smart




2.563

Xiaomi Mi Max 2




2.561

HTC U11+




2.556

Xiaomi Redmi Note 5A (Y1)




2.556

Lenovo Moto G4




2.544

Lenovo K6 Note




2.544

Oppo F1




2.528

Sony Xperia Z5 Premium




2.525

Huawei Honor 7 Lite / Honor 5c




2.506

Sony Xperia M4 Aqua




2.503

Huawei Honor 10 Lite




2.497

BlackBerry Motion




2.494

Oppo F1s




2.481

Motorola Moto G




2.477

Lenovo Vibe K5 Plus




2.473

Huawei G8




2.471

Huawei nova




2.467

Sony Xperia Z




2.462

Lenovo Vibe K5




2.459

Meizu m3 max




2.447

Xiaomi Mi 5X (Auto)




2.417

HTC 10 evo




2.407

Huawei Honor 7




2.406

Vivo V7




2.404

Sony Xperia E5




2.386

ZUK Z1 by Lenovo




2.382

HTC 10




2.378

Oppo F3




2.376

vivo V5 Plus




2.371

Meizu m1 note




2.362

Huawei nova plus




2.329

Razer Phone




2.328

HTC One E9+




2.305

Alcatel One Touch Hero




2.272

OnePlus One




1.961

Meizu m3 note




1.923

BlackBerry Leap




1.892

Meizu m2 note




1.892

HTC Butterfly




1.873

ZTE Nubia Z9 mini




1.759

Sony Xperia U




1.758

Asus Zenfone Selfie




1.68

Motorola Moto E (2nd Gen)




1.675

ZTE Nubia Z9




1.659

Jolla Jolla




1.605

Samsung Galaxy Core




1.563

Motorola Moto E




1.545

Sony Xperia M




1.473

Sony Xperia L




1.351

Xiaomi Redmi 2




1.311

HTC Desire C




1.3

Nokia X




1.291

Meizu MX




1.221

Sony Xperia E




1.215
Sunlight legibility is also quite close on the pair of screens. Something we were actually wondering about since the rear panel originally looked like it might not be fully laminated. Or at least that's what we thought, considering the round camera module that is also molded out of the same glass finish. A phone disassembly reveals that the panel and glass are, indeed, part of a single module, proving our original theory wrong and frankly leaving us a bit impressed from an engineering standpoint.
Just like the other aspects of the panels, color accuracy turned out to be very similar. Out of the box, neither came close to what we would consider "color accurate'. The main scored an average deltaE of 6.3 and a maximum of 11.8. The vivo display settings menu isn't particularly full of color adjustment options either, just a simple temperature slider, which we did utilize to warm up the otherwise cold color pallet a bit. That brought down the average deltaE to 5.1 and the maximum to 9.7 – still far from color accurate.
The back panel scored a very similar average deltaE of 6.7 and a surprisingly consistent maximum of a whopping 27.9 in a particular color, called "Dark Skin". Frankly, we would have noticed such a major mismatch in regular use and since this was not the case the only logical conclusion was that the OS wasn't playing nice with our color pattern generating software on the rear panel.
To be perfectly frank, we expected much more severe issue from the get-go, or at least since we noticed that the two panels share their display settings. We get it, both are FullHD in resolution and for most use cases, the phone simply switches from one to the other, only having to deal with scaling issues for certain apps. Rarely are the two panels enabled simultaneously. Still, it would have been nice to separate brightness and color adjustments for the secondary display.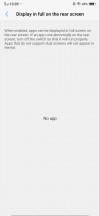 Rear full screen app settings are broken
This is actually part of a bigger criticism we have towards vivo for not really ironing out some of the kinks of using a send full-featured display in the first place. For example, the app scaling, or rather a re-scaling issue, depending on which display is in use is a real thing. There is a settings menu available that appears to be designed to handle that very same issue on a per-app basis, but it was clearly unfinished and not properly implemented on our review unit. This meant that most third-party apps that scaled, manually or otherwise, to 19.5:9 for the front display were left severely pillar-boxed on the rear one. Far from ideal, but also far from the only complaint we have about vivo's implementation and feature set for the second display. But, more on that in the software section.
Battery Life
The vivo NEX Dual Display edition is definitely a beefy phone. With a body measuring 157.2 x 75.3 x 8.1 mm and weighing in at just shy of 200 grams, it is clearly in the same weight category as other massive phablet devices, such as the Samsung Galaxy Note9. We have become rather accustomed to seeing large 4,000-ish mAh batteries on said devices. After all, the room is there.
That, however, isn't exactly applicable to the NEX Dual Display. Naturally, that second screen and all its components take up valuable internal space. This is likely one of the reasons why the NEX Dual Display is only packing a 3,500 mAh battery. Again, we say "only" pretty relative to the general phablet market. In practical terms, 3,500 mAh is still plenty of juice to go around.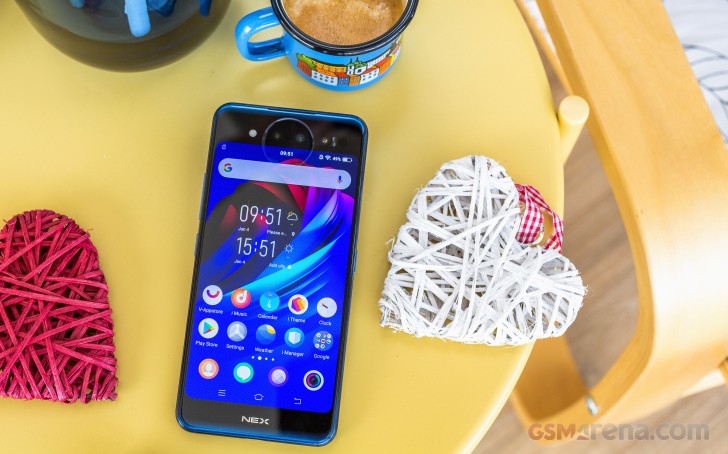 Now, that being said, there are a few things to consider here. Two panels definitely draw more power than one. Then again, there are very few circumstances in which the two panels can even be active at the same time, especially for prolonged periods of time. Using the always on display feature on both panels might suggest otherwise, but the phone is actually smart enough to use the proximity sensor and only have the upward facing panel active. Still, at the end of the day having the always on display feature on will still eat through around 10% of extra battery on a charge.
On the flip side of the display count argument, it is noteworthy that vivo opted for efficient OLED panels on both sides. That definitely brings the overall power consumption down. The native FullHD resolution of the panels helps, to some extent, as well.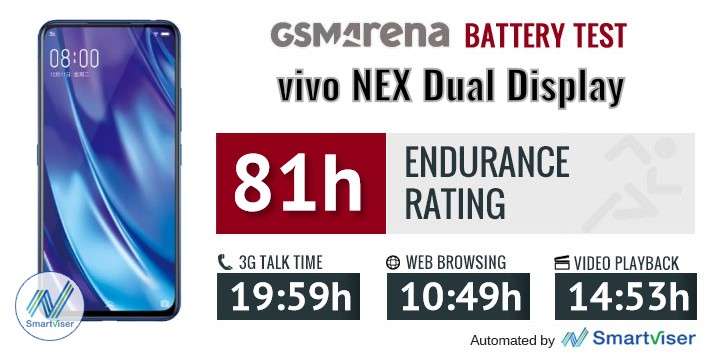 The vivo NEX Dual Display performed pretty admirably in our proprietary battery test, scoring a total endurance rating of 81 hours. 3G call test numbers fall in line with Snapdragon 845 expectations and so does video playback. The web browsing score is a little bit on the lower end of the scale, but well within acceptable limits. There are some improvements left to be desired in the cell standby area as well. Again, the NEX Dual Display falls within acceptable margins, but we have seen the X20 LTE do better on a similarly sized battery.
Our battery tests were automated thanks to SmartViser, using its viSer App. The endurance rating above denotes how long a single battery charge will last you if you use the vivo NEX Dual Display for an hour each of telephony, web browsing, and video playback daily. We've established this usage pattern so that our battery results are comparable across devices in the most common day-to-day tasks. The battery testing procedure is described in detail in case you're interested in the nitty-gritty. You can check out our complete battery test table, where you can see how all of the smartphones we've tested will compare under your own typical use.
As far as charging goes, the vivo NEX Dual Display has a pretty decent setup going. It can charge at a rate of 22.5W, which is actually carried over from the original vivo NEX S and a few other recent vivo phones.
In terms of charging speed, using the included 22.5W charger fills the battery at a rate of around 55% per hour. Accounting for all the trickle charge cycles and other variances a full charge from 0% to 100% takes just under 2 hours. Not bad at all.
BBK Electronics Corporation is no stranger to fast charging tech. They have VOOC and Dash (now simply named OnePlus Fast Charge for legal reasons) in their ranks with standards going up to 50W of power. These seem to have one thing in common, which is a distributed charging model that utilizes a constant, in-spec 5V voltage going into the phone at a high current, split up to charge different segments of the internal battery concurrently.
The tech has already started trickling down the vivo ranks as well. Certain devices like the vivo V11 support something called Dual Engine Fast Charging – a system, by all accounts very similar in principle to VOOC and Dash. However, details have been scarce regarding it – we only have this image below.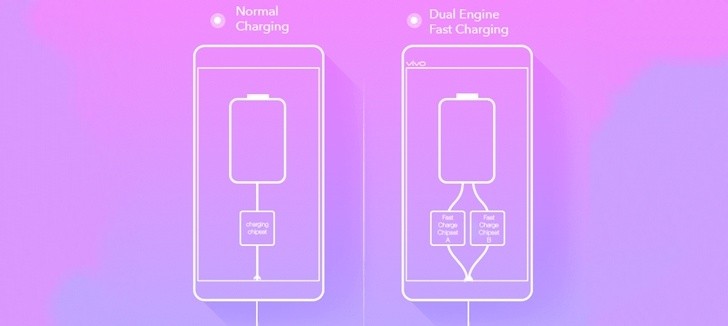 With all that said, we suspect the NEX DD uses the same type of charger as it's listed to support a trio of odd output ratings: 5V@2A, 9V@2A, and 10V@2.25A. The first one is pretty standard, while the second voltage upgrade to 9V is indicative of a whole other kind of fast charging methodology, like 18W Quick Charge. Looking at the final output closely, however, leads us to believe that vivo is actually using an internal battery arrangement similar to the of Oppo's SuperVooc Find X Lamborghini. That is to say a pair of batteries connected in series. The only difference being that, as far as we know, the Find X Lamborghini has a pair of those linked in parallel for a total of four and a rough max input of 50W. So, we guess, technically this could be "Dual Engine" technology.
Regardless, the bottom line here is – don't lose your included charger since it is rather special. Plus, that 9V@2A output rating does potentially make it rather flexible since it should be able to properly charge Quick Charge devices as well.
Loudspeaker
The vivo NEX Dual Display only has a single bottom-firing speaker in its arsenal. Pity, really, since we would have loved to see at least some sort of hybrid stereo implementation working on that odd double-sided earpiece design.
| | | | | |
| --- | --- | --- | --- | --- |
| Speakerphone test | Voice, dB | Pink noise/ Music, dB | Ringing phone, dB | Overall score |
| LG V40 ThinQ | 68.2 | 74.1 | 77.4 | Very Good |
| Samsung Galaxy S9+ | 68.4 | 74.0 | 80.1 | Very Good |
| Xiaomi Mi 8 | 68.1 | 72.3 | 82.2 | Very Good |
| OnePlus 6T | 67.2 | 72.5 | 84.5 | Very Good |
| Samsung Galaxy Note9 | 71.2 | 74.9 | 80.2 | Very Good |
| Oppo Find X | 70.7 | 75.2 | 81.2 | Very Good |
| Sony Xperia XZ3 (ClearAudio+) | 68.0 | 75.3 | 84.0 | Very Good |
| vivo NEX Dual Display | 68.5 | 72.1 | 88.0 | Excellent |
| Sony Xperia XZ3 | 71.0 | 75.4 | 82.9 | Excellent |
| Google Pixel 3 | 77.5 | 71.7 | 81.1 | Excellent |
| Xiaomi Pocophone F1 | 72.8 | 74.7 | 86.6 | Excellent |
| vivo NEX S | 71.3 | 74.5 | 91.0 | Excellent |
| HTC U12+ (Music) | 76.0 | 73.6 | 88.5 | Excellent |
| Asus ROG Phone | 79.0 | 77.5 | 84.9 | Excellent |
| Razer Phone 2 (Dolby dynamic) | 76.7 | 77.7 | 87.7 | Excellent |
| Razer Phone 2 | 78.2 | 78.8 | 86.9 | Excellent |
In terms of loudness, the NEX Dual Display just barely made it into "Excellent" grade territory. On the plus side, the sound it produces is actually pretty clear.
Audio quality
vivo NEX Dual Display Edition started off brightly in our test, delivering nicely clean output with an active external amplifier and garnishing that with a loudness that's well above average.
Headphones affected several readings, although the hits weren't too major. Frequency response, intermodulation distortion and stereo crosstalk all degraded by moderate amounts dropping the rating from excellent to good. Better yet, volume remained high, making up a solid overall showing.
Test
Frequency response
Noise level
Dynamic range
THD
IMD + Noise
Stereo crosstalk
vivo NEX Dual Display Edition
+0.03, -0.20
-94.0
94.0
0.0010
0.0066
-88.1
vivo NEX Dual Display Edition (headphones)
+0.48, -0.05
-92.7
92.7
0.0077
0.373
-54.9
Xiaomi Mi Mix 3
+0.02, -0.02
-93.2
93.2
0.0014
0.072
-90.6
Xiaomi Mi Mix 3 (headphones)
+0.09, -0.07
-92.7
92.6
0.0033
0.151
-60.9
Huawei Mate 20
+0.02, -0.16
-92.1
92.0
0.0017
0.013
-85.6
Huawei Mate 20 (headphones)
+0.07, -0.07
-92.1
92.4
0.0021
0.106
-66.5
Sony Xperia XZ3
+0.01, -0.02
-91.2
93.2
0.0024
0.0080
-88.7
Sony Xperia XZ3 (headphones)
+0.38, -0.21
-93.1
92.5
0.0049
0.233
-61.7
Samsung Galaxy Note9
+0.01, -0.03
-93.7
93.7
0.0017
0.0074
-94.1
Samsung Galaxy Note9 (headphones)
+0.03, -0.02
-93.6
93.5
0.0033
0.046
-93.2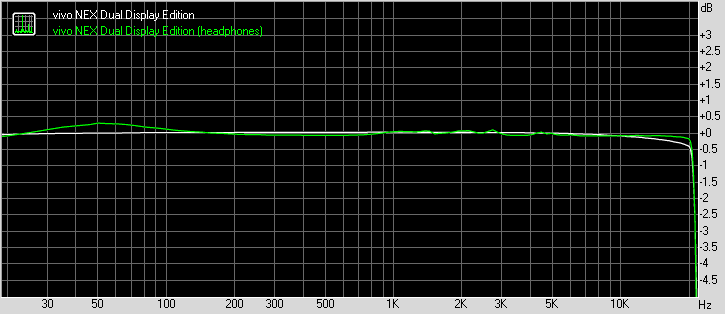 vivo NEX Dual Display Edition frequency response
You can learn more about the tested parameters and the whole testing process here.
FuntouchOS on top of Android Pie
Since the NEX Dual Display is part of the vivo lineup, it was only natural for it to run the company's custom FuntouchOS skin. What originally, quite frankly, started out as a nearly carbon copy of the iOS UI has stuck around and evolved quite a bit. We definitely appreciate the fact that the latest version, running on the NEX Dual Display is based on the current Android 9 Pie version of Google's mobile OS. Still, even after all the evolutionary changes in its past, FuntouchOS finds itself in a rather weird place.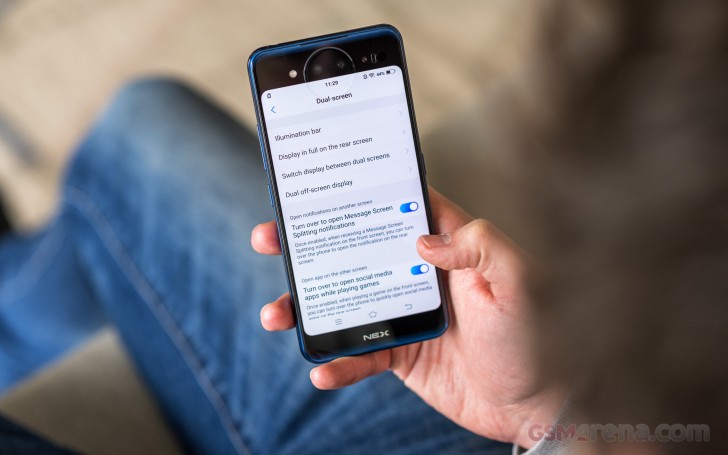 The iOS influences are abundant and scattered all throughout the UI, often affecting the overall UX as well. For instance, quick toggles are still part of a "Control Centre" that slides out from the bottom of the UI, in stark contrast to the Android norm.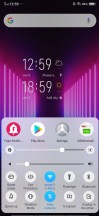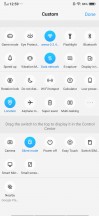 Control Centre • Quick toggles
The same goes for placing certain default app settings within the main settings menu, rather than the app itself. Vivo originally did this in an effort to emulate the iOS look and feel, but subsequent changes to the OS and the introduction of various new features have mostly led to a disorderly mess of scattered options and menus and a set of very particular UX components. While likely familiar to long-time FuntouchOS users, this mostly alienates general Android users. Especially since you can only do so much to bring FuntouchOS to a more vanilla look and especially layout, without root access and a lot of poking around.
At least this time around vivo appears to have extended some extra effort into internationalization of its ROM. Unlike its predecessor, the NEX Dual Display review unit we received has Google Play services out of the box and appears to be a bit more lax about side-loading apps – a major issue we faced with the NEX S.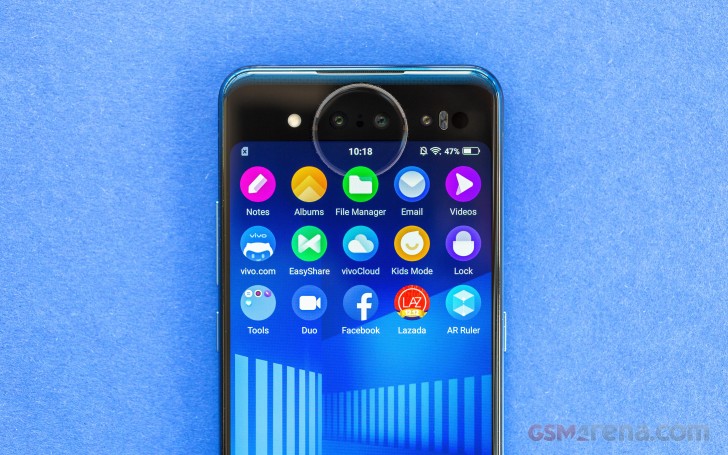 That being said, the ROM we received is far from perfect in a few distinct ways. A lot of features that we saw working on Chinese versions of the phone are notably missing. Like vivo's Jovi personal assistant or the ability to send and visualize QR codes on the rear panel. A feature originally meant mostly to cater to particular Chinese payment systems.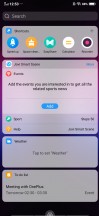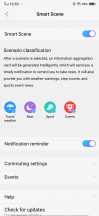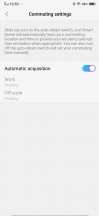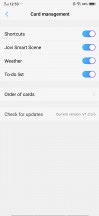 Jovi pane on the far left
Now, we get why Jovi is gone(sans for the card pane on the far left of the home screen and a few tracking and info features there), seeing how it is only fluent and really useful in its native tongue. The latter QR feature, though, is something that western audiences could have still made use of. Plus, this approach to "internationalization" appears to be indicative of a broader problem. Whatever refused to work or didn't make sense vivo simply cut away from the FuntouchOS ROM we received. Often times this left behind quite a few issues.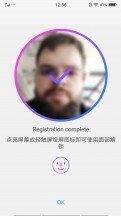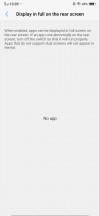 It's not hard to find untranslated text • Simply broken important feature
For instance, there is still plenty of untranslated text scattered across various menus. Certain features, more-notably the ability to set scaling on a per-app basis for the front and back display are simply broken or unfinished.
But, we digress. Plus, as far as dual screen functionality goes, we'll be covering that in more detail in the following section. For now, we'll just briefly touch on how it affects the security of the NEX Dual Display. The front panel is equipped with an under-display fingerprint reader. It is one off the later iterations of the tech and vastly improved over the one in the original NEX S, which was a major hit and miss. The one on the NEX Dual Display is snappy and very accurate. Pretty much identical to the one found on the OnePlus 6T.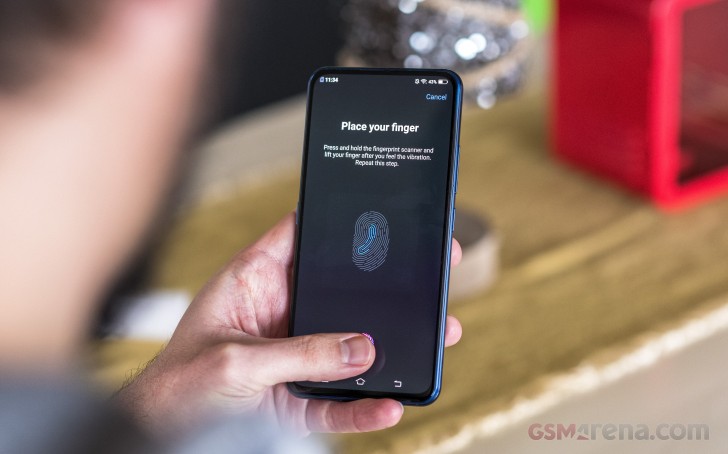 Now, the NEX DD also offers face unlock. However, since it only has a rear camera, it is only available on the rear display. Plus, it is the only biometric available on said display. So, unless you feel comfortable falling back to a more traditional unlock method, like a PIN, you pretty much have to get used to pressing a finger on one side of the phone and looking into the camera on the other. It's a bit odd, but hardly a deal breaker.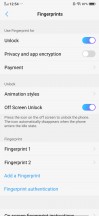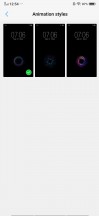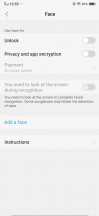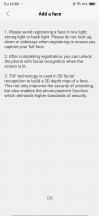 Fingerprint and face unlock methods
FuntouchOS might be iOS infused, but it definitely doesn't share the limited customizability of Apple's mobile OS. Quite the opposite, actually, there are some many options and visual tweaks that it's easy to get lost.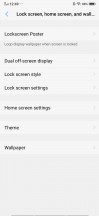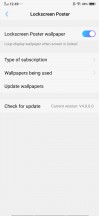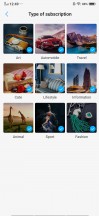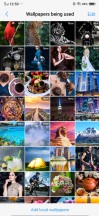 Lockscreen Poster
Starting with the lock screen, Locksreen Poster can change your background on every unlock. It can either rely on an online repository of images or your own local content.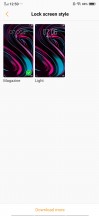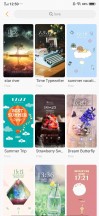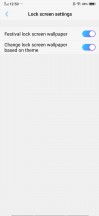 Other lockscreen settings
You can also change the "style" of the screen, which mostly affects the content it houses and the fond and placement of the clock. Vivo went all out in the aspect as well, with yet another online repository of free styles to choose from.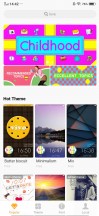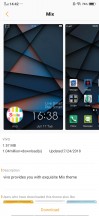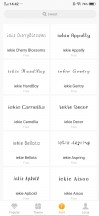 Theme store
Beyond that, there is also a powerful theme engine in FuntouchOS. The iTheme app gives you access to a wide selection of full US styles, as well as a separate section for fonts.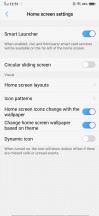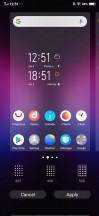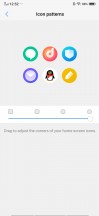 Home screen settings • Row and column count • Icon style
The overall icon shape also lends itself to some adjustments. You can even enable dynamic icon styling based on the current theme and animations in place of notification badges. Plenty of customization options indeed. The only real issue we have here is the total chaos with options scattered all over the place.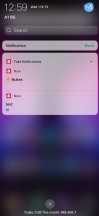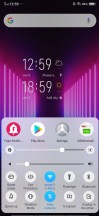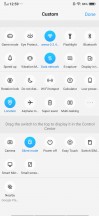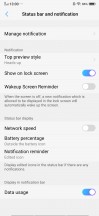 Notification shade • Control Centre • Quick toggles • Status bar and notification tweaks
This is pretty off-putting in itself, but it's vivo's unorthodox main UI layout that really shocks most Android users. The notification shade looks normal enough, but all the quick toggles are in the Control Centre, sliding out from the bottom of the display. Getting used to it requires a major change to muscle memory. On the plus side, vivo did include quite a few options to play around with notification and status bar behaviour and look.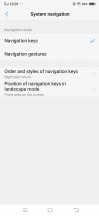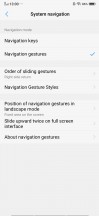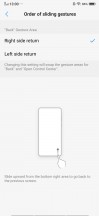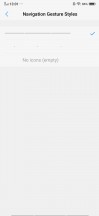 System navigation options
Like any self-respecting current-gen Android skin, FuntouchOS offers a selection of navigation options. You can choose between a standard button nav bar or opt for gesture controls. The latter have a few visual and functional tweaks available.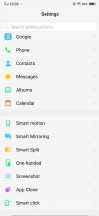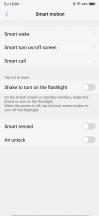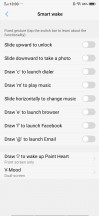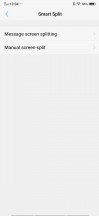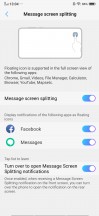 Additional settings and features • Smart Motion • Smart wake • Smart Split
There are even more additional usability features and shortcuts to explore. Smart wake works with the display off and lets you draw letters to launch specific apps, unlock with an upward swipe without lighting the screen beforehand, or launch the camera with a downward swipe. There are multiple settings for flashlight or camera launch with the volume keys, too.
Smart Split allows you to split the display and launch two apps side-by-side. This is only limited to the few supported messaging apps – Messages, Facebook, Whatsapp, and Viber. It works only when you are within one of these messengers, say Facebook, and receive a notification from some of the others, say Whatsapp. Then you can expand the Whatsapp floating icon into the full-blown app, which will share the screen with Facebook.
There is also Manual Split – if an app is compatible, you can swipe down with three fingers and it will go into split screen mode. Supported apps include all popular social apps and Google's native apps.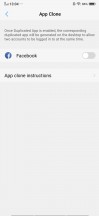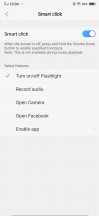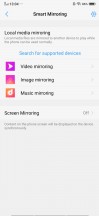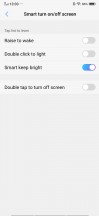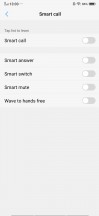 App Clone • Smart Click • Smart Mirroring • Smart Turn on/off screen • Smart call
App Clone is available, too, for when you need two active social accounts on a single network. Smart Click lets you map a long press on the volume down button to a certain function or any app you want. Smart Mirroring is a nifty way to mirror certain multimedia content on an external display and still have the phone screen free and usable for other tasks. Smart Turn on/off screen and Smart call are pretty self-explanatory.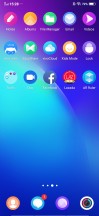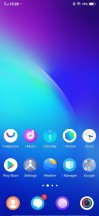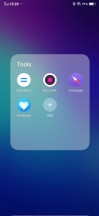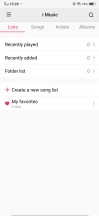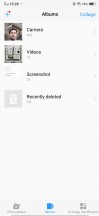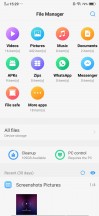 Default apps
Before we move on the the dual display features of the NEX DD, some of vivo's in-house apps are worth noting. Our particular unit does have the benefit of a full Google app package, but within China vivo still needs to have custom apps to cover all basic functions. Most of these apps are left in place on the NEX Dual Display and mostly double Google functionality.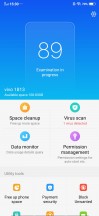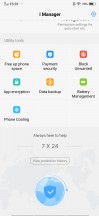 iManager
iManager is an interesting central management hub for FuntouchOS. It is designed to keep your phone in top shape and does a pretty good job of it. It can clean your RAM and storage on request and naturally manage applications.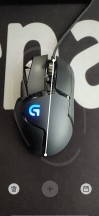 Ruler
We can't fail to mention the ruler app. It is the only feature on the NEX Dual Display that directly utilizes the included TOF (time of flight) camera in a directly observable manner. The premise is simple enough – you can measure objects in three-dimensional space. It is not a new idea either. Google has its own app for just that purpose, working on top of any phone that supports ARCore. Having a hardware spacial mapping sensor, however, clearly makes a major difference. Measurements taken on the NEX DD are very accurate, and the lines remain stable in their AR overlay. It's really impressive. Too bad vivo didn't include any other interesting apps using the TOF camera.
Dual display implementation and features
So, we've come to the elephant in the room. First, let's cover the obvious basics. The main reason why the second display is on the back of the NEX Dual Display is to save on the need for a selfie camera. Instead you get to simply turn your phone around and use the main one, with its superior quality and feature set.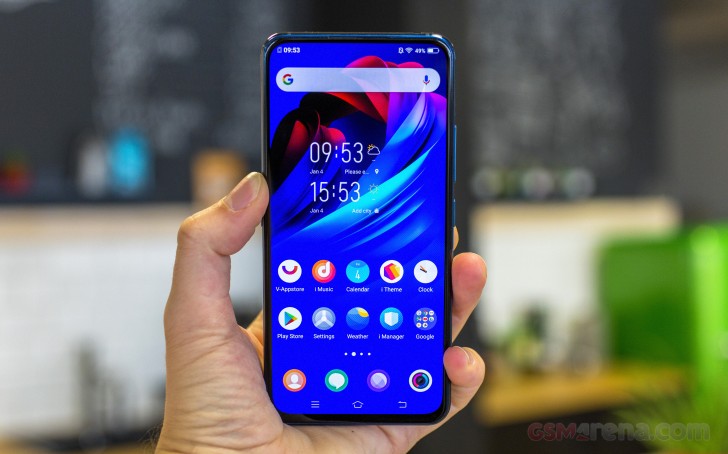 The second display can thus be used as a viewfinder to display the camera UI while taking selfies. There is also a nifty mode which shows the viewfinder on both panels simultaneously. The idea here being that your subject might appreciate knowing if the current look/pose works. There is also a way to overlay a suggested "pose" on said interface to give your subject some cues.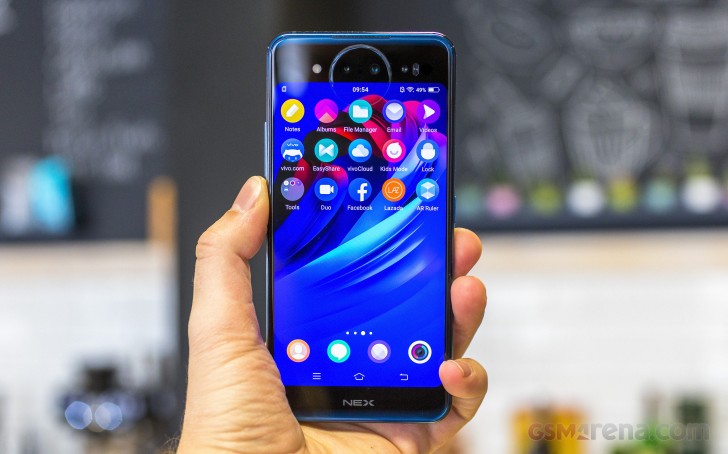 This is all fine and dandy and proves one important thing – that there is technically a way to have both screens on at the same time. We are only mentioning this since this is one of the few scenarios in which the NEX DD can actually pull this off. In most cases, the rear panel simply acts like an alternative display to the main one. That is to say, when one turns off, the other one turns on. The logic for which display is in use is generally determined by which one of the two "power" keys you press.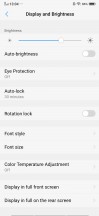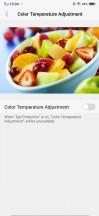 General display settings are shared
So, since one display gets disconnected for the other to get connected under typical OS use it is kind of understandable that the two panel's don't really have independent brightness of color controls. Both are tied to a single set of these, which is frankly not ideal, but also way simpler. The less than ideal bits stem from the fact that the two panels have quite different characteristics. Plus, there is only one light sensor on the NEX DD, in the very top of the front panel. Meaning if that it gets covered, the back panel starts lowering its brightness in auto mode. Bottom line, for a number of reasons a second set of controls, even if optional ones, would have been appreciated.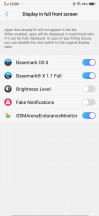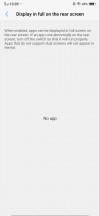 App scaling settings are currently broken for the back panel
This, however, is not to say that vivo does not make any differentiation between the two panels. On the contrary. If you never go beyond the "right power key always controls the display I am looking at" logic, you might start to see the switch as effectively minimizing the active app and returning to your home screen. Just on a different display. However, in reality, there are a few ways to actually shoot your currently focused app on the other display via a gesture (like a three finger swipe across the panel).
Now, this is still not exactly the most useful thing to do, since once you turn your phone around the other display will still be turned off. That's hardly multitasking in the real sense of the word. Plus, it was disappointing to find that the second display does not have its own separate "workspace" of sorts. You get the same apps, same recent apps, same layout, and shortcuts. Even the same wallpaper on each side. In essence, it is like disconnecting one monitor and connecting as opposed to running two different desktops which could have been much cooler.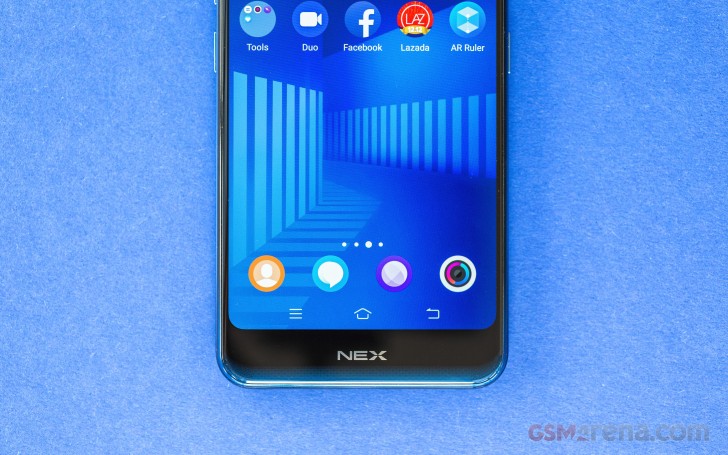 One important thing to note then is that said two monitors have vastly different aspect ratios. Vivo seemingly thought of this and included a second app list in the settings menu, alongside the standard Android one that forces stretched aspects on older apps that don't natively support it. It's idea, seemingly, was to force the standard 16:9 aspect back on said apps, once they are stretched for the main display, so that they can also take up to full screen on the back. Well, that second settings list just doesn't work. It lacks any way to add an app in. So, whatever third-party app you have stretched on the main display, gets pillar-boxed on the second one.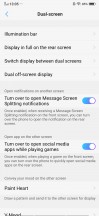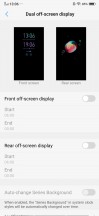 Dual display settings
So, what else can you do with the second screen then? Well, we're not going to sugar-coat this in any way – really not much. Especially since the QR visualization feature appears to be cut from the international ROM. There is an always-on display feature you can play around with. At least it supports displaying different setups on each screen. There is a separate scheduler for enabling AOD on each panel and also an option to automatically change the background.
Speaking of backgrounds the other major disappointment with vivo's always on display implementation is that it features literally no moving objects. Having seen ZTE's stylish and eye-catching implementation for the Nubia X, the feels like a missed opportunity. We realize that the secondary display setup is not exactly the same, with ZTE going for a much more hidden, "part of the body" aesthetic, but we would have still appreciated the option for a moving screensaver on the panel. Luckily, since the rear panel does effectively take the role of a primary one when switched on, some third-party "screen saver" apps do manage to display on it. If that is your cup of tea.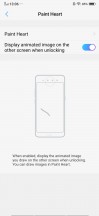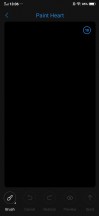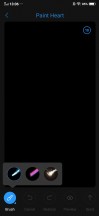 Paint heart
But, that can't be it for the second panel, right? Well, technically it's not, but most of the other "features" vivo included in the mix seem like real acts of desperation to justify the panel's existence. Paint heart left you draw a few frames of animation using a very limited selection of brushes and then have it play out on the rear rear panel. We really don't know why you would bother.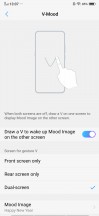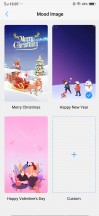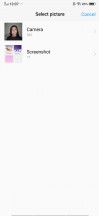 V-Mood
V-Mood is very similar and one of the few other ways to actually see some animation going on the rear panel. Or just the panel you are not currently facing, for that matter. You just draw a "V" on a locked screen and a good few seconds later (we're not joking, it takes some time), an animation plays out on the other display. Only this time it is not your own drawing, but rather a pre-made GIF or something from your own multimedia library. Again, we really fail to grasp the usefulness.
At its launch event, vivo did demo some interesting QR-based uses for the second display on the vivo NEX Dual Display. Things like two devices pointed back to back communication, in a way. A gimmick for sure, but still something. There was also a rather intriguing feature that mirrors touch inputs from the rear panel onto the main one. If you've ever played on a PlayStation Vita, it's pretty much the same concept.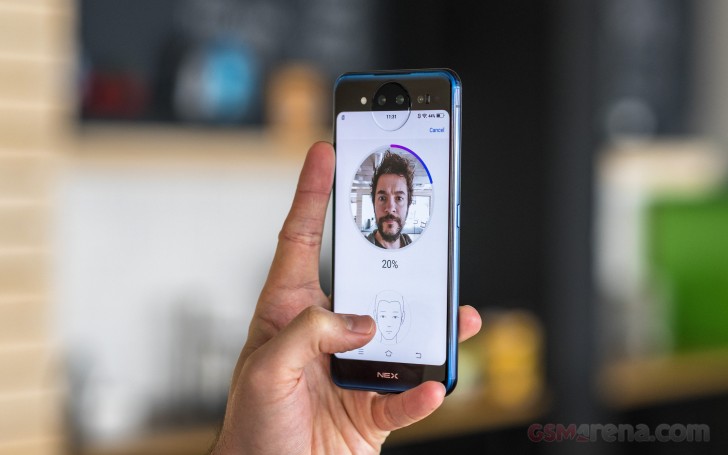 This could have actually been the saving grace of the second panel if done properly. For instance, like the excellent control mapping system on the ROG Phone. This would mean less fingers on screen and an easier control scheme. Unfortunately, the feature is either not finished or otherwise missing from our review unit.
Circling back to one of our original arguments about the state of the "international" FuntouchOS ROM we got to test, it really does seem like a "chop shop" job at this point. Many things are missing or not exactly functional. And on a grander scale, FuntouchOS frankly has a way too particular approach to quite a few UI and UX elements to appeal to many general Android users. As for the dual display implementation, it also falls really short in the software department. Hardware-wise vivo has more than enough to work with. Unfortunately, it gets crippled by software one way or another.
Performance
This actually ties in pretty well with the performance bit of this review. It's actually going to be a pretty short one. It's not that we didn't want to test the familiar Snapdragon 845 and its 4×2.7 GHz Kryo 385 Gold & 4×1.7 GHz Kryo 385 Silver working alongside the exuberant amount of 10GB of RAM. However, most of our benchmarks failed to complete. That is to say that GeekBench and GFXBench have no issue installing.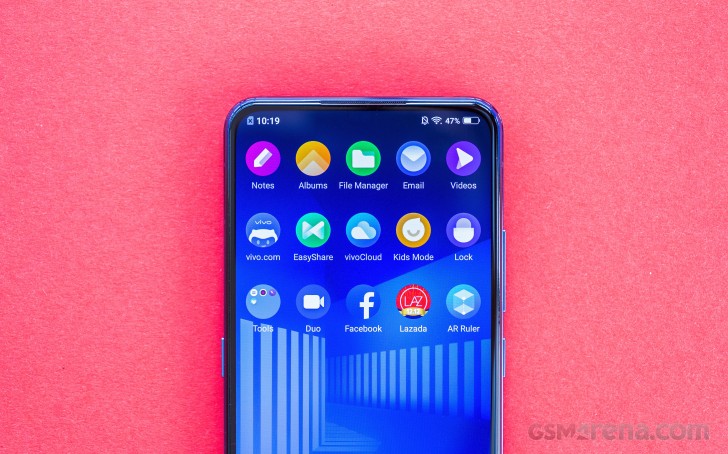 Connecting to their respective servers, however, fails, even though the NEX Dual Display was very much connected to the internet at the time. Believe us we tried. Oddly enough, any browser we fired up still seems to work fine under these circumstances.
Our best explanation is that vivo is doing some DNS or otherwise protocol level blocking of said servers. In the wake of more than a few scandals with Chinese companies monitoring user traffic, this kind of makes us uneasy as to what else might be injected into the network interfaces of the OS.
The way we see things, either vivo doesn't really want us to test certain performance aspects of the phone or made some slip-up and gave us intentionally locked-down early tester hardware, where such measures are a bit more understandable for counteracting leaks. Whatever the case, though, we would have appreciated some heads up. Since we did manage to run some benchmarks and if some performance issues are what vivo was trying to mask, those will likely show up anyway.
Basemark OS 2.0
Higher is better
ASUS ROG Phone X mode (Fan on)




4702

Huawei Mate 20 Pro (perf.)




4610

vivo NEX Dual Display




4576

OnePlus 6T




4452

HTC U12+




4300

Samsung Galaxy S9+ (Snapdragon)




4196

vivo NEX S




4167

Razer Phone 2




4163

LG V40 ThinQ




4003

Huawei Mate 20 Pro




3939

Google Pixel 3 XL




3895

Xiaomi Mi 8




3858

Xiaomi Pocophone F1




3713

Sony Xperia XZ3




3700

Oppo Find X




3636

Samsung Galaxy S9+




3354

Samsung Galaxy Note9




3064
Unfortunately, GeekBench – our typical go-to pure CPU benchmark refused to run on the NEX Dual Display. The closest thing we have are compound benchmarks, like Basemark OS 2.0. Here the phone reports a plausible score, but one that still looks a bit elevated to our taste. Just to make sure there is no blatant cheating afoot here, we ran a custom version of said APK with a changed package id. It posted nearly identical results, so our best guess is that the NEX Dual Display is doing some optimization behind the scenes, toggling a boosted mode, of sorts, to achieve the best possible peak performance.
AnTuTu 7
Higher is better
Huawei Mate 20 Pro (perf.)




308050

OnePlus 6T




293994

vivo NEX Dual Display




292042

Oppo Find X




291218

ASUS ROG Phone X mode (Fan on)




288821

vivo NEX S




287081

Razer Phone 2




285051

Sony Xperia XZ3




284555

Huawei Mate 20 Pro




273913

Xiaomi Pocophone F1




265314

Samsung Galaxy S9+ (Snapdragon)




264044

HTC U12+




263696

Google Pixel 3 XL




258244

LG V40 ThinQ




254304

Samsung Galaxy Note9




248823

Samsung Galaxy S9+




246660

Xiaomi Mi 8




217298
This explains the unusually high AnTuTu score as well and also puts into perspective the fact that the phone got pretty hot during testing. Indeed, a thermal-throttle test did reveal that the vivo NEX DD is perfectly content to ramp its performance up to 11 for a short period and then suffer the consequences of having to rapidly dial in back. This could potentially cause frame rate dips and unpleasant slow-downs in gaming. We would much rather prefer a more balanced and pre-emptive sustained approach to thermal management. This fixation with numbers is not really doing real world use any favours.
On to graphics then, where we ran into yet another issue, this time with GFXBench. The vivo simply refused to connect to the testing servers and the benchmark never ran. Still, we do have basemark X to examine and from the looks of things the Adreno 630 is performing well within expectations.
Basemark X
Higher is better
ASUS ROG Phone X mode (Fan on)




60171

Razer Phone 2




54750

Huawei Mate 20 Pro (perf.)




44780

vivo NEX Dual Display




44443

HTC U12+




44390

LG V40 ThinQ




44260

Samsung Galaxy S9+ (Snapdragon)




44013

OnePlus 6T




43886

Sony Xperia XZ3




43843

vivo NEX S




43810

Xiaomi Pocophone F1




43652

Xiaomi Mi 8




43285

Google Pixel 3 XL




43073

Samsung Galaxy S9+




42134

Samsung Galaxy Note9




41994

Oppo Find X




40537

Huawei Mate 20 Pro




40269
Mind you, since the panel on the vivo NEX Dual Display has a native FullHD resolution, it naturally has a certain advantage in on-screen rendering tasks, over other QHD flagships. Just like the OnePlus 6T, for instance. In fact, if you really want to maximize frame rates playing on the rear FullHD panel is actually a good approach. With an aspect ratio of 16:9 it has even less pixels to render on to than the main display. Of course, we would have been able to illustrate this on-screen rendering frame rate advantage better if vivo had let us run GFXBench. But, we digress.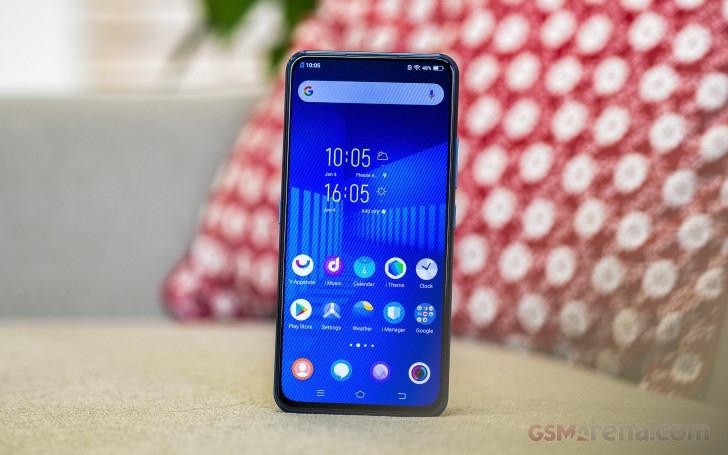 As far as synthetics are concerned, the vivo Dual Display puts on a great show. In fact, a bit too good at times. Real worlds performance is also perfectly adequate, since there is only so much you can do to push a Snapdragon 845 against thermal limits. Still, the phone does employ a "benchmark-oriented" approach to its thermal and performance management curve and it does get noticeably hot with heavy loads. Take that as you will.
Familiar 12MP camera with many add-ons
The vivo NEX Dual Display has a 12MP main camera at its disposal. In fact, since it doubles as a selfie shooter as well, it is a bit harder to give in such a designation. Then again, it is technically not the only camera on the phone. It is accompanied by a 2MP, f/1.8 module, used only for depth sensing. Then there is a TOF (time of flight) camera/sensor added to the mix as well. We don't quite get the need for both, since the latter can definitely pick up more accurate depth info. Vivo claims that the 2MP unit is in place to help in low-light shooting conditions. Especially for video. Spoiler alert – that's not really the case, but more on that in a bit.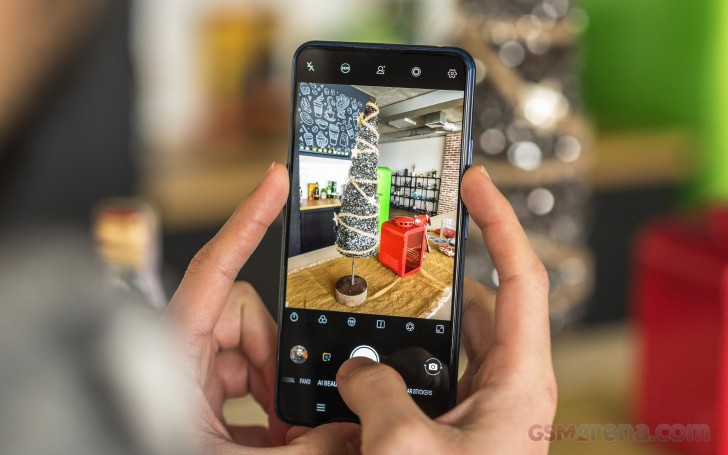 Ignoring the "addons" for a bit, the main 12MpP snapper is actually quite familiar. It consist of a Sony IMX363, 1/2.55″, 1.4µm sensor behind an f/1.8 lens. Extras here include 4-axis OIS and PDAF. This is actually the very same camera module as found on the Xiaomi Mi Mix 3, Mi8, Nokia X7, Nokia 8.1, Asus Zenfone 5 and 5Z, to name just a few. It is also present in the original vivo NEX S. This is no coincidence either, since despite some major design differences, the pair of devices were actually developed in tandem. Their major difference being the alternate approach to solving the selfie camera "issue".
Before we get into the quality section, let's take a quick look ant the camera app and its features. Especially those related to the second display and using the main camera as a selfie shooter. In tune with the rest of the Funtouch launcher, the camera interface is a bit overcrowded. On the top side, a settings wheel hides away most of the important stuff. HDR and Portrait toggles are also here.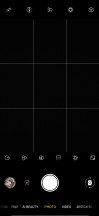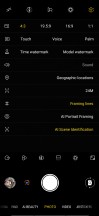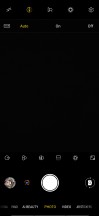 Camera UI
vivo still refuses to include proper photo resolution controls. Instead, you get an aspect ratio selector, and you have to know that the sensor has a native one of 4:3 to get the maximum available resolution. Technically, you could get higher-res photos using the 24MP toggle, but this one uses simple interpolation from the native 12MP.
The available shooting mores are at the bottom – Manual (Pro), Panorama, AI Face Beauty, Photo, Videos, and AR Stickers. The AI Face Beauty allows you tune various aspects of your face such as chin, nose and eye size.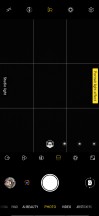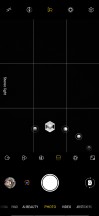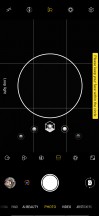 Portrait lighting modes
Vivo wasn't shy in copying Apple's studio lighting modes either. You get a separate menu for those, complete with familiar icons. Some options definitely work better than others here. There is also a professional mode for stills, a full-featured one, no less. It has ISO, shutter speed, white balance and manual focus.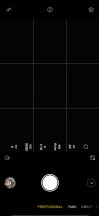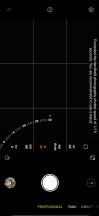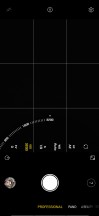 Pro mode
Overall, the camera app is actually pretty in-depth. There are plenty of options and modes available, just not presented in the most convenient and orderly manner.
Camera quality
Given its fairly common camera module we have plenty of other devices to compare the NEX DD to in terms of camera quality. Quite a few flagships, no less. Well, if we had to sum up our findings it would go something like this:
The vivo NEX Dual Display come a little bit closer to flagship camera quality than its vivo NEX S sibling. Most of the noise-related issues have been ironed out and the processing is much more mature. Still, a measurable gap between it and true flagship camera quality and experience remains.
To elaborate a bit, the vivo NEX Dual Display feels pretty competent as a point and shoot camera. Detail is plenty, but that was the case with the original software on the vivo NEX S, back when we reviewed it. Just to clarify here, we very much expect that the improvements we are observing in vivo's camera science on our NEX DD unit are already present or alternatively coming soon to its NEX S sibling.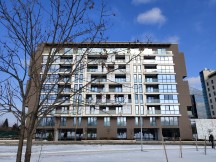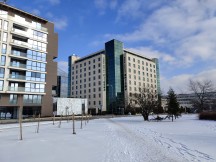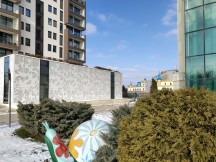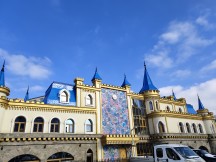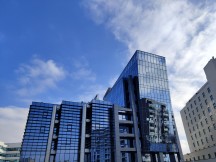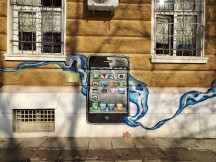 vivo NEX Dual Display camera samples
Things that have been improved since out NEX S review include colors and sharpening. Or rather lack thereof. The NEX DD is no longer quite as trigger-happy with the sharpness slider, so to say. The processing looks a lot more mature. Colors are more subdued and closer to real life.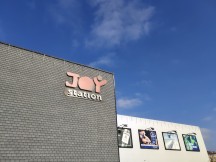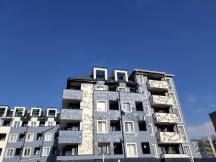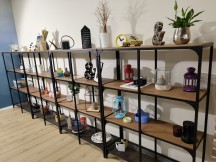 vivo NEX Dual Display camera samples
The one improvement that we found most noticeable, though, is the improvement in noise levels. Overall, the NEX Dual Display captures a lot less noise than its sibling. This is easily observable even under the fairly rough and less than ideal weather and lighting conditions we have been having lately. Less captured noise naturally means less work for the noise suppression algorithms – which left problematic marks on the NEX S camera samples.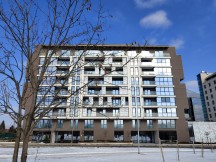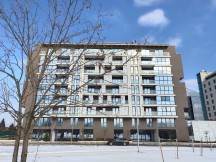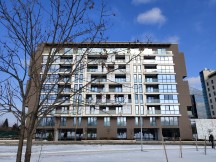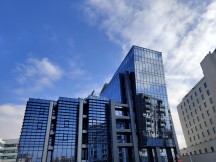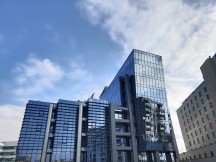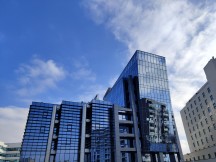 HDR: Off • On • Auto • Off • On • Auto
Dynamic range has also seen a bump up, compared to the NEX S. It is still a step down from great flagship camera yardsticks like the Samsung's or Apple's latest devices, but it's a rather small step down. Plus, just to reiterate once again, our shooting conditions were pretty hard. Naturally, this prompted us to turn to HDR for help.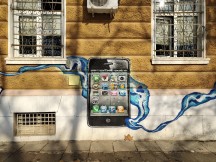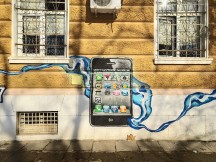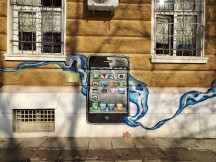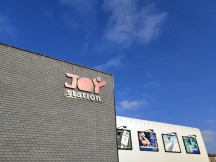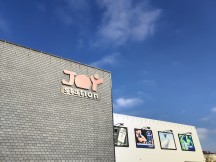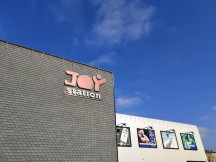 HDR: Off • On • Auto • Off • On • Auto
That turned out to be a less than ideal solution. It turns out that in its current implementation HDR is prone to upping the overall exposure of the shot. This, in turn, almost always leads to clipped highlights. On top of that, the Auto setting very rarely decides to come through and enable HDR. Given that it is prone to making many shots worse, we started to appreciate the clumsy auto detection. The only time we had any degree of success with HDR was in manual mode and combination with spot exposure metering on a brighter spot in the frame. Use it at your own risk.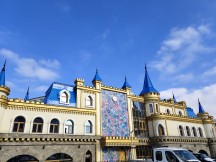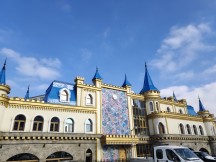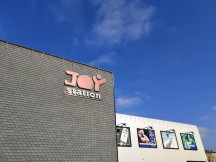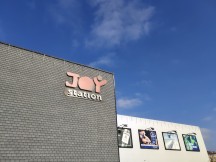 The vivo NEX Dual Display has a tendency to overexpose
Speaking of HDR and odd exposure bumps, this issue is not isolated to HDR alone. It might very well be tied to it, but often times we found that the NEX Dual Display simply decides to increase its exposure for no apparent reason. Thankfully, this almost never happened on the first shot of any given set we took. So, perhaps it might just have something to to with AI?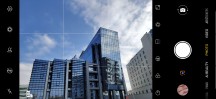 Jovi AI in camera
Yes, indeed one of the few places that vivo's smart AI assistant Jovi remains active in this "global" FuntouchOS ROM is within the camera app. By default, it is active and shows its presence via small icons in the bottom left corner of the viewfinder. Scene detection is a bit hit and miss, but it can detect easy scenes like a skyline or mountains reasonably consistently. Perhaps a combination of Auto HDR and some active Jovi scene optimization are the reason behind the exposure issues, but we couldn't put our finger on the specific situation which invoked it.
Portrait light and bokeh
The vivo NEX Dual Display has a few nifty extra features for shooting human subjects. First off, we have portrait mode. It is the typical affair, but vivo does add in the option to adjust a fake aperture value on screen and change the intensity of the effect.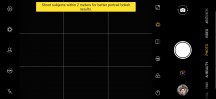 Portrait mode
Now, this is where the TOF camera should really shine. It has all the data it needs to really measure accurate depth information. From there on it should be very easy to separate the background from the foreground.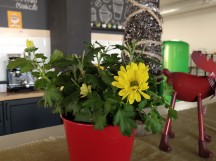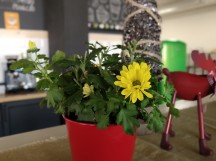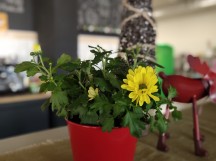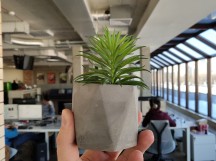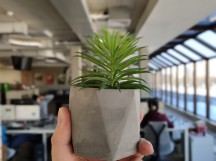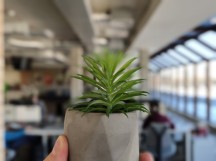 Portrait mode samples on a plant
However, that is really not the case here. Try as we might, the bokeh effect really turned out good enough. Just to be clear – the actual bokeh looks good, but the subject detection is very, very poor.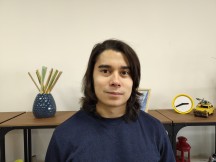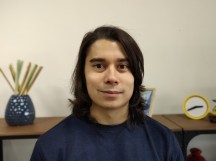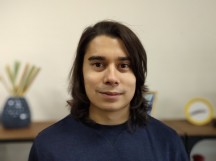 Portrait mode samples on a human subject
So, maybe, the algorithm is specifically tuned to work with a human subject. The TOF sensor doesn't really have any such limitations, but we definitely had to try. And detection turned out just as disappointing. Fiddling with the effect intensity had little effect on accuracy as well. Bummer. Especially since we know what phones like the Google Pixel 3 can do with one camera, while the NEX DD has not one, but two extra sensors it can potentially extract depth information from.
On to Portrait light effect, then. Vivo has a total of five modes here positioned on a wonky slider that does a fairly good job at imitating the iOS look for said feature but is really hard to actually use.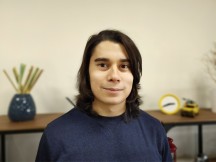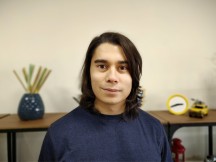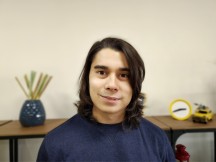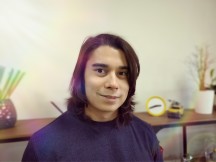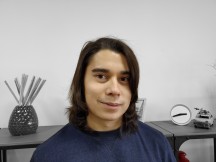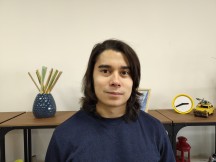 Portrait light effect: Studio • Stereo • Loop • Rainbow • Monochrome background • No mode
Going through them one by one, 'Studio' seems to simulate a single light source shining at a 45-degree angle convincingly enough. 'Stereo' apparently attempts to simulate a symmetrical light as well, but it frankly ends up looking more like a "makeup" filter more than anything else, taking away skin texture and complexion. 'Loop' is even weirder – kind of similar to Stereo, but just more light added in? 'Rainbow' is something else. A shining multi-color light as if someone is holding a giant crystal just outside the frame and it shines more lens flares than we care to count on the opposite side. The monochrome background is probably the only effect we liked. It is not quite the iOS Studio lighting, nor is it trying to be. The results look good, although we can clearly see the detection failing – that red lantern in the bottom right is definitely not in the foreground.
Beauty mode
Vivo went all out for its beauty mode. While using the main display the feature actually has a face and a body mode. Each of these is littered with features. It's pretty much like opening the character creator in SIMS. Everything is on a slider.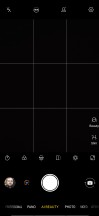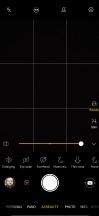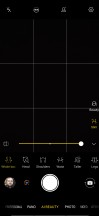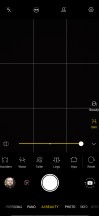 Extensive Beauty mode
We can only imagine the TOF sensor is being leveraged in some way here. Interestingly enough, when using the rear display, or in other words selfie mode, the body tab gets dropped as an option. You can only do modifications to your face.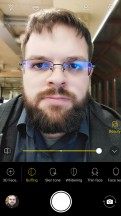 Beauty mode for selfies
On the flip side, this does open up the option to make a 3D scan of your face. That sounds nifty, the idea presumably being it should make the corrections it applies even more accurate. However, despite our best efforts, we couldn't scan even a single dace at the office. The vivo NEX Dual Display simply kept complaining that we should hold it upright, all the while frequently crashing the camera app and the whole camera API. Apparently, it's just broken at the moment.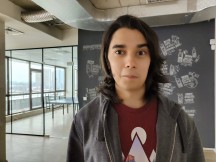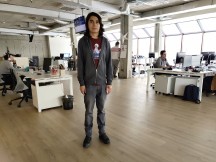 Beauty mode samples
As far as results go, it's a mixed bag, but with enough patience and playing around, plus careful posing, you can probably get the shots you are after. You probably want to be as conservative as possible with the intensity sliders, though, since you can easily go overboard and end up with hilarious results. Most effects are based around rather simple "liquefy" effects. This, in turn, often leads to warping effects appearing around the subject. Especially visible with straight edges. This is something we really thought the TOF sensor would assist with, since it, in combination with some recognition AI, should be able to separate out the human subject quite well from the surrounding. If that were the case, though, we wouldn't be seeing quite as intensive distortion effects around the subject. All things considered, vivo seems to be under or miss–employing the TOF tech for both portraits and beauty mode.
Selfie camera quality
This is clearly a loose differentiation here, seeing how the whole idea of the Dual Display setup is to enable the user to snap selfies with the main camera setup. This is pretty nifty in more ways than one. Probably the most important benefit of capturing your likeness with a full-featured camera is the clear boost in quality you get and the PDAF, ensuring you always remain in focus.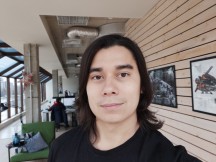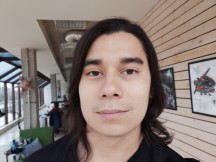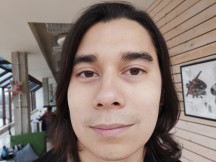 Selfies at different distance
Well, "always" might be a bit strong here, since the NEX Dual Display is a bit sluggish when it comes to re-focusing at times. You might have to tap on the panel just in case. Here are a few more "non-selfie" selfies for you to enjoy.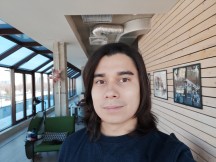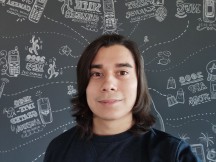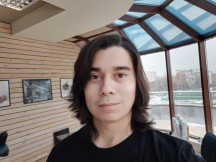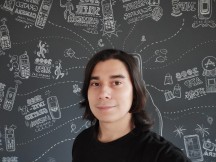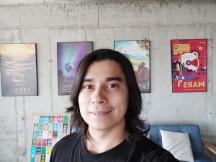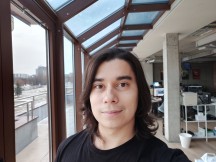 More selfie samples
In case you were wondering, yes, unfortunately, the weird sudden exposure changes do sometimes happen while using the NEX DD is this manner as well.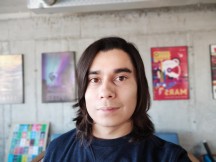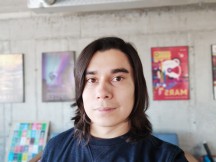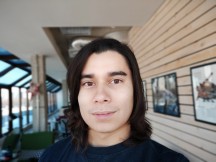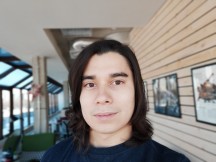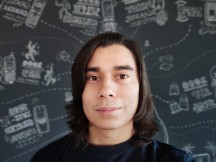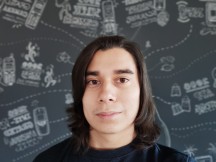 Weird random exposure changes
It does make a lot of sense since we are still using the very same camera and with the very same app. Speaking of which, however, the camera app does actually feature quite a few tweaks to cater to the rear panel and more specifically the selfie experience.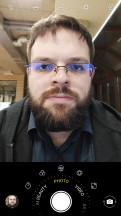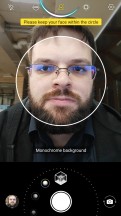 Selfie camera UI on the back screen
Of course, you still get access to all the same modes and features as on the main display only this time around (get it) these are laid out on in a much more convenient manner on a nifty rotating UI element. Also, remember the RGB array on the top rim of the camera module and those neat light effects we talked about? Well, these actually continue on the bottom rim as well. The pack of the glass hump that actually sits above the rear display. That means that the bottom half of the animation is actually handled by the rear display. You can bring it up by toggling the Portrait light mode. It clearly serves no purpose other than visual eye candy, but we still find it kind of cool. If only It didn't involve a weird glass hump on top of the rear panel.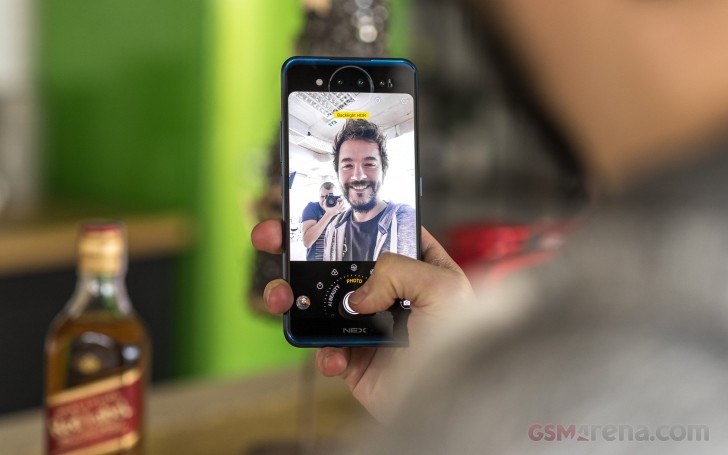 This seems like the perfect place to mention another nifty feature the NEX Dual Display has. It is actually a rare example of both the panels working in tandem to create a good and arguably value-added experience.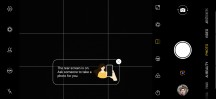 Using both screens as a viewfinder at the same time
Pressing the small "split-screen" style icon in the camera UI turns on the second display. Or rather simply both of them, since you can have it work both ways. So now both panels show the viewfinder. The idea here is that your subjects might appreciate knowing if they appear good on the photo you are snapping.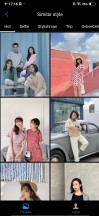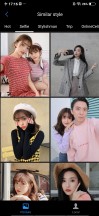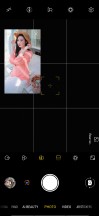 Poses feature
There is also something called Pose baked right into the camera UI. What this does is bring up and overlay a photo of a certain pose on top of the camera UI. Naturally, you can also choose to place the said image on the rear panel while snapping a picture of someone else. The idea here is for easier and clear suggestions for poses and arrangements. There are quite a few locally stored images of "poses," but vivo has also included an online repository for more. Frankly, we would have almost deemed this a great idea with an awesome implementation were it not for the fact that you can not change the orientation of the pose image. Almost all of these are vertical, making horizontal camera use with a pose overlay annoying and not as helpful.
Last, but definitely not least, vivo has a couple of fill lights hidden away near the left and right edges of the camera module. These can be turned on for photo and video and are actually pretty bright. Their most obvious use, of course, would be taking selfies in the dark, since their effect is best at close range. There is no doubt in our mind that these help.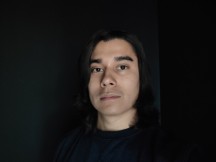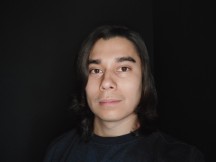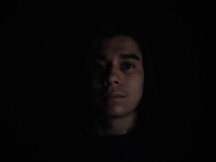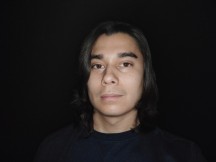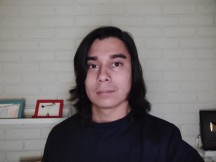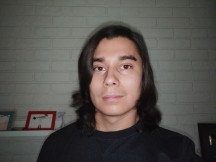 vivo NEX DD fill lights: Off • On • Off • On • Off • On
You can only toggle the fill lights for photos while using the rear display, for some reason. Using the photos normally leaves you with only the flash as an option to light up darker scenes.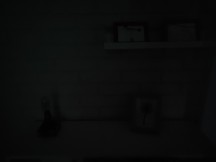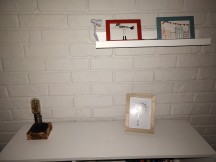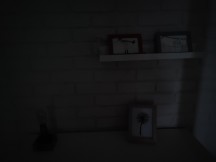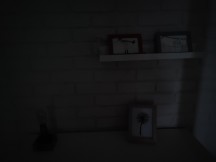 Flash: Off • On • Off • On
Here are some more still in less than ideal lighting conditions as well.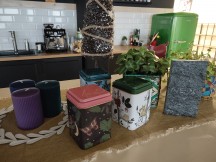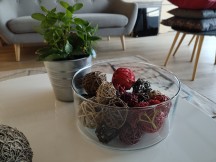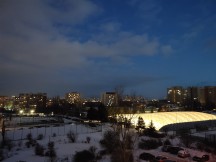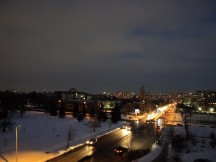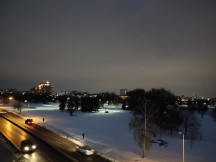 Low-light samples
Before we move on to the video section, here is the vivo NEX Dual Display in our photo compare tool for your pixel-peeping pleasure.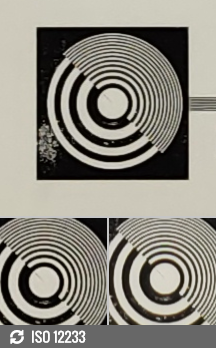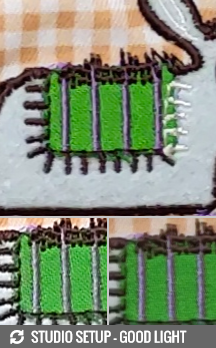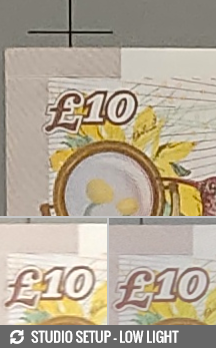 vivo NEX Dual Display against the vivo NEX S and the Xiaomi Mi 8 in our Photo compare tool
Video quality
The vivo NEX Dual Display can capture up to 4K video at 60 fps. It can either get saved into the more compatible, but less efficient H264 format or you can opt for H265 HEVC for smaller file sizes at little to no cost to quality.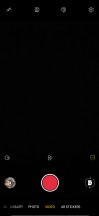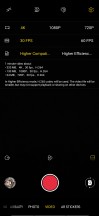 Camera UI
There is a dedicated video UI, complete with its own proper viewfinder and settings screen, which we definitely appreciate. One thing we find particularly odd though is that vivo went out of their way to provide extensive resolution and frame rate controls and even explain what the difference in compatibility and potential size between H264 and H265 is. All the while, there are still no clear resolution controls for stills. Weird.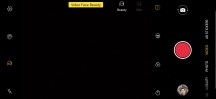 Video beauty mode
One nifty extra feature trick the NEX Dual Display can pull off is having the same AI Beauty mode from the photo mode work while recording video. Again, it's a hit or miss experience, but still an impressive extra little feature.
As far as actual video quality is concerned there is very little left to be desired.
Detail, sharpness and colors all look great. The bitrate remains very stable. Dynamic range could use a bit of work, but it's nothing to fret over.
4-axix optical image stabilization is included for the main camera. It works across all recording resolutions. Walking with the phone clearly shows it trying to stabilize the footage. However, there is quite a bit of nasty Z-axis shake left behind. It almost looks like very rapid focus hunting. Definitely not ideal.
Having read vivo's claims of low-light video improvements from the secondary 2MP camera on the vivo Dual Display we definitely took it for a spin. Unfortunately, we didn't really notice any extra brightness or more detail. Less noise in the end results.
Worse still, covering the small 2MP snapper did not appear to have any discernible effect on low-light video quality at all. Perhaps another case of early or unfinished software messing with our experience?
Finally, here is the vivo Dual Display in our extensive video compare database.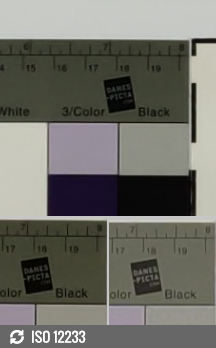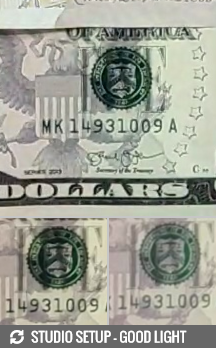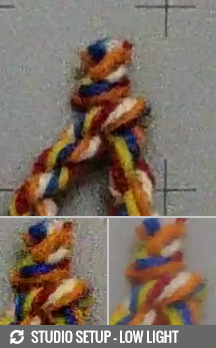 vivo NEX Dual Display against the vivo NEX S and the Xiaomi Mi 8 in our Video compare tool
You can download short untouched samples as well – 2160p/30fps (10s, 53MB), 1080p/30fps (10s, 23MB).
Competition
There are a few ways of looking at the NEX Dual Display. The main ones probably being as a solid 2018 flagship offer or as merely an intriguing tech showcase.
Whether or not it is going to be viable as a daily driver is entirely a matter of personal needs and preferences, combined with a certain tolerance towards odd software decisions and limited international support. Still, for many, the proposed solution to getting a true "all-screen" front and moving the selfie camera out of the way could very well be enough to outweigh any potential negatives.
If we choose to subscribe to this point of view, then the most logical place to look for viable alternatives would be in the growing pool of other "all-screen" devices and their respective approach to the selfie camera placement.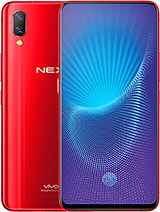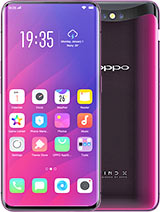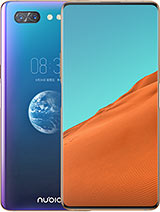 vivo NEX S • Oppo Find X • ZTE nubia X
The vivo NEX S instantly springs to mind with its periscope camera design. Having discussed product strategy with vivo, it seems that they still actually view the NEX S as their more accessible and hence viable, "mainstream" flagship offer. Of course, given its limited availability, those designations are clearly relative. But it is a fact that prices have gone down nicely by now and the NEX S can be had for just around EUR 500, compared to the NEX DD's EUR 700, or so, MSRP. You are getting one display less, but a bigger screen up front and more battery. Just be warned that the under-display fingerprint reader in the NEX S is pretty much useless.
Since we are already on the topic of motorized, highly engineered solutions to the camera "problem", we can't overlook the Oppo Find X. Another Snapdragon 845 flagship, complete with a huge AMOLED panel. If you really want to treat yourself, though, you can spring for the Super Flash Edition or Lamborghini Edition and get that awe-inspiring, industry-leading 50W SuperVOOC Flash Charge technology.
ZTE has a strong contender in the dual display race as well in the nubia X. It is probably the closest alternative to the NEX Dual Display from a purely design and functionality standpoint. Just like the vivo, it leverages the potent pain camera setup for selfies. Its second display is also arguably implemented in a way more stylish manner. On the flip side (quite literally in this case) the front panel is a noticeable upgrade, seeing how it uses an IPS panel.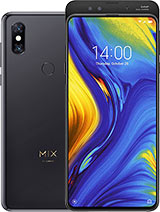 Huawei Honor Magic 2 • Xiaomi Mi Mix 3
There's also the more "manual" approach to selfie camera positioning. The one that is tapping into the spirit of the slider designs of old. Both major players currently exploring this form factor are arguably more western-friendly than the likes of vivo and Oppo, which is definitely a bonus for many users. Frankly speaking, deciding between the Xiaomi Mi Mix 3 and the Honor Magic 2 is difficult based on a pure specs comparison. The pair is clearly going head to head for market shares, so any preference one way or the other will lie with the user.
Verdict
Let's take a step back here and take a look at things realistically – nobody expects any sort of sweeping performance or a major market splash for the NEX Dual Display. These are clearly experimental devices, technical showcases, of sorts, likely meant to explore future design possibilities and the viability of specific approaches.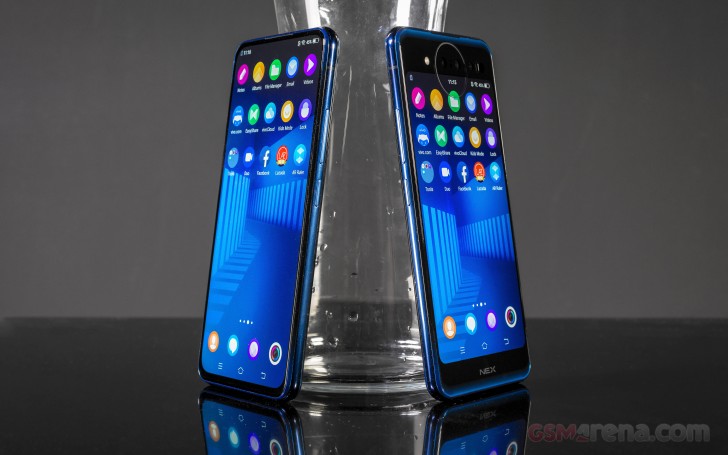 Of course, only vivo can really know the true purpose behind the NEX family and just why and how it came about. Seeing how the NEX S and its Dual Display sibling were in the design and development pipeline together and considering their major design differences, yet common end-goal of delivering an "all-screen" device, it seems fair to assume an experimental nature. One executed from a veritable position of power as part of the ranks of BBK electronics. Vivo isn't particularly known for playing in the flagship segment either. So the NEX is clearly something new and different.
Pros
Unique look and amazing build quality.
Snappy and accurate under display fingerprint reader.
Both displays are great in quality.
Battery life is very good and vivo's 22.5W charging standard makes for snappy top-ups.
Good overall camera quality marred only by the occasional bugs in exposure metering.
Shooting your selfies with the main camera makes for some of the best selfies in the industry.
Cons
Both sides use different unlock methods, which is confusing.
Most apps open with black bars on the back screen as they open in the aspect ratio of the front screen.
The combination of the two screens hasn't enabled any interesting new features.
FuntouchOS has an unorthodox UI design, it's not organized well and the Google Services integration seems as an afterthought.
The secondary 2MP doesn't have a clear purpose, while the 3D TOF camera sees very little action.
All that being said, after spending a considerable amount of time with the NEX S and now its Dual Display sibling, one thing clearly stands out above all else – the clunky nature of vivo's FuntouchOS and general approach to software. Sadly, it casts a huge shadow over the otherwise ambitious experimental design spirit and exquisitely crafted hardware and built quality of the company's products.
Even at its best, on an "international" branch, complete with all the creature comforts, like Google Services and a full familiar app suite, FuntouchOS still disappoints with missing or broken features, unorthodox and just messy UI and menu structures and in this particular case – a very weak software backing for the otherwise intriguing second display implementation.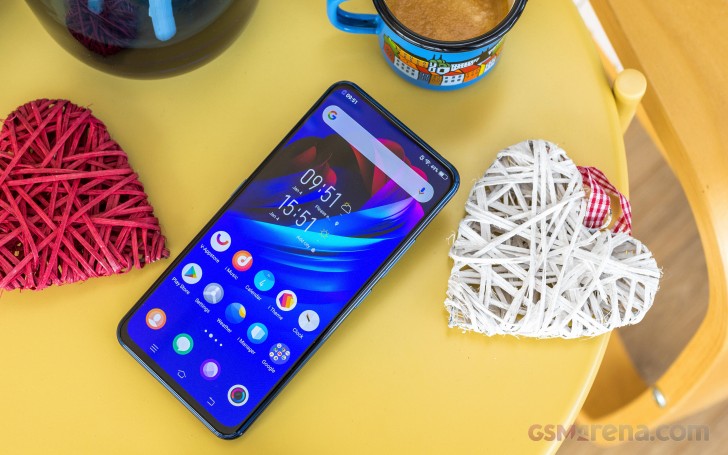 Just like its NEX S sibling, the vivo NEX Dual Display is a masterfully crafted piece of mobile hardware, sitting at the helm of modern design. All that really remains now is for vivo's software team to hop onto the same boat.
Let's block ads! (Why?)
GSMArena.com – Latest articles